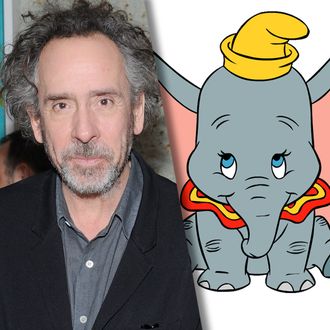 Tim Burton (left) and Dumbo.
Photo: Getty Images, Disney Productions
It's a big week for elephants: Days after Ringling Brothers announced it would retire its last circus elephants, Disney announced that Tim Burton will direct a live-action Dumbo remake for the studio. If that seems like the sort of thing wouldn't fly in the age of PETA, don't worry — The Wall Street Journal reports that the film will likely be "a mixture of computer generated effects and live actors." In other words, the mistreated elephants will probably be safely digital. (The better to make their eyes bigger, anyway.) Disney also promises the film will explore the "big world" of the circus, which means those racist crows may finally get the rich and complex backstories they deserve.