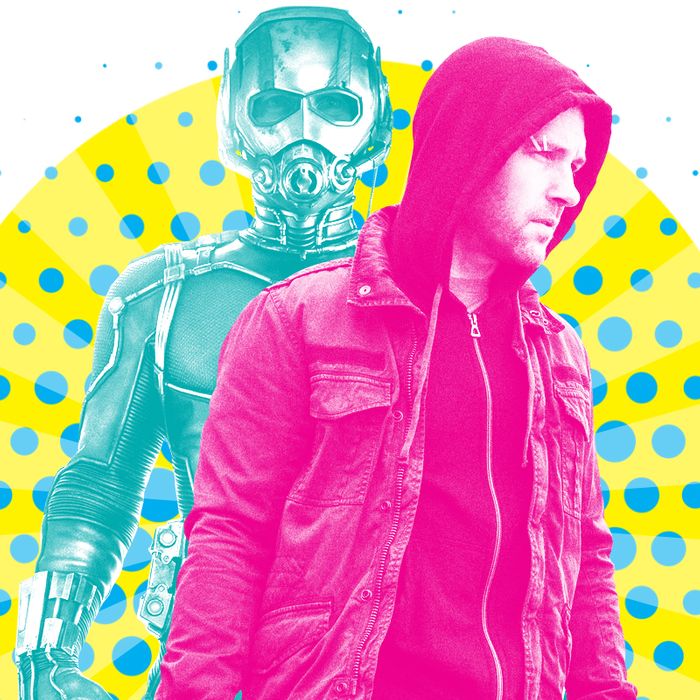 Photo: Maya Robinson and Photos by Marvel
Ant-Man's protagonist may be tiny, but the hurdles the film has faced are undeniably large. The movie is slated to hit theaters on July 17, and it will be the 12th movie in Marvel Studios' enormously successful Marvel Cinematic Universe, which includes properties like Captain America, Iron Man, and Guardians of the Galaxy. While Marvel has yet to have a financial dud, suspicions are high that Ant-Man could wind up being the studio's first misfire. For years, the production has been troubled by delays, rewrites, and high-profile shake-ups in the cast and crew. Here's a timeline of Ant-Man's difficult crawl across Hollywood.
*This article has been updated with new information obtained from a source close to the film's production.
January 1962
Hank Pym, the first Marvel character to call himself Ant-Man, debuts in Tales to Astonish No. 27. He is able to shrink himself and talk to ants. (Pym will go on to assume various other superhero code-names, such as Giant-Man and Yellowjacket.)
Spring 1979
A character named Scott Lang debuts in Avengers No. 181. In Marvel Premiere No. 47, he steals Pym's size-changing/ant-talking technology to become the new Ant-Man.
Late 1980s
Iconic Marvel writer, editor, and businessman Stan Lee — by that time mostly involved in pushing to get Marvel properties adapted for the screen — becomes obsessed with the idea of making an Ant-Man movie. "Stan Lee loved Ant-Man beyond all reason, and nobody ever gave a damn," screenwriter Boaz Yakin would later tell comics historian Sean Howe. "[H]e wanted an Ant-Man script in the worst way. I had been arguing against Ant-Man because, let's face it, he can shrink down, go through a keyhole, and look at secret papers in a desk drawer and that's it." Marvel's parent company at the time, New World Entertainment, briefly puts the film into development, but gives up on the project.
2000
Artisan Entertainment forges a partnership with Marvel to produce screen adaptations of a handful of mid-tier Marvel characters. Ant-Man is one of the properties included in the deal.
2001
Edgar Wright, freshly done with his British TV series Spaced, takes general meetings with Artisan about doing a Marvel adaptation. Subsequently, Wright and writer Joe Cornish hash out a treatment for an Ant-Man movie starring Scott Lang. Wright later recalled that it was "basically doing a superhero film in invert commas, and it takes place in another genre, almost more in the crime-action genre." Artisan tells the pair that it wanted something more family-friendly, and passes on the treatment. Wright suspects his Artisan contacts never even showed the treatment to Marvel.
2004
Wright meets Kevin Feige, a producer who has worked on multiple Marvel film adaptations by that point, and Feige asks if Wright is interested in any Marvel properties. Wright tells him about the Ant-Man treatment.
2005
Wright and Cornish present their Ant-Man treatment to Feige and Marvel Studios leader Avi Arad. They are reportedly thrilled with it and ask Wright and Cornish to move forward. Soon afterward, Marvel overhauls its approach to movies. It announces plans to self-produce movie adaptations of ten different characters under its own Marvel Studios banner, thanks to a $525 million loan from Merrill Lynch. One of the characters Marvel says it aims to adapt is Ant-Man.
2006
Marvel and Wright officially announce an Ant-Man movie at San Diego Comic-Con in July. Wright tells SuperheroHype.com that the movie will focus on Scott Lang, but that there will be "a prologue where you see Pym as Ant-Man in action in the '60s, in sort of Tales to Astonish mode basically, and then the contemporary, sort of flash-forward, is Scott Lang's story, and how he comes to acquire the suit, how he crosses paths with Henry Pym, and then, in an interesting sort of Machiavellian way, teams up with him." Work begins on the script.
2007
Wright, while finishing up his action-comedy feature Hot Fuzz, tells IGN.com that Ant-Man is "in a bit of a holding pattern. We're figuring things out with the script and we haven't initiated casting. We still have quite a bit to do." Later that year, he and Cornish finish and deliver a first draft, which reportedly features Scott Lang; an elder Hank Pym; Pym's daughter Hope Van Dyne; and a villain named Greydon Clark, who uses an updated form of the Ant-Man suit called the "NanoWarrior."
March 2008
Wright tells Empire that he and Cornish are working on revisions to the script. By now, they have strayed far from the crime-story tone of their 2001 treatment, with Wright saying the movie is "more of a full-on action-adventure sci-fi film but with a comedic element — in the same spirit of a lot of escapist fare like that. It's certainly not a superhero spoof or pastiche and it certainly isn't a sort of Honey I Shrunk the Kids endeavour at all."
February 2010
After years without any substantial updates on the movie, rumors have spread that it's in trouble. Wright says he's focusing on his film Scott Pilgrim vs. the World at the moment, and that because Ant-Man "isn't one of [Marvel's] biggest properties, it's not like a tentpole deadline." In February, Stan Lee — no longer involved in Marvel decision-making — tweets that he had lunch with Edgar Wright and that "Marvel is prepping a movie starring– Ant Man!"
July 2010
At San Diego Comic-Con, Marvel unveils the core cast for its upcoming Avengers movie. Ant-Man is not one of the characters involved. At a separate interview, Wright says he and Feige — now the president of Marvel Studios — had talked about putting Ant-Man in the movie, but that "the script that I've written, you know, whether it's next or not I don't know, the chronology of it or the way it works wouldn't really fit in with what they do."
January 2011
Wright tells the Los Angeles Times that he's back to work on the Ant-Man script, but once again emphasizes that there's no timetable for the movie: "This one's not about about the urgency of summer tentpoles and things going into production without a script."
April 2011
At the Kapow! Comic-Con, Cornish tells an audience that he and Wright have delivered a second draft of Ant-Man to Marvel.
May 2011
Cornish tells Digital Spy that there was originally going to be a reference to Ant-Man in Thor (which debuts that same month), but that the reference was cut from the finished product.
July 2011
At San Diego Comic-Con, Wright tells MTV that he and Cornish have turned in a third draft of the script. He says the movie will only be loosely tied to the rest of the Marvel Cinematic Universe, and that he wants to "create an 'in' for people so you don't have to know 50 years of Avengers history to enjoy the movie."
April 2012
Feige tells HeyUGuys.com that Ant-Man is "as close as it's ever been."
May 2012
Wright issues a cryptic tweet of some kind of pictogram depicting a man, an ant, and Ant-Man. "Received this in the mail," he writes. "What can it mean?" Still no word on casting or a production timeline.
July 2012
At San Diego Comic-Con, Wright confirms that Ant-Man is happening, and that he will direct it. Before a rapt audience, he screens some test footage he directed that depicts Ant-Man (in costume and helmet, thereby not revealing whether it's Lang or Pym) fighting some bad guys in suits. Even this test footage is unfinished, though: At its end, we see Ant-Man is a stuntman on wires.
October 2012
Marvel announces that Ant-Man will be released on November 6, 2015.
January 2013
Feige seems extremely confident in Wright's vision, saying the movie is "certainly set in the Marvel universe, but it's also through the lens of Edgar Wright — which is the only reason we're making the movie."
May 2013
Feige tells EW.com that the Ant-Man script needs to be rewritten "to put it a little bit more into" the now-megasuccessful Marvel Cinematic Universe. He also says Marvel hasn't put much focus on casting the movie just yet.
July 2013
At San Diego Comic-Con, Marvel announces that the second Avengers movie will be titled Avengers: Age of Ultron. But although Henry Pym built Ultron in the original comics, director Joss Whedon says Pym isn't involved in the movie version of Ultron. Wright tells Digital Spy that the Ant-Man script is complete.
August 2013
Wright tells Indiewire that he sees Ant-Man as "pretty standalone in the way we're linking it to the [other Marvel movies]," and that, "In the time I've been working on it other things have happened in the other movies that could be affected in [Ant-Man]."
September 2013
Wright starts prepping production at Marvel's office in Burbank. He and Cornish reportedly do three more drafts of the script, addressing notes from the studio. Marvel moves the Ant-Man release date to July 31, 2015.
October 2013
Wright tweets what appears to be an image from the shoot for the 2012 Ant-Man test footage, with the caption, "Now I'm back in LA, it's high time to finish a little something I've been working on…"
November 2013
In a major setback, Marvel has to abandon its plans to shoot Ant-Man in the U.K., allegedly due to a dispute over filming on protected land. Shooting is relocated to the U.S.
December 2013
Marvel announces that Paul Rudd has been tapped to play Ant-Man (no word on whether it's as Pym or Lang). However, the movie remains troubled: Deadline reports that Marvel has delayed production of the movie at the request of Edgar Wright, who had to rush his The World's End when that film's producer was diagnosed with cancer.
January 2014
Marvel announces that Michael Douglas will play Pym (and that the already-cast Rudd will play Lang). It moves the Ant-Man release date to July 17, 2015.
Early 2014
According to The Hollywood Reporter, Feige and Wright begin to clash as filming nears: Feige allegedly demands more script revisions, against Wright's wishes, and he and Cornish eventually deliver a fifth draft in March. The villain's name has, by this point, been changed to Yellowjacket (a confusing choice, given that that's a code-name often used by Pym himself in the comics). Wright and Cornish have also written a scene for the end of Avengers: Age of Ultron that would act as a prelude to Ant-Man (much like Joss Whedon's mid-credits scene in Captain America: The Winter Soldier, which set up Age of Ultron). More cast members are announced, including Patrick Wilson, Matt Gerald, and Michael Peña.
April 2014
With only weeks to go before shooting begins — and with some sets already built — Feige reportedly calls Wright back to Los Angeles to tell him that the studio wants to do a draft of the script without Wright or Cornish's involvement. Rather than walk out on the movie, Wright sticks around to see what the new draft will look like. According to a source close to the production, Wright has no control over his rewriters.
May 22, 2014
Wright receives the new draft and is not pleased with it.
May 23, 2014
Wright meets with Marvel and, according to a source close to the production, announces to the studio that he will leave the project as director. In a bombshell announcement, Marvel says it has "parted ways" with Edgar Wright. Its brief statement says the "decision to move on is amicable" and that the studio and director separated because of "differences in their vision of the film." Rumors immediately fly about potential replacements, including Ruben Fleischer, David Wain, and Peyton Reed. Around this time, Rudd approaches his friend, writer/director Adam McKay, about getting involved in the movie.
Feige will later recall that the decision came after a tense May meeting (presumably the same one our source cited), telling the Guardian:
We sat round a table and we realized it was not working. A part of me wishes we could have figured that out in the eight years we were working on it. But better for us and for Edgar that we figure it out then, and not move it through production […] The Marvel movies are very collaborative, and I think they are more collaborative than what he had been used to. And I totally respect that.
May 24, 2014
Patrick Wilson, whose part in the movie was still unspecified, tweets that "the big news was Edgar's departure and now not knowing the fate of the film." Joss Whedon, in a surprising act of defiance toward his bosses at Marvel, tweets a captionless image of himself holding up a Cornetto ice-cream snack (Cornetto being a motif in three of Wright's movies).
May 25, 2014
Wright breaks his silence by tweeting a picture of a sad Buster Keaton eating a Cornetto with the caption, "Selfie." He quickly deletes it.
May 30, 2014
Marvel asks McKay to direct the movie.
May 31, 2014
McKay turns Marvel down.
June 6, 2014
Reports emerge that cinematographer Bill Pope and composer Steven Price have also left the film.
June 7, 2014
Marvel announces that Peyton Reed — whose brief filmography consists mostly of romantic comedies and the first Bring It On film — will direct Ant-Man. McKay will be "contributing to the film's script." Wright and Cornish will have a story credit. (Rudd will go on to contribute to the rewrite as well.)
July 15, 2014
Feige tells IGN.com that the movie will now be "very much in the spirit of what Edgar's original pitch was," and that "the movie is in as good a shape as it's ever been right now."
July 25, 2014
More bad PR for the film: Deadline reports that Patrick Wilson, Matt Gerald, and Kevin Weisman have all left the cast. San Diego Comic-Con is underway, making for exceptionally poor timing on this news.
July 26, 2014
Members of the cast and crew appear on a Marvel panel at Comic-Con. Evangeline Lilly and Corey Stoll, long rumored to be in the movie, are confirmed as cast members. Stoll will play Yellowjacket — a confusing announcement for geeks, as Yellowjacket is just one of Pym's aliases in the comics. Lilly tells the crowd she's excited to be in the movie, but that "I don't even have a script yet!"
July 27, 2014
An uproar breaks out online after Michael Douglas reveals that, in the movie, Pym is largely motivated by the death of his wife, Janet Van Dyne, who will barely be seen. Van Dyne (a.k.a. the Wasp) is a major Marvel Comics character, but, as the Mary Sue puts it, the movie appears to be making her simply "a female character who loses her life to make a male character feel sad." The hashtag "#JanetVanCrime" becomes popular among infuriated fans.
August 18, 2014
At long last, filming begins.
December 2, 2014
In a BuzzFeed interview, Evangeline Lilly gives more context for Wright's departure, saying his version of the movie "would have been such a riot to film [and] it would have been so much fun to watch. [But] it wouldn't have fit in the Marvel Universe. It would have stuck out like a sore thumb, no matter how good it was."
December 5, 2014
Reed tweets, "And that's it! Principal photography on ANT-MAN is now complete. The ants have left the building."
January 6, 2015
The first Ant-Man teaser trailer debuts during an episode of Marvel's Agent Carter on ABC. The YouTube version becomes an enormous viral hit, garnering 29 million views in just three days. In a press release about the teaser, Marvel credits Wright as an executive producer for the film.
January 8, 2015
EW.com publishes an interview with Rudd where he says of the finished script, "The idea, the trajectory, the goal, and the blueprint of it all, is really Edgar and Joe, but that "[w]e changed some scenes, we added new sequences, we changed some characters, we added new characters."
January 12, 2015
Vulture asks Wright about the Ant-Man teaser trailer at a Golden Globes party. The exchange goes as follows:
"Hope you don't mind another question …" we began.

He was onto us immediately. "Don't! Don't!" Wright begged, laughing.

"Have you seen …"

"Don't do it!"

"… the trailer for Ant-Man?"

"I can't! I can't even answer it." He laughed, heading back into the party to mingle. "And you already know what the answer is anyway."