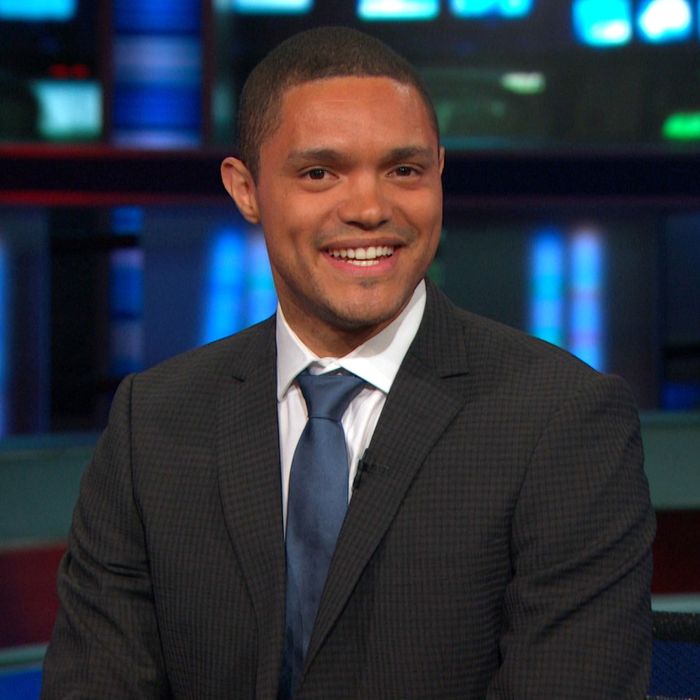 Trevor Noah.
Photo: Comedy Central
Earlier today, Comedy Central announced that Jon Stewart's successor as host of The Daily Show will be Trevor Noah, a 31-year-old comedian from South Africa who joined the show as a correspondent last December. It's a surprising choice given his lack of experience on the show and his modest fame in the U.S., but he shows a lot of promise based on his previous work and his unique takes on the world. So, how did he get here? Here's a timeline of Noah's life and career thus far.
1984: Noah is born on February 20, and grows up in Soweto, South Africa, with a black Xhosa mother and a white Swiss father. Because of apartheid, their marriage was illegal, leading Noah to later joke he was "born a crime." His father couldn't acknowledge their relationship in public, and his mother was jailed for having a mixed-race child.
2002: Noah gets into show business with a role on the soap opera Isidingo, and soon starts hosting his own radio show, Noah's Ark. While also working on his stand-up, he hosts and appears on a few reality competition programs.
2009: He releases his first comedy special, The Daywalker, and soon after gets his own talk show, Tonight With Trevor Noah, which bears similarities to The Daily Show.
2012: Noah performs on The Tonight Show, becoming the first South African comedian to get the honor (in 2013, he'll do the same on Letterman). That year, he's also the subject of You Laugh But It's True, a documentary that follows his career and addresses the difficulties of making it in the South African comedy scene amidst racial tensions in the country.
2013: Showtime releases his latest special, Trevor Noah: African American, which hilariously examines his childhood and his attempts to fit in with the United States' black culture. His outsider perspective resembles that of other Daily Show correspondents as he deconstructs the absurdity of American society, from race and politics to sports and entertainment.
2014: He graces the cover of GQ South Africa:
2014: On December 5, Noah makes his first appearance on The Daily Show. He kicks off his bit with a joke about his arms being tired, not because he just flew in but because he had to keep them up in the air so the police wouldn't shoot him. He then explains several crucial differences between the U.S. and South Africa:
2015: Eleven days after his third appearance as a Daily Show correspondent (in which he did a bit about chess and sports), Comedy Central announces he'll become the next Daily Show host, only the third in the program's 19-year history, following Stewart and Craig Kilborn. When reached in Dubai, where he's currently on tour, Noah tells the New York Times, "You don't believe it for the first few hours. You need a stiff drink, and then unfortunately you're in a place where you can't really get alcohol." Stewart added in a statement, "I'm thrilled for the show and for Trevor. He's a tremendous comic and talent that we've loved working with." He also jokes that he "may rejoin as a correspondent just to be a part of it!!!" The network has yet to reveal when Noah will take over, and his website shows he has stand-up dates booked through October 22.