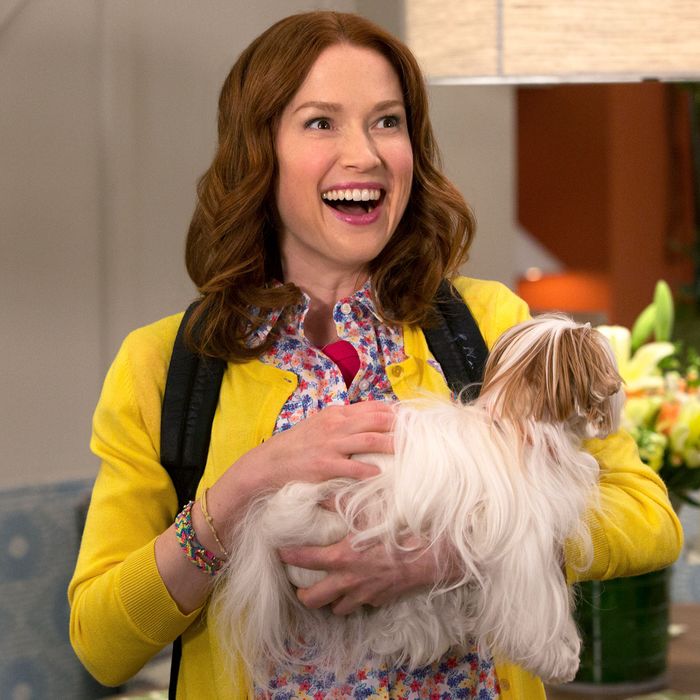 Watch this show.
Photo: Netflix
If there's a better match of performer and role than Ellie Kemper and Kimmy Schmidt, I can't think of one. Kemper is the show, and the success of the series hangs on her ability to be childlike but not idiotic, cheery but not irritating, naïve but dignified. Kemper's just about perfect, and the show's pretty damn good, too.
Let it be known, Unbreakable Kimmy Schmidt, which goes up on Netflix at midnight, is strange. Kimmy just spent the last 15 years in an underground bunker, being lied to by a cult preacher. Now she's one of the rescued Indiana "mole women," back in the real world (or as real as New York can feel) and trying to make a life for herself. She winds up with an eccentric roommate, Titus (Tituss Burgess, wonderful), a loopy landlady (Carol Kane), and a job working for an erratic uptown mom (Jane Krakowski). Kimmy has the experiences of a child, but she doesn't have the mind of one: She's smart and determined, and while she's frequently shocked by her surroundings ("even the police have tattoos!"), she's already a survivor. Sure, she gets really excited about candy, but this isn't Elf — she also acknowledges "weird sex stuff" happening in the bunker, for example. Kimmy openly worries that she'll never get to have a normal life, that her experiences could make her bitter, and that people will always see her as a victim in some capacity, even though that's not how she sees herself. That's a lot of character to cram in, and a lot of heavy baggage for a sitcom premise, and yet here it feels effortless and occasionally breezy. New York is full of broken people with wacky dreams. Welcome home, Kimmy.
The show was created by Tina Fey and Robert Carlock, and it has a lot in common with 30 Rock. Kimmy shares some of Liz's squareness, and Krakowski's Jacqueline could easily share a dog masseuse with Jenna Maroney. (I won't spoil her actual backstory here, but it's one of my favorite comedy subplots in living memory.) There's also plenty of 30 Rock's social and cultural criticism, particularly about the way that mass media covers weird human-interest stories. "We don't actually love the term 'mole women,'" Kimmy tells Matt Lauer, who could not care less. The joke density is staggering, and the characters speak with precisely distinct voices — something many comedies don't nail down until deeper into their runs. Kimmy, in the throes of a flashback night terror, tries to strangle Titus in the middle of the night. "This isn't the Chinatown bus! You can't just choke someone who's sleeping!" Titus shouts at her, and suddenly … we know a lot more about Titus's experiences. Kimmy is more oddball than 30 Rock, darker but a little less cynical, probably because Kimmy herself is odder, more tragic, and yet more optimistic than Liz Lemon.
The show is savvy and hilarious and I was completely sold on it, but I'm also not surprised that NBC ultimately decided not to air it. (The show was developed there, but the network passed, and NBC's loss is Netflix's gain.) Kimmy's not a network show. I'd say it could be a cable show, but cable snuffed out Enlightened and Dead Like Me, so maybe not. I guess it's a streaming show? It's not addictive in the way Orange Is the New Black is, for example, though it is hugely compelling in its own way — less "I have to know what happens next" and more "I wonder what will happen next," with a kind of perky yet knowing wonder, à la Kimmy herself. There's something really special about Unbreakable Kimmy Schmidt, in the show, in the character, and most especially in Kemper.