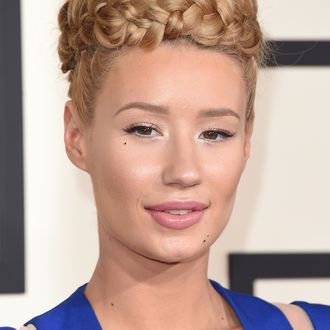 Photo: Jason Merritt/Getty
There's been a lot of debate over the last year about whether or not Iggy Azalea can actually rap. Does she write her own rhymes? Probably not. Can she rap coherently? According to one Vine making the rounds on Tumblr, definitely not. Here she is attempting to rap her song "D.R.U.G.S." live, but for some odd reason, we can't make out a word she's saying. "Twist this beat"? "Spring my joint"? "Puh puh puh puh puh ph …"? Yeah, your guess is as good as ours.
Translation: "Pitchfork point better pass me the joint / Gotta twist this beat I'ma sprang my joint / Straight crack rock, go to the pop-pop / Pumo Jiggy Rap City, no Tiggy — yeah shorty do illa, I'm raw no Digga." Whatever you say, Iggy.