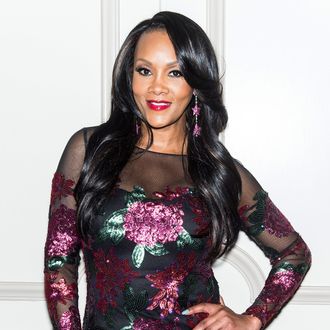 Welcome back!
Photo: Gilbert Carrasquillo/Getty Images
Now that Independence Day 2 has found its leads in Jessie Usher and Liam Hemsworth, Roland Emmerich is beginning to fill out the rest of the cast with some of the stars from the original film. The director announced on Twitter that Vivica A. Fox will reprise her role as Jasmine Dubrow, the stripper who — spoiler! — ends up marrying Will Smith's character, Captain Steven Hiller. She joins Jeff Goldblum as the only other returning cast member confirmed so far, with Smith opting out of the sequel. Charlotte Gainsbourg was also recently confirmed to join the cast.
So with this latest casting news, it's time to start speculating about what happened to Will Smith's character. We already know that his stepson Dylan will be a central character in the sequel (and played by Jessie Usher). And with his mother, played by Fox, now in the sequel, too, here's what that could mean:
1. Smith's character will likely be killed off, with Dubrow playing a widow in the sequel.
2. Maybe they got divorced? (But they were so in love!) Perhaps Smith's character will simply be out of the picture.
3. Most important, it might mean we can start 'shipping Fox and Goldblum's characters!
Any other theories?