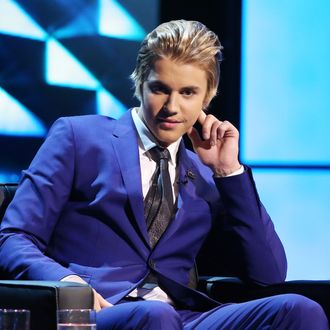 Justin Bieber onstage during his Comedy Central roast.
Photo: Michael Tran/FilmMagic
Comedy Central finally aired its Roast of Justin Bieber on Monday night. You might recall some of these nasty burns, or some of these other pretty nasty burns. It was a particularly raunchy affair, featuring insults from the likes of Kevin Hart, Chris D'Elia, Hannibal Buress, Pete Davidson, Snoop Dogg, Natasha Leggero, Ludacris, Shaquille O'Neal, Jeffrey Ross, Martha Stewart, and Ron Burgundy. The Biebs and his monkey managed to remain mostly smiley throughout. Don't worry: If you missed the special, Comedy Central put some of the highlights on YouTube so you can get a feel for how everyone reacted and what the chaos looked like.
Here's Hart talking about people taking their shirts off, in semi-defense of Bieber's shirtless antics:
The whole peeing-in-a-mop-bucket thing was also addressed:
Davidson had a couple of winning morbid jokes, and one of them even dissed Bieber's dad:
Leggero took a shot at Beliebers everywhere:
Shaq was almost too tall to participate, but he hunched over to rib the Biebs for being more hated than Kim Jong-un:
D'Elia tackled similar territory:
Stewart slayed everybody as herself:
Ross discussed, er, slammed Bieber's former flame:
Snoop made fun of Bieber's monkey and his mugshot:
Buress just went straight to the point and told the roastee the cold, hard truth about his music:
Ron Burgundy made a surprise appearance to run down an in-depth timeline of Bieber's malfeasances:
And then, all jokes aside, the Biebs made a public apology and promised to be a nice human: