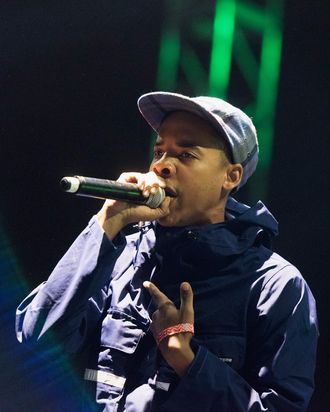 Earl Sweatshirt performs onstage at L.A. Sports Arena & Exposition Park on August 24, 2014 in Los Angeles, California.
Photo: Paul R. Giunta/Getty Images
Album-release dates have always been subject to change, but today, they feel more difficult to pin down than ever. Instead of lining up outside of Tower Records at midnight to buy the new Pearl Jam album (as these poor souls once did), fans wake up and its, Boom, here's the new Kendrick Lamar album! Or, Hi, everybody, here's Drake! Or, Good news, D'Angelo's back! Call it the Beyoncé effect, but surprise releases are officially on the rise, and it pretty much means that record-release dates as we know them are dead.  
Video killed the radio star, and piracy killed the record-release date. Labels still haven't figure out how to prevent leaks, going so far as to create a global release day starting this summer. An exec at Universal Music Group told Vulture that the surprise release is one tool artists have to help put the power back in their hands. "For albums with unannounced drops, you're seeing a lot less piracy leading up to them. You're not seeing as many tracks leaked ahead of time, you're not seeing unfinished work being leaked out [in] dribs and drabs. You're seeing a little more control over the release and who has access to it."
Drake, he says, is a good example. He never made a release-date announcement. In fact, he delivered his latest album to the label one week before its release, and from there, "it was literally all hands on deck making sure everything was taken care of." The album didn't leak, and the extra hype helped secure a spot on the top of the charts. Ditto with Kendrick Lamar. His sophomore record was released as a surprise this week, and it has since set a record for album streams on Spotify (9.6 million streams in a day).
But the surprise drop also comes with its fair share of setbacks and headaches. Album art still needs to be cleared by lawyers; tracks need to be loaded on different servers and made available for downloading and streaming. That process usually takes about three months and also includes marketing, publicity, manufacturing, and, yes, the physical distribution of product. (Record sales are at an all-time low, but labels still aren't willing to abandon the physical release altogether. Last year, consumers purchased 140.8 million CDs, a 14 percent drop from 2013. Vinyl sales actually increased by 52 percent.) In other words, for an artist to forgo the typical three-month release process, they are taking a big risk in an already very risky market. "There are zero benefits from not having an official release date," says Jason Jones, director of sales at Mute Records. "It still serves as a date to focus on from a marketing perspective. I think the main takeaway that I've noticed is that lead times on announcements are just getting shorter." The surprise release, he added, does create a certain level of control over an artist's product, though. "You can be more strategic in your approach, and also have less time for it to leak."
"Surprise drops only work for artists like Beyoncé," says Sarah Avrin, a publicist with Girlie Action Media. "It has to be an artist who can mobilize their entire fan base in a matter of minutes, whether it's with a new record, a video, or a statement about feminism." For artists who don't have the luxury of being Beyoncé, she says, sticking to the schedule is the safer bet because it allows her to build a successful campaign by securing magazine features, awards-show appearances, and television bookings well in advance of the release date. Most artists are used to this rollout, but younger artists like Earl Sweatshirt are less immune to old-school record-business tactics and are willing to ignore them. This week, the Odd Future alum surprised his fans with an unannounced new release as well. According to his publicist, the purpose of the unannounced drop was to create a direct-to-fan experience and make the music feel more personal.
So who's next? Will Rihanna make an official release date announcement before her new album comes out this year, or will she show up to the label and say, "Hi … I mean, SURPRISE!" The UMG exec says he doesn't know who the next artist to request a mystery drop will be, but Kanye West is probably a safe bet. "I think he's publicly stated that he won't be announcing a release date," he says, "But they keep these things pretty close to the vest. Your guess is as good as mine."