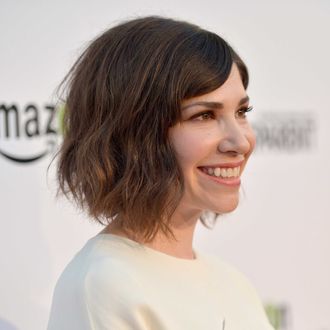 Finally!
Photo: Charley Gallay/Getty Images
Okay, sure, October is still a ways away. But considering news first broke that the Sleater-Kinney guitarist was writing her memoir nearly three years ago, there's reason to celebrate its just-announced October 27 release date. Titled Hunger Makes Me a Modern Girl, it's been described as a "deeply personal and revealing narrative of Brownstein's life in music, from ardent fan to pioneering female guitarist to comedic performer and luminary in the independent rock world." And, similar to Kim Gordon's new memoir (which Brownstein recently interviewed Gordon about), it "intimately captures what it feels like to be a young woman in a rock-and-roll band, from her days at the dawn of the underground feminist punk-rock movement that would define music and pop culture in the 1990s through today."
Brownstein previously told NME that the book "pretty much ends with Sleater-Kinney going on hiatus, and a little bit of leading on from that. But it doesn't even really go onto Portlandia." Obviously, a lot has happened since then, so we're hoping she's squeezed in an epilogue (or a sequel!).
It's a hell of a good time to release long-awaited female-rock-star memoirs [taps watch], Courtney Love.