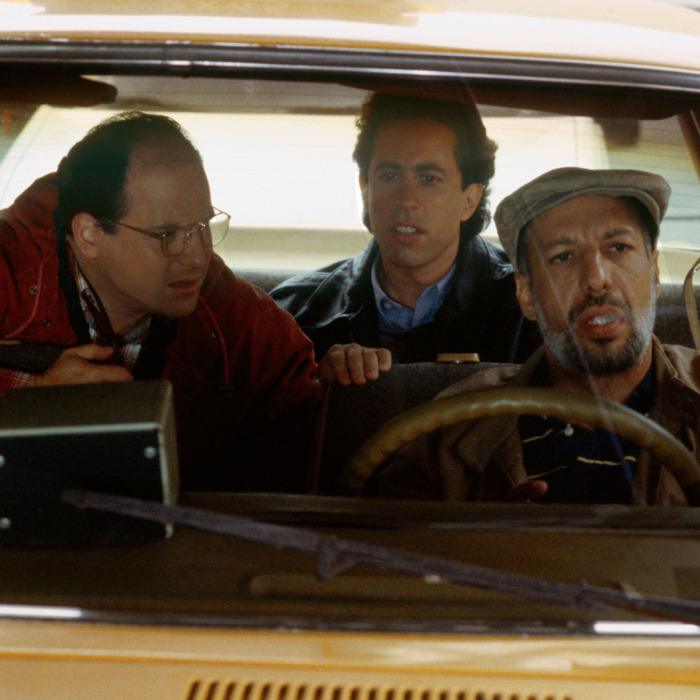 In the course of gathering material for our After Midnight issue, we realized we had a problem — too many people had too many good New York stories. This is not usually an issue, but it broke our hearts when some of our favorite anecdotes had to be cut down or lost altogether. Too many muggings, street fights, and stabbings. Too many whimsical or magical moments where people went to sleep in a fountain, threw snowballs in a restaurant, or went dancing on top of a fire engine. Too many stolen kisses, celebrity hookups, and whipped-cream orgies. (Well, you can never have too many of those.) Below and in our iPad edition, we share some of the outtakes.
"Taking a Taxi," by Jerry Seinfeld
I don't go out that late anymore. I miss the days when we actually felt safe in New York City cabs. When we thought, I don't need a seatbelt. Nothing could possibly go wrong. I'm sure this guy isn't going to drive me to Newark for no reason. Now people are very safety-conscious, but in the '70s, you would just get in a cab and assume everything was going to be fine! You would just sit back there, the tires would be bald, he doesn't have a license, he's driving 75 on Second Avenue, it's not paved, you know, and you think, This is fine! This is great! Now, as soon as you get in a cab, you start taking down information to sue the guy.
"Learning to Fight," by John Cale
One time, this would have been about '67, we just both happened to be in this apartment, because Lou [Reed] and I, we had a girlfriend that we were sort of competing over, Darryl, but we were pretty cool about it. As it turned out, she had kids. So we went by there one night, and the girl was in the back with the kids, trying to get them to sleep, and I was in the front with a recorder, and Lou had a guitar. And then this guy shows up. His gig was that you pointed out somebody and he'd rough them up for you. And we didn't know anything about that. He was drunk, and he said, "Hey, the baby's crying. Cut the noise, man. Stop playing." And I wouldn't stop. Lou stopped. This guy said, "Hey, man, I told you to stop that!" And I said, "Why?" He said, "You want to be a tough guy, huh? Come outside." "I'm not going out there. It's cold out there." This sort of made an impression with Lou. He was sitting there, shitting his pants. But it ended up being this bizarre situation where this guy ended up giving me tips on how to get into a brawl, how to pull punches. Like we're pretending to be fighting, in the living room. He was showing me all these moves, how to turn your body, how to avoid a blow. Bizarre. The following day, he went out and got drunk, came back, and he blew the door off with a shotgun!
"Snowballs in Restaurants," by Condola Rashad
We had this really surreal, magical night at my favorite bar, the Bourgeois Pig, in the East Village, in the middle of a snowstorm. We were in a corner in the restaurant, right off of the door, almost our own little section, and the next thing we know, somebody ran in from outside and started throwing snowballs! In the restaurant! We were having a snow fight in the restaurant! And the weird thing is, I don't remember us getting into trouble. It's probably not allowed at all, but everybody was laughing, and we ended up going outside and getting into another snow fight, rolling in the middle of the street in the snow. I remember laying on my back looking up at the sky in the middle of the street — which was okay, because there were no cars. I wasn't drunk, but I don't know what came over us! Our hands were freezing, but we couldn't stop laughing. None of us could sleep because our adrenaline was so high from being blasted with snowballs.
"The Dangerous Houseguest," by Anthony Haden-Guest
Years ago, I was going to a round of art openings with a former girlfriend, Patricia. As we wandered on, we brought along a few other people, a little cluster of people formed, and we brought them back to my place. And there was a guy Horace [Harris], a big black dude, very pleasant, with kind of an English accent. He claimed to know … he dropped names of people I knew in London. Eventually, there was no food and everyone left, except Patricia, who stayed over, and this guy, I saw, had gone to sleep on the sofa. I thought, Oh, well, I've done that a million times. So I let him sleep. And so I was in bed with Patricia, and the door opens. I was closest to the door, and I'm a very light sleeper, so I wake up, and it's this guy, Horace. And I said, "What are you doing? Get out of here!" But suddenly he's hitting me! And then Patricia wakes up, finally, and Horace dashes out. I put the light on, and I'm drenched with blood. He'd actually been stabbing me! And Patricia! We discovered that Horace had gone in a drawer, and he had laid out on the table about ten knives. The knife he'd chosen, though, was a little flick knife I'd gotten for self-defense. It only had a five-inch blade. Of course, five inches could kill you, but he wasn't a very good shot.
"Making Out at St. Patrick's," by Peter Bogdanovich
I had a girlfriend all through high school, my first serious girlfriend. She passed away very young, but her name was Suzy. Her parents, who lived up on Park Avenue on 93rd Street, weren't too keen on me, and my parents weren't too keen on her, so we had no place to go. So we would go to St. Patrick's Cathedral and hide in the shadows outside and neck. I probably came up with the idea. We'd go and see a play, and it wasn't too far a walk from there. I remember going there because it had a lot of places where you could not be seen off the street, without being observed, so we looked for a place that was hidden, one of the shadowy eaves around there, and that's where we did the dirty deed. It was kind of innocent, because we couldn't do very much except neck. I haven't checked out St. Patrick's lately. I don't know if it was ever a make-out joint before, but this night it was.
"Party on the Fire Engine," by Ann Magnuson
Nothing started before 11 p.m. You didn't dare leave your apartment before 11. One night, there was a fire during the Elvis Memorial night at Club 57. A couple of bona-fide juvenile delinquents snuck in from the detention center next door, and that night they were shaking their beer bottles and spewing the foam on the faulty air conditioner, which exploded into flames. Everyone ran like banshees out the front door. Jean-Michel Basquiat was there, leaning against the bar, playing Mr. Super Cool, laughing at everyone running. The flames were put out by someone using their coat, but the firemen came anyway. They parked their engine out front, and John Sex got on top of it and started having a pose-a-thon. The firemen loved it! They were laughing and joining us, jumping on the fire truck, until the police came and the fun stopped. There was a big brawl outside because some guy walking a dog punched this girl Christina in the face, and Kenny Scharf threw a rock at the guy and hit him in the neck. The guy went down, Kenny ran off, and Christina's boyfriend was accused of it. Kenny actually had to appear in court to exonerate the guy, and he was freaking out since he didn't want to say he threw it, and it looked like he might have to lie under oath. The case got thrown out of court right before the trial because the guy hit by the rock was actually an off-duty cop, and he was arrested the day of the trial for murdering his boyfriend!
"Discount Blow Jobs," by Wayne Coyne
We played at a place called the Pyramid Club in the early 1980s, and we were the main group. So we didn't even start playing until maybe 2 a.m. By the time we were finished and got all our stuff out of the club, it was maybe 5:30 a.m. All we wanted to do was get out of town. Somehow, we always ended up on this street with hookers. It wasn't on purpose. These were very aggressive prostitutes. I mean, it was so blatant that you shouldn't even be on this street unless you were in the game. So, one time, we're trying to get out of town, and there were like ten of us crammed into a van. This forceful woman comes up to the window and says something like, "Hey, it's $10 for a blow job." We were joking around and somebody said, "We all want one." I couldn't believe it. She actually looked around the van and did a quick calculation. She said, "Okay, I'll figure out a discount rate for everyone." We weren't serious at all. I mean, we're from Oklahoma. She quickly realized that we were in over our heads.
"Street Fight," by Mekhi Phifer
I'm from Harlem, so I've had many, many dangerous encounters, but a lot of times, I was more the aggressor. I very rarely fell victim. I was a very rambunctious young man. I remember being 15, and my cousin, who was 13 at the time, we ended up getting into this huge fight with these two grown men. My cousin was leaning on the glass, and the guy came out, "Come on, get away from my store," and a huge fight ensued. It was almost like one-on-one for both of us. My cousin got knocked out for a second, so then I was fighting the two guys, but he woke up really quick, and he got right back into it. And for being so young, we held our own really well. And then the cops came, and the witnesses on the street told them that these guys had instigated it. So we didn't get in any trouble. They asked us if we wanted to press charges, and we were like, "Nah, we don't want to press charges. We just want to go." My cousin might have had a little lump, but I took care of my guy.
"The Butcher of the Meatpacking District," by Harvey Fierstein
Back in '77, '78, the Meatpacking District had those places where those trucks parked overnight on the West Side, and there was one particular parking lot that, supposedly, the guy who owned it, his son was gay. So what he would do, he would unlock the trucks and leave them unlocked at night, especially in the wintertime, when it was really cold, so we could go inside the trucks to cruise, so we didn't have to stand out on the street. It was called "The Trucks." So one night we were all out and having a good time, and two friends and I started leaving on Greenwich Street, and this guy came up to us with this huge knife and held us up. We gave him our money, and I think I had $1.32 on me, that's the number that I remember. He ran off and we ran the other way to Eighth Avenue, because we thought there might be a cop there, and there was. And so we got into this cop car, and we drove around looking for the guy, and we got him, and had him arrested. And then we had to sit all night in night court, to testify against him, right? By now it's 5 o'clock the next morning. And he finally gets called up, and there's a public defender, and he's brought up on charges of robbery with a deadly weapon. And the public defender says, "Your honor, that's not a deadly weapon. It's a butcher's knife!" And the judge looks at him and with a perfect New York Jewish accent says, "So all of a sudden he's a butcher?"
"Gal Pals at Boy Bar," by Sandra Bernhard  
When I was doing Without You I'm Nothing in 1988, usually we'd go out afterwards to either the World or Area or the Boy Bar. Boy Bar was a gay/bi bar down on the Lower East Side. It was just a dance place, where people went who wanted to dance and be seen and meet up with people. We'd run into Whitney Houston. She was there. Miss Whitney Houston, dancing. With her gal pal [Robyn Crawford]. The woman she was, you know, always with. Everybody kind of knew she was hanging out with this chick. Every time you open your mouth, people assume you know everything, and I don't. All I know is you'd see people out. Everybody was on the scene. It was a much crazier time. People were much more sexual, they were much more, kind of like, druggie. It was a much more groovy, loose, crazy, music scene meets art scene meets fashion meets theater. People collided.
"The Byrd Hoffman School of Byrds," by Eric Bogosian
When I first got to New York, I lived in Times Square, where every night was an adventure: hooker fights under my window, gang members stealing and robbing, crazy people all over the place. And I dated a dancer who was also new to the city. It was very romantic. She dragged me down to the Lower East Side in the middle of the night and tapped on an anonymous door. Inside were these old men wearing little white paper hats and dusted with flour, making bagels and bialys. We bought a small brown paper bag of hot bialys for ten cents and ate them as we cruised what were then very empty late-night streets. On another occasion, she took me to Spring Street in Soho and there was a doorway about four feet high. We ducked down into the doorway, and inside music was playing, and everyone in the room was twirling. This was the Byrd Hoffman School of Byrds founded by Robert Wilson. Every Thursday night, people came together and spun to the music. This was the haunt of Christopher Knowles, the autistic savant. One year later, Einstein on the Beach premiered at the Met featuring this spinning dance and Knowles's writing. Anyway, that year, I decided that I would give up acting because it was too competitive, but I would stay in New York City for the bialys and the dancing.
Additional reporting by Jamie Sharpe and Kylie Gilbert.