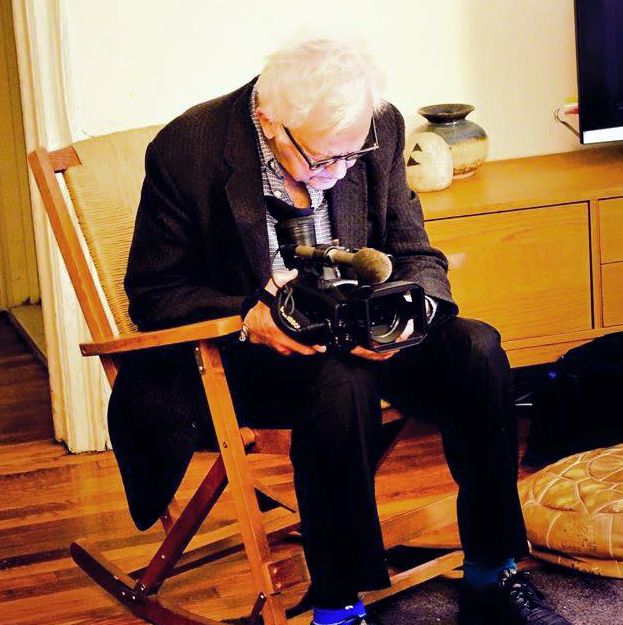 Albert Maysles, in my living room.
Photo: S. Jhoanna Robledo.
In 2009, almost six years ago, Albert Maysles came to our apartment to shoot footage of my two boys, Ben and Sam, talking to each other. It was a fluke that it even happened. My friend Alex, a fellow journalist and fellow mother of three with whom I'd often commiserate  at the school-bus stop, had just met him. Her daughter, Ruby, had just met with Albert and he was looking for more subjects to interview. "He's wonderful," she told me. "Amazing."
She didn't need to persuade me. I grew up in Manila and Hong Kong, seeing very little television as a kid, but as a grown-up I discovered Grey Gardens on video, and the first time I watched it, I immediately rewound and watched again. Like everyone else, I was fascinated by Little Edie's gloom and glamour, and I wondered how the Maysles brothers managed to capture it all, with so little judgment and so much grace.
We soon got an e-mail from a woman named Susan, a producer, who was making the arrangements on behalf of Albert. All we knew was that he was working on a documentary about kids and wanted to capture them talking to each other. Our neighbor sent her daughter, Nikki, over, so Albert would have three kids to work with—the more they talked, the better it would be. Do I need to prep them? I asked. Nope.
I cleaned the apartment. I decluttered the living room. I wondered whether the grimy baseboards and pockmarked floors would look like Little Edie's on film. The children, at least, were more curious than excited. And then the doorbell rang and there he was in his navy slacks, grey sweater, and black blazer, a shock of white hair framing a kind, lined face. He was at once impressive and welcoming, like someone unaware of his own fame. He gave a gentle handshake.
He didn't say much, just smiled and walked in and said hello to the kids. He could've been a long-lost distant relative come to visit. Then he took a quick survey of the living room and sat on the rocking chair directly across from the sofa, on which the kids had placed themselves haphazardly. He unpacked his video camera, settled into a comfortable position, and started recording. No big pronouncement, no commotion. Susan gave me releases to sign and motioned for me to get out of the way. I hid in the bedroom, straining to hear what the kids were saying but catching only murmurs and, occasionally, laughter.
Ben, now 14, remembers little from the shoot, except that Albert was friendly but not boisterous. He was calm, lobbing questions in such a quiet, unfussy way that the kids didn't feel nervous at all. Ben only remembers one of them: What type of person do you think you'd want to marry when you grow up? He doesn't remember what he said now; Nikki said she wanted to marry someone rich. That made Albert chuckle. Afterward, I asked to take a photo of him with the kids and he graciously agreed, pulling Ben and Nikki close. And then off he went.  
Two years later—two years!—he returned to shoot again. By then, Alex and I had shot our own documentary, about a cabaret class, and we were looking everywhere for clues about how to make it work. While filming we'd often talk about Albert, how we had to be more like him, low-key, allowing everyone to be him- or herself, always keeping the camera running. A second visit from Albert seemed like a sign that it might. This time, he shot only Sam and one friend of his. Again, Albert came and went sotto voce, asking for nothing but a glass of water. (He wore bright blue socks, I remember.) Again he spent nearly the entire time on the rocking chair, the camera cradled in his hands, letting it run, as if he were just an extension of it, waiting for his subjects to reveal themselves. They always did, because he listened closely, offered empathy, gave them room to be.
I don't know what became of the film about children. In 2011, he told Paper magazine that what interested him was that "kids come up with the most beautiful ideas and can express them so uniquely." I'm just glad he had the interest to keep going—and enough to come back for a second visit—and I will never part with that rocking chair. It will always be his.