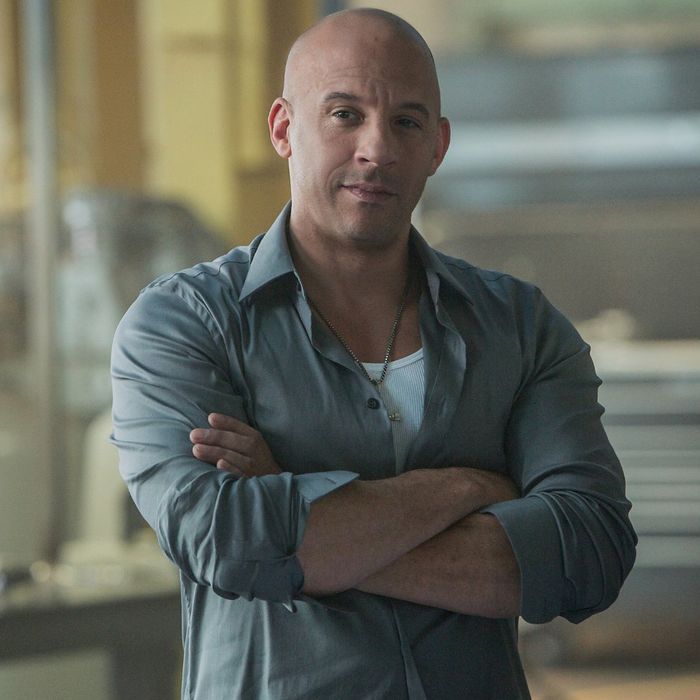 Photo: Universal Pictures
In an honestly delightful Variety profile, Furious 7 star Vin Diesel throws his hat into the Oscar prognostication derby, predicting over and over again that his megabudget car-stunt sequel is our new Academy Award front-runner. "It will probably win best picture at the Oscars, unless the Oscars don't want to be relevant," says a not-sure-if-trolling Diesel, who then doubles down — "This will win Best Picture," he insists again, adding, "There is nothing that will ever come close to the power of this thing" — and backs up his claim with an anecdote from Universal head Ron Meyer, who supposedly assured Diesel after Fast 5 and Fast 6, "If there was no number attached to these movies, they would be contenders for Best Picture." (Reached to comment on Diesel's boast, a Universal executive could only laugh.)
Here at Vulture, we know better than to discount the claims made by Hollywood's most highly paid living statue. If Vin Diesel wants to take Furious 7 all the way to the Academy Awards, who are we to stand in his well-muscled way? In fact, let us be of service by choosing the film's Oscar clips! Imagine, if you will, a teary, halting Terrence Howard standing on the Dolby Theatre stage next February, ready to introduce Furious 7's Best Picture reel. If the Academy takes our advice, some (or all!) of the five following moments will then play.

1. Iggy Azalea's one-second Furious 7 cameo, where the sound of her voice literally makes Michelle Rodriguez want to punch someone.

2. The very necessary part where we follow a woman's butt as she gets out of the ocean.

3. The scene where the Rock is laid up at the hospital, then realizes he is missing a crucial action sequence and breaks out of his arm cast by squeezing his bicep really hard, a million pieces of plaster exploding off the Rock's swollen muscles like hot popcorn.

4. The part where a weary Kurt Russell offers Vin Diesel a beer and Vin's all, "I prefer Corona," and then Kurt Russell hauls out a giant ice bucket full of product placement Corona that somehow gets more screen time than franchise mainstay Jordana Brewster.
5. The montage over the closing credits intended to pay homage to late star Paul Walker, which pulls footage of him from all 12 years of the Fast & Furious films, thereby giving this fast-car franchise its own lump-in-the-throat Boyhood moment (no, for real!).
Think on it, Academy. (Or, at the very least, hire the Rock to host the Oscars next year. That one, we really mean.)