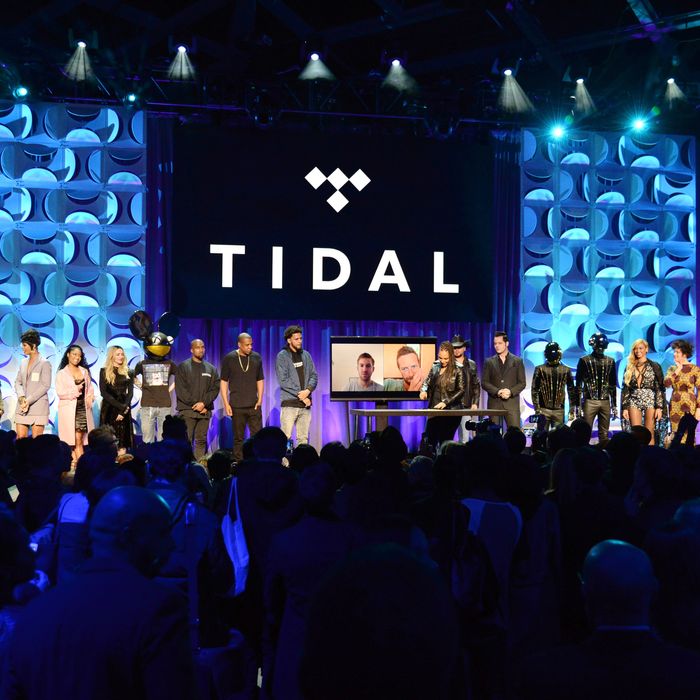 Photo: Kevin Mazur/Getty Images
For years, Spotify has dominated the music-streaming market, but all of that could change after this week's splashy press conference for Tidal, the latest streaming platform available in the U.S. The company was acquired by Jay Z when he purchased Aspiro in February for around $56 million; shareholders include Kanye West, Madonna, Beyoncé, Usher, Rihanna, Daft Punk, and Jack White, to name a few. Its key selling point, in addition to its star power, is lossless CD-quality sound for $20 a month. It's a feature and price that artists will love but the average music listener can probably live without. If Tidal is going to distinguish itself as a leader, it needs more than hi-fi sound at the most expensive rate in the market — it has to convert young consumers who are used to getting something for nothing.
It's a code the industry has been trying to crack since Napster, and Hov isn't going to solve it overnight. In the meantime, Tidal plans to stifle its competition by offering exclusive content. Two of the artists behind this year's most highly anticipated records — Rihanna and Kanye West of Roc Nation, also owned by Jay Z — are Tidal shareholders. There are rumors their next albums, and possibly a joint album between Beyoncé and Jay Z, will be released exclusively through Tidal. Alicia Keys has already released exclusive behind-the-scenes footage from her concerts. More will come in the coming months. Tidal also offers 75,000 HD commercial-free videos, and exclusive interviews and features curated by staff. All of this gives the company a leg up on Beats Music, whose Jimmy Iovine has been aggressively courting artists and labels for exclusives in time for Apple's relaunch this summer. To sweeten the deal, Tidal, originally launched as a premium-only service for audiophiles, much like Deezer Elite, now offers a $10 version. That's pretty good, but it's not free.
Last year, ad-supported streaming increased by 34 percent, outpacing paid subscriptions by about 10 percent, according to the Recording Industry Association of America. In January, Spotify reported only 15 million paid subscribers, dwarfed by the 60 million active users who enjoy the free version. Ad-supported options are devastating for royalties (some artists are paid a fraction of a penny per stream.) In 2013, Spotify made $1 billion in revenue. Over 90 percent of its sales that year came from paid subscriptions, roughly $987 million. Only $90 million came from advertising. This bleak ratio has hindered the company's ability to pay higher royalties to record labels. Spotify has yet to report a profit. When Apple launches its new streaming service this summer, it may not do any better, but as the Times pointed out, Apple can afford to fail. $1 billion is one half of one percent of the company's annual $183 billion revenue.
In a way, Tidal has much more to lose: "We're not even against other streaming companies," Jay Z told Billboard. "We want everyone to do well. We just want to carve out our section and let our voice be heard." Item No. 1 is to make sure artists are fairly compensated for their work.
Thus, Tidal's press conference this week felt more like a plea than a presentation. Several of the biggest pop stars in the world stood onstage, hats in hand, to humbly ask fans to get behind their artist-friendly mission and "reestablish the value of music" by actually paying for it. One by one, they scribbled their names down on the Tidal "declaration," a symbolic gesture meant to suggest we were witnessing the beginning of a new era for music. And maybe we are. Maybe streaming is the final frontier, or, as Hov put it, "the last music format that we see in this lifetime." Consumers now have more options than ever to choose from, and the influx of competition is a good thing; it will inspire innovation and force companies to address the shortcomings of the status quo.
Tidal, as evidenced by its #TIDALforAll social media campaign, is not only a streaming service, it's a rallying cry. It aims to prove music shouldn't be free and that the current model isn't sustainable. It wants to educate a new generation of listeners about the importance of quality sound even when their ears aren't keen enough to recognize it. Whether or not Tidal will reach those young listeners remains to be seen. Noticeably absent from its list of high-powered shareholders was 25-year-old Taylor Swift, whose outspoken opposition to Spotify's ad-supported service last year has arguably become the single most influential moment in the streaming debate. Swift did not turn her social-media avatar blue, as others did, in support of Tidal's official launch earlier this week, but her catalogue won't be found among Spotify's 30 million tracks, either. Point, Tidal.