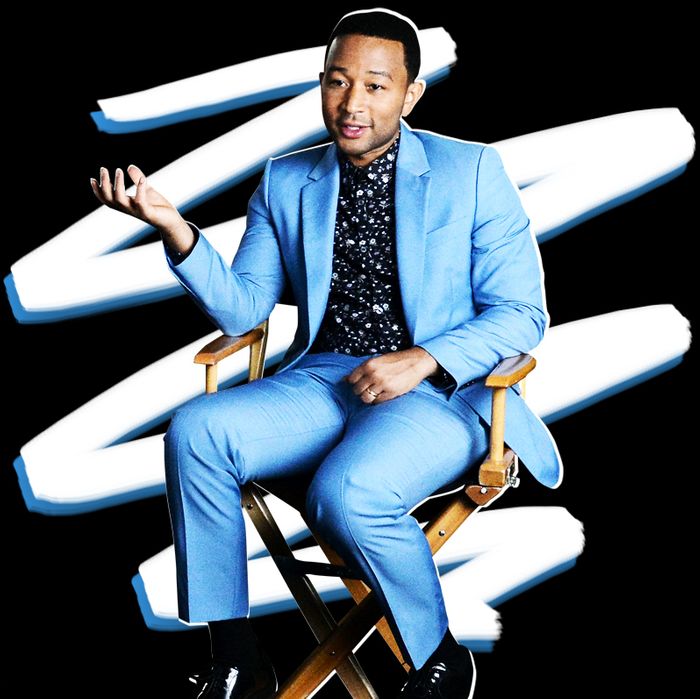 Photo: Maya Robinson and Photo by Slaven Vlasic/Getty Images for AXE
You might've noticed John Legend recently. It's because he's everywhere — his 2013 album Love in the Future was a critical hit, getting nominated for Best R&B Album at the Grammys, and a commercial hit, with "All of Me" hitting No. 1. But it also smartly included a slew of collaborators: Kanye West, Kimbra, Sara Bareilles, Ingrid Michaelson, Pharrell Williams, and Rick Ross. Since then, Legend's been quite the popular dude, appearing on other people's albums — often adding the perfect amount of soul and style to a track otherwise devoid of the two things Legend is now known for. This dude is a boring pop star's secret weapon, and here's how.
CREDIBILITY
Take "Like I'm Gonna Lose You," a song off Meghan Trainor's debut album, Title. Trainor originally did the song solo, accompanied by just a ukulele, but added Legend to the studio track — making him her album's only feature. And if you listen to them back-to-back, you can hear how much he brings to the song — style, grace, and, perhaps most important, credibility. Trainor's new to this thing, and her ballad goes from twee doo-wop to an R&B ballad with the addition of a seasoned Legend.
SOUL
Sam Smith has one of the best voices in the game right now, this is clear. But he's often lambasted by critics for having little depth despite his incredible vocal range. He added Mary J. Blige to his breakout single "Stay With Me," and now he'll do the same with "Lay Me Down." Turning the solo into a male-male duet is an incredibly smart move: Legend's piano is lovely to watch, and his verse provides a deeply soulful contrast to Smith's vocal acrobatics.
SUBTLETY
Naturally, a John Legend feature popped up on Kelly Clarkson's brand-new album, Piece by Piece. It's not the first time the two have performed together — this Ray Charles cover on ABC's short-lived Duets is reason enough to remember that show. (Is that some interesting chemistry we see?) "Run Run Run" is another piano ballad (notice the trend?), with Legend setting the tone for a perfect harmony. While Clarkson often finds herself in a big belt, Legend takes her down to his slightly more-chill level, and it really, really works.
SONGWRITING
Common's corny verse aside, the Oscar-winning ballad "Glory" is driven entirely by John Legend's chorus. His piano, mixed with the strings and choir, manages to skillfully match Selma's power and give the song some Oscar-appreciated schmaltz.
TALENT
Sorry, David Guetta. You got majorly lucky here.