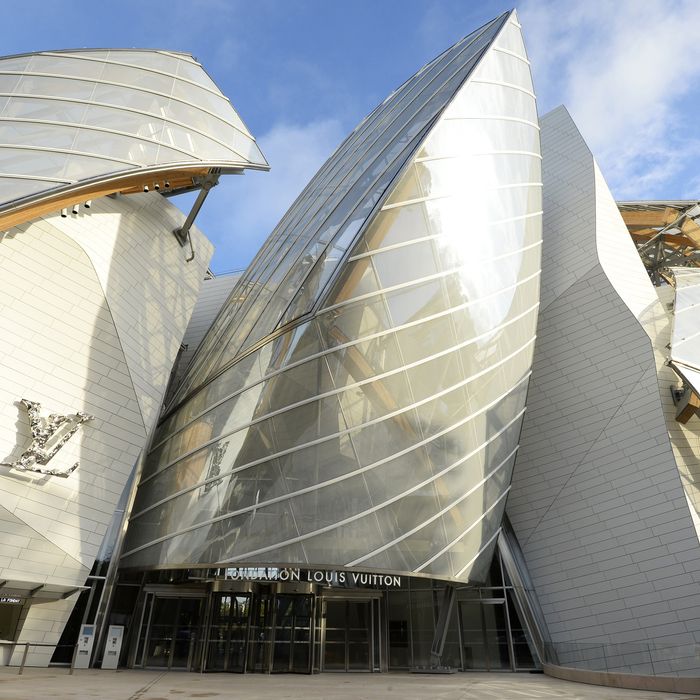 Photo: Bertrand Guay/Getty Images
In 1860, Napoleon III opened the Jardin d'Acclimatation, on Paris's luxurious western edge, as a place where exotic animals could get used to urban living — or, rather, where beasts and the bourgeoisie could get to know each other in pleasantly sedate surroundings. The garden was also, on occasion, used as a human zoo, where black and brown people were put in living dioramas for the ethnographic "enlightenment" of visitors like Marcel Proust. Now a wild new form of life has found a habitat next door to the Jardin, and it will take some time to acclimate. Frank Gehry's deliberately spectacular Fondation Louis Vuitton — just outside the garden's child-friendly (and now lion-free) grounds but within Paris's enormous park, the Bois de Boulogne — is both exotic and local, a phantasmagorical museum emblazoned with a familiar logo. With its white body encased in a cloud of pearl-grey glass, it borrows the muted palette of the 16th Arrondissement, but its cornucopia of forms expresses an alien exuberance. When he first saw the site, Gehry told Vogue, "I cried because I could feel the history of the place. I had the sense that Proust had walked through these gardens, and I felt a responsibility to create a design that could be part of the incredible legacy of the park." One contingent of Parisians responded by trying for years to get the project scuttled. Some critics wish they had succeeded.
And yet, if you're going to make an architectural argument for excess, this is the way to do it. Harrumphing that the building is overdesigned and flamboyant is a little like complaining that Champagne has too many bubbles: Theatrical extravagance isn't an incidental quality, it's the essence of this $135 million tour-de-force. A fantastically complex armature bristles from curved white volumes, lifting the glass billows away from the interiors. The materials are ostensibly plain — precast white concrete panels, steel beams, wood struts, resin floors — but they are arranged into a feat of engineering so elaborate it's practically wizardly. Instead of forming a tight skin over the structure, the outer carapace of glass inflates the building like a complicated balloon. It bursts above the park's trees, echoing the Grand Palais, another vast, crystal creation bubbling above Paris's low-slung skyline.
It's easy to understand the objections. Vuitton's billionaire chairman Bernard Arnault ordered the place up, gobbling a plot of precious parkland. The museum is open to the public, and the building will revert to the city of Paris in 2062, but that doesn't neutralize the indignity of a private entity annexing public acreage. Imagine if Ralph Lauren tried to install his art collection in a pavilion in Central Park: The howls would be audible in Oklahoma, and the idea would wither in minutes. (Billionaires' penthouses throwing shadows on the park is another matter entirely.) In the end, though, Parisians got the sort of Gehry project that New York has missed out on for years. He's built a corporate headquarters, an apartment tower, a theater in a skyscraper's base, and a now-closed employee cafeteria for Condé Nast here, but not the grand, freestanding public monument that the city deserves.
Opinions about Gehry tend to acquire a tinge of moral outrage. Austerity advocates regard him as a megalomaniacal, budget-busting showman who sprinkles the world with crumply structures that serve his own agenda better than his clients'. Buildings such as this one widen a 20-year fissure in architecture. On one side are those who believe that the future lies in software's ability to realize whatever amoeboid forms the mind can conjure (and damn the expense). On the other are architects who feel that stylistic flamboyance undermines more important concerns, like sustainability, context, social justice, and urban planning. The British critic Peter Buchanan points to the Vuitton building as an exemplar of decadence, a bauble that a plutocrat has squeezed out of a bankrupt profession. Gehry's museum, he writes, is "an explicit monument to the anti-democratic, neoliberal ethos of our increasingly unequal times when rich individuals and corporations feel entitled to trample us with architectural bling." I sympathize with his argument and nod at some of his examples, but not all showy buildings are vapid, just as not all simple, elegant boxes are virtuous. At 40, Frank Gehry was a pioneering genius; at 85, he is a very experienced genius. The Fondation Louis Vuitton is not the product of a spent mind, forgetfully rediscovering old habits. It's the work of an artist who has refined his skills and his expressive gestures to the point that throwing money at him and giving him free rein is a worthwhile thing to do — at least in this case.
A dozen years ago, when Arnault asked Gehry for a private museum, Paris already had a fashion-brand art institution: Jean Nouvel's 1994 Fondation Cartier Pour l'Art Contemporain, which luminesces on a busy block of Boulevard Raspail. In one of his quieter buildings, Nouvel fashioned an ultraclear vitrine, its exterior belted with greenery, its interior bereft of columns, stairs, and even elevators, all of which have been pushed to the perimeter. At a recent opening, art-world groupies clutching cocktails silhouetted themselves against an immense Bruce Nauman video loop of a levitating pencil. The architecture is a vessel of stunning transparency.
Gehry's Vuitton is the anti-Cartier, showy in a completely different way. The galleries are tucked inside and out of sight, theatrical staircases thread their way through the structure, and the glass skin flaps free of the structure. Instead of setting huge, clear panes at 90-degree angles, Gehry had his glass bent, ribbed, and misted by a pattern of frits. (When I visited, it was also hazed by a premature layer of un-Vuitton-ish grime; what good are luxury clients if they can't they keep their bauble clean?)
The building looks crazy at first, but that's only because its logic is impossible to grasp all at once. In photographs, it splinters into a composition of unruly angles and salacious curves. In the real world, the architecture becomes terrain, shaping an itinerary. You start at the uppermost terrace and wind your way around the chimneylike exterior of a triple-height gallery, savoring the interaction of curve and landscape. In the distance, the Eiffel Tower pokes into an opening between wall and sail. You sense that the architect has been here, saw this view and felt this breeze, even before the building was constructed. You descend a staircase, turn a corner, and there's a huge, magnificent truss, bolted to the building at an eccentric slant, supporting a sheet of billowing glass. Look up and there's another leaning mast. And another, and another. You can touch the parts, but how they all hang together remains a mystery. Being allowed behind the scenes doesn't spoil the magic. The wizard has nothing to fear from exposure.
That proximity to the architecture is what gives the Fondation Louis Vuitton its soul. A lot of architects boast about the honesty of exposing ducts and steel columns and letting the structure show. Gehry is selectively honest; he hides some things and not others. He allows visitors to get momentarily turned around, for instance, and declines to make it clear that turning left or right will lead to the same spot. He offers the childlike comfort of getting safely lost.
One reason the design is simultaneously disorienting and legible is that every floor feels like a viewing platform onto another level. Inside, narrow vistas like slot canyons open up so that you can look up to the sky or down on crowds several levels below. Outside, staggered terraces envelop four smokestacklike cylinders that contain the galleries. Stairs that lead up and down also pull you from stern to prow. The outdoors is ever-present, and the river that pulses down a stylized set of rapids in front of the building also flows through the base, so that the museum seems to be floating on a lily pad.
Ever since Gehry overturned the art world with his Guggenheim Bilbao, museum architects have been regularly savaged for competing with the art, elevating the container to the status of the contents. That's often a fair criticism, but not here. The beautifully proportioned galleries vary in size from a vast white box to intimate chambers. You can lose yourself in the building and then lose yourself in the art, without the two conflicting. On the lowest level, Olafur Eliasson has lined the pool with orange light and vertical mirrors, exploding an already fragmented building, and pushing the whole arrangement onto an other level of bewitchment. How Gehry-like to save the best views for the basement. Instead of surveying the rooftops of Paris, we look upwards from this sunken spot to the ring of trees encircling the sky. The museum rears above, showing off its spars, rigging, and underbelly. Gehry claims that he was thinking about Proust while he was designing the Fondation, but Melville's presence is stronger. The architect has fused the Pequod and Moby-Dick into a single body, a tightly joined assembly of planks and hulls, disguised by a stupendous musculature and rippling skin.