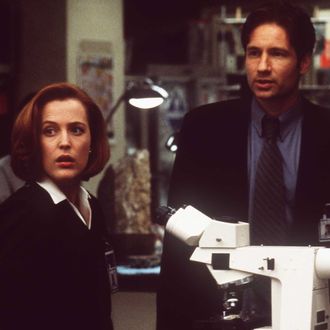 Hello, old friends.
Photo: Fox Broadcasting/Getty
The X-Files is officially coming back for a six-episode "event series," Fox announced today. There's no air date yet, but the show goes into production this summer, and Chris Carter, Gillian Anderson, and David Duchovny are all onboard. Light up your Morleys and celebrate.
The original series aired 202 episodes on Fox from 1993 to 2002, spawning two spinoffs and two related movies; plus, any time a supernatural, cult, or will-they-won't-they drama arrives, talk of The X-Files is never far behind. Fox confirmed back in January that a new X-Files was a possibility, and Carter acknowledged before then that he, too, was interested in revisiting Mulder and Scully. Join the club! Just because the 24 revival was a little underwhelming, there's no reason an X-Files revival couldn't work. You might even say … we want to believe.