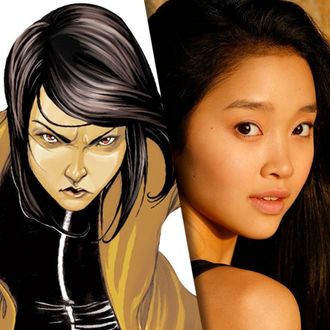 Jubilee and Lana Condor.
Photo: Courtesy of Marvel, Bryan Jay Singer/Instagram
X-Men: Apocalypse is going to be an '80s period piece, so of course it will include Jubilee, the most '80s-est mutant. Bryan Singer announced this week that newcomer Lana Condor will play the part of Jubilation Lee, joining Sophie Turner as Jean Grey, Alexandra Shipp as Storm, Tye Sheridan as Cyclops, and Kodi Smit-McPhee as Nightcrawler. There's been no indication whether or not Condor will don Jubilee's famous yellow trench coat, but given that this is a Singer project, its chances of survival are slightly higher than if, say, Zack Snyder were directing.