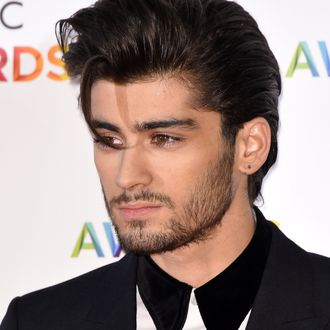 Sigh.
Photo: Karwai Tang/Getty
It's been two days since Zayn Malik broke tween hearts worldwide when he announced his departure from One Direction. Hopefully, by now, some of the shock has worn off. But just in case it hasn't, Zayn's here to throw some more salt into everyone's wounds by giving his first interview post-split to the Sun, saying that he stands by his decision.
"I feel like I'm doing what's right, right by myself and right by the boys, so I feel good … My main message is I did try to do something that I wasn't happy doing for a while for the sake of, maybe, other people's happiness, and that was mainly the fans, and, and I only ever tried to do it for the fans. And it was only ever for them, and basically I'm only upset because I feel like I may have let them down in some sort of way and that's the main thing that I don't want to happen. It's not that I've turned my back on them or anything, it's just that I can't do that anymore. It's not real to me."
He also assured fans that while he'll no longer be a part of 1D, the other four members are in it for the long run. "They still wanna do it for a while so they're gonna carry on doing what they wanna do and I think they're gonna do okay for a while," he says. But does this split mean the end of Zayn's music career? No, if we're to go by photos of him entering a recording studio the day after he quit 1D. (He has reportedly collaborated with British DJ Naughty Boy.) So dry your eyes, Directioners, because more Zayn music is on the way!