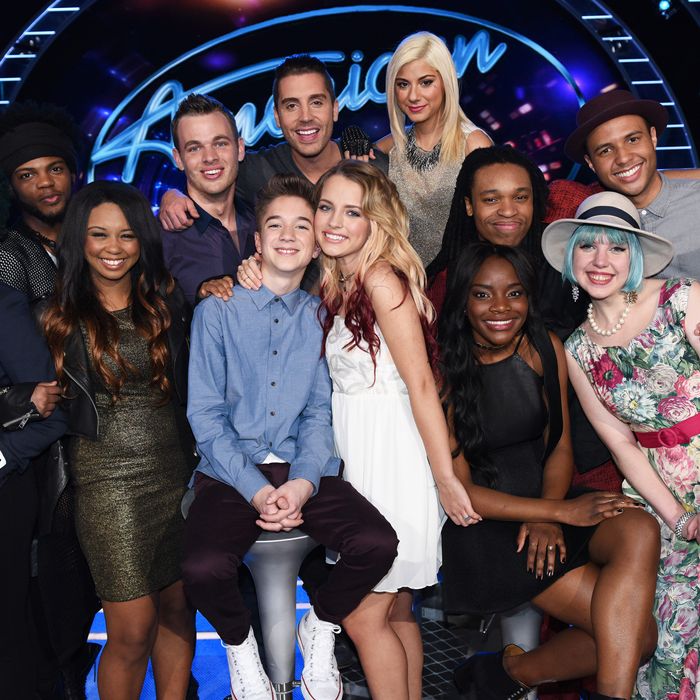 Inside my television's mindshare of serial killers and Scientologists, it's comforting to know that once a week, Kieran dims the lights and J.Lo gets the goosies. American Idol — "bleak … now good again" — is my happy, peaceful place among murderers, Gallaghers, and Greek Zachary Quintos. So when I had the chance to crash the set in Los Angeles for two full days, I was there in a New York second. Here's what I observed as the 11 remaining kids prepped for illustrious '80s Week.  
1. Everything happens in the "Blue Room."
Like a high-school homeroom wallpapered in Cheez-Its, deodorant, and dreams, this is where meals, social media, and Super Smash Bros. happen. Seventy-five percent of the contestants' time is spent in this Forever 21 experimental art show of protein bars, midnight-blue mascara, and Rupert Murdoch sightings (seriously, he stopped by).
2. The kids never stop singing.
Inside the Blue Room, the contestants riff, sing a cappella, and compose songs on the keyboard NONSTOP. Imagine if Glee had sex with Anna Kendrick on an open-mic night spiked with Adderall.
3. They might share the Phil Phillips vote, but Clark Beckham and Nick Fradiani are opposites.
Clark is a taupe Brad Pitt who loves Jesus and vests. Nick, 29, the oldest contestant, is a hot Connecticut townie whom you want to French-kiss in a Friendly's parking lot. "Ugh, my song was the cheeeeesiest," said Nick of his "Danger Zone" performance on Movie Night.
4. Tyanna deserves all the praise she's getting and more.
Since her very first audition, I predicted the crazy-talented Tyanna — whose family once was homeless — would win. She's soft-spoken, strikingly poised, and describes L.A. as "one big Florida." She's already asked producers to "please, please, please" fly in her 11 siblings if she makes it to the finale.
5. For the most part, Idol family members must fly themselves in.
No comps from Idol.
6. The minors go to school and actually take it seriously.
Daniel Seavey, Maddie Walker, and Tyanna Jones have mandatory school every day, including P.E. They also need to be accompanied by a guardian at all times.
7. Daniel Seavey is the most lovable little shit in the world.
He never stops entertaining, Instagramming, chatting, humming, or harmonizing. And usually does all of it at once.
8. There are no favorites allowed.
When I nudged him about his personal faves, mentor Scott Borchetta, the new Jimmy Iovine, said he would actually get fired if he "even went there a little." Any form of favoritism among staff — from the voice coaches to the camera crew — is strictly forbidden.
9. Quentin Alexander was the only contestant who didn't get fan mail.
But he should get a modeling contract. The NOLA native, who centers himself to Nina Simone, is an internally and externally beautiful person with more Zen than Rick Rubin.
10. Jax's NYFD father is a modest hero.
Jax, warm as s'mores on a summer night, said her father was apprehensive about bringing attention to his legacy as a 9/11 firefighter. "He doesn't like to talk about it," she said, sensitively. (FYI, the bedazzled X on her face is not a tattoo.)
11. There are crushes on-set.
Jax admitted she had a crush, but that he was kicked off. She wouldn't say who, but my guess is "Keith Suburban."
12. Naps are as abundant as sing-a-thons.
Several times, I found Quentin, Qaasim, and Rayvon cozy on a mushy Blue Room couch that either had stardust or bedbugs. Rayvon dozed the most. He could win American Narcoleptic. Incidentally, when he's awake, he's unexpectedly cool and non-corny.
13. Qaasim went to LaGuardia High School of Music and Art, and it shows.
And his father is in Stomp. The kids say he can outdance Justin Timberlake. And he inhaled jar of mayo in front of my eyes.
14. Joey Cook is a shrinking and delightful odd duck.
Dressed like a stripper in space, she said she lost 12 pounds from all the non-NOLA food. ("I miss my beans 'n' rice 'n' brass bands!") Her boyfriend has banned her from losing her belly, which is as weird and endearing as she is.
15. Nick Fradiani is the dark horse.
Nick slayed "Man in the Mirror," both during rehearsals and on live TV. His final performance made my hands bleed from clapping. He's also Andy García's Sicilian clone.
16. Clark loves Jesus like women love Chris Messina.
When I asked if he prays to win the competition, he gently shook his head: No, ma'am. "I'm not praying that I make it, that would be too shallow. I'm praying for peace … peace in my heart and my mind."  But come on, don't you slip something in about winning?  "I don't. I will follow God to the top of the industry or back home to Tennessee. I trust him." (Personally, I pray he wins … or at least makes it to the finale.)
17. Everyone loves Ryan Seacrest, and I don't think they're lying.
Every single person in the Idol building had complimentary words about Seacrest, on and off the record. Here's one more:
18. Seacrest is taller than he looks.
Taller, scruffier, and manlier than I'd imagined.
19. Idol culture is caring.
People are kind, and drama is minimal. The contestants aren't deliriously tired, and I didn't hear any shit-talk. This trickles down from veteran producers like Patrick Lynn, who runs a tight ship while being a pal. He said the adult kids don't have a curfew and are free to have a beer or a pizza or a fling, but "proactive" wellness is strongly encouraged.
20. Nerves are high on Wednesdays.
As Rayvon put it, "You're more anxious about not being able to perform your song than actually being kicked out." Nick Fradiani seemed the most stressed. Not because he's less confident (hardly), but because he's an adult who understands that when Kieran dims the lights, Idol could break his heart.
21. Keith Urban takes selfies and gives hugs to every single fan during commercial breaks.
He wins for Most Sincerely Lovely of the judges. He also flies straight home to Nic and the kids in Nashville the second the show is over.
22. Harry is a ham.
He throws paper airplanes and gets a kick out of himself while all the moms go mental.   
23. J.Lo on-camera and off-camera seem like very different people.
On-camera, she's all, "honey … sweetie … baby." Off-camera, she's serious, straightforward, and super-intimidating. (Hey, we all have many selves.) When I asked what she did while the contestants were rehearsing, she said, matter-of-factly, "I cooked dinner … for Ryan Seacrest … it was a meeting … Puerto Rican food."
24. JaxVon gives a great good-bye.
As I prepared to leave the Idol universe, Jax ran over for a long hug farewell. Rayvon got in on the cuddle. Clark flashed a mystical smile. I walked away with a sweet fondness for all them, silently singing "Don't Stop Believin'" with a bag full of stolen Luna Bars.