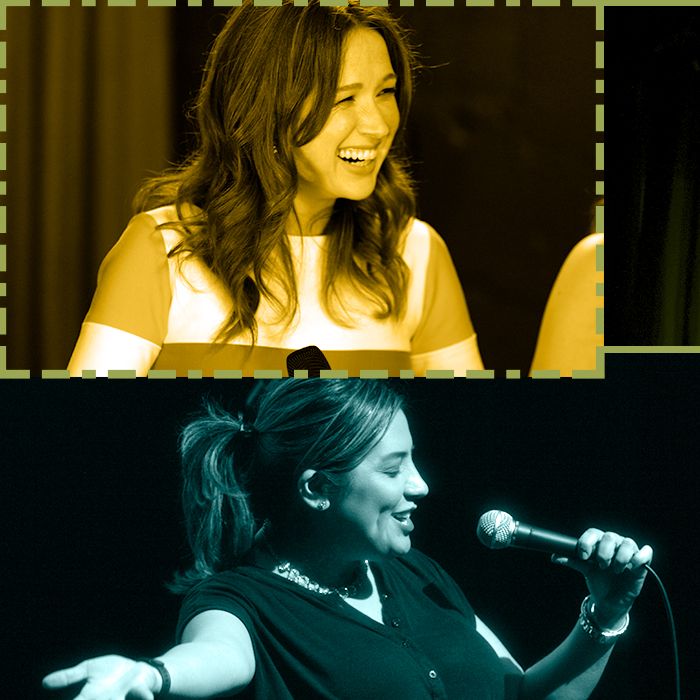 Photo: Mike Windle/WireImage, Pierre Roussel/Getty, Steve Jennings/Getty Images for TechCrunch, and EALEX Photo/Getty Images for SXSW
A comedy boom has to start somewhere, and that's with comedians — comedians have to start somewhere, and that's with the first jokes, show, or stand-up special they saw that left an impression on them. So, Vulture polled more than five dozen comedians and comedy writers, big and small, to find out what some of their favorite jokes of all time are, what jokes changed their lives, or what jokes pushed them to get into comedy in the first place — in some cases all of the above. Enjoy! You might pick up a good one along the way.
Aziz Ansari (Aziz Ansari Live in Madison Square Garden)
I like certain specials a lot. I love Chris Rock's Bring the Pain. I remember seeing that in high school, and that was really amazing to see. I watched it at the right moment, you know? I feel like when I talk to so many other comedy people, when they see certain things at the right time, it has a big influence on them. I feel like I saw that at the right time when I was in high school, and it was really cool.
Keegan Michael Key and Jordan Peele (Key and Peele)
Key: For me it was the "King Tut" song that Steve Martin did. Listening to Steve Martin on that album and just starting to laugh — not because it was cool and the older kids were laughing, because I actually got a joke.
Peele: For me, let's go with Eddie Murphy getting made to look like a white dude and going undercover. The last black guy gets off the bus and they go, "Alright, he's gone," and it becomes a speakeasy. The mythical world that white people have when black people aren't around changed my life, and I think it's kind of true.
Ellie Kemper (Unbreakable Kimmy Schmidt)
[Seeing] TJ & Dave at the ImprovOlympic in Chicago [made me want to get into comedy]. [My favorite joke isn't] a joke, but anytime anyone's umbrella turns inside out on a rainy, windy day — I can't stop laughing. It's like, who are we kidding? We're all just helpless babes in the face of nature. And we all just look so dumb.
Nick Kroll (Kroll Show)
I watched Eddie Murphy: Delirious a bunch when I was a little kid, I watched Carlin at Carnegie, which is George Carlin's special, I watched a Robin Williams special, An Evening at the Met. I remember when I was thinking of getting into comedy and watching old SNL stuff and Martin Short in the synchronized swimming bit talking about not being a strong swimmer. There was something about that, when you watch that moment your head turns like a dog hearing a whistle, and there was something about that moment I was like, "I want to do that."
T.J. Miller (Silicon Valley)
One of [the jokes that changed my life] was a Steve Martin bit: He pauses after a laugh for a while, and then grabs an object and holds it up in the air. It's a gas pump handle. Then he says, "See this? I got this for $5. Yep. Pretty good deal …" and then he just trails off and transitions into something else. It's so absurd, so funny, and so socially satirical. He is my all-time. The Marx Brothers, too. They were absurdist, and yet socially satirical, and dammit, their stuff holds up like a motherfucker.
Maya Rudolph (The Maya Rudolph Show)
The only joke I remember from being a kid was something about nacho cheese, which I think was horribly racist. But everything from the '70s and '80s was horribly racist, which is probably why it was funny, but it also wasn't funny, at all. There was zero political correctness and there were zero censors. I feel like the only joke that comes to mind is the one about the bear and the rabbit shitting in the woods. Well, there is a bear and a rabbit and they're shitting in the woods, and the bear says to the rabbit, "Do you have a problem with shit sticking to your fur?" And the rabbit says, "No, I don't." And so the bear picks up the rabbit and he wipes himself. That's a good joke. You can change shitting to pooping, depending on your age group.
Jim Gaffigan (The Jim Gaffigan Show)
It was The Carol Burnett Show. Also seeing Phyllis Diller on maybe The Mike Douglas Show and saying, This woman's being really funny and she's kind of breaking some rules but everyone's enjoying it. I would watch Airplane over and over again.
The Workaholics (Comedy Central's Workaholics)
Kyle Newacheck: Daniel Stern's face.

Adam DeVine: Jim Carrey's "Let me ass you a few questions," that might have sent me over the edge, that one hit home for me.

Anders Holm: Dirty jokes from my younger years were pretty good. You know, there are three guys on the road and they've got to stop and go to sleep and they go to the farmer's house and the farmer says, "Just don't screw my daughter because I've got a razor blade down there," and the next morning two of the guys got their weiners chopped off and the guy who doesn't, the farmer's like, "Alright, you can marry my daughter," and he goes, "Ffffank you," [speaking as someone whose tongue was cut off] and I was like seven.
Weird Al Yankovic (Mandatory Fun)
I credit Mad magazine with [getting me into comedy] because I was really heavily into Mad magazine when I was 11 to 12 years old. Mad presented me with a kind of comedy that was new to me at the time: It was a very irreverent, specific kind of comedy which really sparked something in my brain and really changed my life in major ways.
David Cross (Arrested Development)
[The joke that changed my life] was something my dad told me when I was eight. I don't remember exactly how the joke went, but the punch line was, "Not the soap dear, radio!" But the thing was, it had nothing to do with the beginning of the joke, which was a long set up about a male lion talking to his lioness wife after coming home from work. I didn't get it at all, and my dad kept saying, "Get it?" Then, after a tortuous hour or so where I felt borderline retarded, he explained that it didn't make sense … on purpose. It was like a trick, an anti-joke! And that blew me away. Completely changed how I could see things. It was my earliest exposure to Dadaism, a term which I wouldn't come across for almost 20 years. I was also a huge Lou Costello fan when I was tiny. [One of my favorite jokes of all time] is from Chuck Sklar: "I went home to Chicago to visit my mom the other day, she made my favorite meal, 'pancakes — all you can eat, ten dollars.'"
Natasha Leggero (Comedy Central Roast of Justin Bieber)
I remember this Christian girl coming to school with this anti-abortion pamphlet, which was a diary in the voice of an unborn fetus, and it ended with "May 25th, today my mother killed me" — and I thought it was so hysterical I couldn't stop laughing. I just thought it was so funny. The girl was horrified. That's when I knew something might be wrong with me. I had never really seen any comedians when I decided to try [comedy] — I was always more into music. But one day I saw this girl Melanie Vesey I had known in New York just standing onstage complaining about how stupid everybody is, and I had no idea that was a thing! I started the next day.
The Lucas Bros. (Lucas Bros Moving Co)
Kenny: There's a scene in Seinfeld where George runs over kids and old women to escape a fire. When I saw that, I realized you can do anything in comedy so long as it's funny and not too harsh. In college, I got to see Bill Burr, Donnell Rawlings, Charlie Murphy, and Patrice O'Neal. The crowd was apathetic, but it didn't seem like they had a care in the world. I thought they were the coolest dudes on the planet. Richard Pryor's bit on the mafia is probably my favorite of all time. It's timeless.

Keith: Bruh Man consistently coming through Martin's living room window to enter Martin's apartment. It's such a silly visual gag, but truly captured the irreverence of the sitcom [Martin]. Martin had a profound impact on my development as a comic and I strongly believe that it's one of the best sitcoms of all time (not just among black sitcoms). Paul Mooney once said that James Brown looks like an old, black Chinese woman. I'm pretty sure that's the joke I love the most.
Jermaine Fowler (Friends of the People)
There were two jokes [that changed my life]: There was a scene in The Simpsons where a doctor was trying to explain to Mr. Burns that he was extremely ill, but Mr. Burns misinterpreted it as him being invincible. And the "Happy Happy Joy Joy" song from The Ren & Stimpy Show pretty much fucked my young fragile brain up. Eddie Murphy: Raw instantly made me wanna do stand-up comedy. Patrice O'Neal's bit about paralyzing football players or Todd Rexx's bit about the Special Olympics [are some of my favorites of all time].
Chris D'Elia (Undateable)
One of the acts that made me absolutely want to do standup was Eddie Murphy: Delirious. I just loved how he told stories in the silliest ways. One of my favorite jokes ever is of Eddie Murphy in Delirious, when he would talk about how his aunt would fall down the stairs.
Kevin Allison ("Risk!" podcast)
A guy is walking down the street with a round orange head. He runs into his friend who says, "Hey what happened to you?" The guy says, "It's a long story. I found a genie's lamp and I rubbed it. The genie came out and gave me three wishes. So I wished for a million dollars and that's how I got rich. Then I asked for a beautiful woman, and that's how I met my wife." The friend says, "Wow! What was the third wish?" The guy says, "Well that's where I think I went wrong. I asked for round orange head."
Wyatt Cenac (The Daily Show)
"If you're Russian when you head to the bathroom and you're American when you leave … what are you in the bathroom? European." Even as a kindergartner, that joke made me rethink how I was looking at geopolitics. It's weird and awkward to say in light of recent news, but I'd be lying if I didn't say that as a kid, Bill Cosby was one of the first comedians that I saw, which meant a lot as a brown kid, to see a brown person be funny on their own terms. I was not aware and cannot condone anything else he was doing on his own terms, but purely as the comedian I saw on television, he was an early influence for me. My grandmother and I would watch Lucille Ball, Redd Foxx, and Andy Griffith on TV and I thought they were all hilarious. Bill Murray, Eddie Murphy, and Richard Pryor were all people that I discovered as I got a little older. My stepfather tried to explain Mudbone to me and after that, anytime we were at a public restroom he would say, "The water's cold," and I'd say, "And it's deep, too." In Living Color and SNL were huge influences in my teens. ​
Ron Funches (Undateable)
Seeing Tig Notaro just push around a stool onstage for what seemed like ten minutes changed my perspective of what I can do onstage. And seeing Lucille Ball light her fake nose on fire in I Love Lucy really struck me as something hilarious and dangerous and made me want to get into comedy.
Jon Daly (Kroll Show)
My older brother had Eddie Murphy: Delirious, and that was the first thing that really blew my mind, when I was about five or six. I saw The Blues Brothers when I was like eight years old, before I'd really seen SNL, and that blew my mind too, the idea that a whole movie could be based on two guys who barely talked and just acted like dicks and got away with it. My favorite part was when Belushi is messing with the uptight family in the fancy restaurant where Mr. Fabulous works and he's like "How much for the women? Sell me your children! How much for the leetle girl?!" That really resonated for me and I'd constantly imitate it. When I was 10 they started playing the show The Young Ones (which is the best) on MTV and that got me into British comedy — Monty Python, the show The Comic Strip Presents… and everything I could find with Rik Mayall and Adrian Edmondson. Then I was really into SNL with Chris Farley, Phil Hartman, Jon Lovitz, Mike Myers, etc., then The Simpsons was the only thing I cared about for a while. My favorite joke is definitely in the first five seasons of The Simpsons. Or maybe Kids in the Hall: Brain Candy. Brain Candy is the best! I think my favorite joke might be every joke and performance in Brain Candy.
Chelsea Peretti (Brooklyn Nine-Nine)
I remember wanting to go deeper into comedy after seeing Todd Glass do a half-hour in Montreal when I was there (doing I think [Montreal's Just For Laughs festival's] New Faces?) and realizing he was a living human entity onstage, and wasn't just going from joke A to joke B to joke C like many of us newer comedians were doing at the time.
Baron Vaughn (Fairly Legal)
Richard Pryor closes Live in Concert with a sex joke. But it's not just anything easy or lazy. That joke is the damn Odyssey to me. He's tells the story of a man just trying to be good at something. His insecurity battles with his confidence. His good battles with his own evil. It's amazing. He perfectly defined the existential crisis I didn't even know anyone else felt. He showed how we're all naturals, but complete amateurs at the same time. Something everyone thinks about every damn day. And then he makes a reference to Close Encounters of the Third Kind?! I was like, Holy shit I thought I was the only black kid that knew about that! As a kid, I watched him on the original SNLs. And I loved some of his '80s movies like The Toy and Brewster's Millions, but when I finally saw his stand-up, I couldn't comprehend it. It's what every comedian that was around him said, and every comedian after him: this man can't be touched. I thought if I try to be half as good as that, that would be enough to be considered one of the greats. I grew up watching those original SNLs, but it wasn't until I saw Robert Townsend and His Partners in Crime that I saw myself doing it. This is one of the most slept-on comedy programs of all time. Stand-up mixed in with sketches put together by Robert. It was a precursor to In Living Color. It was a bridge from an older generation to the guys that were about to take it from there. You saw Paul Mooney, Tommy Davidson, Franklin Ajaye, Robin Harris, John Witherspoon, David Alan Grier, and all the Wayanses.
Woody Allen also has a joke where he's talking about getting cast as God in a college play which he says was "typecasting." Since it was method acting he starts "living the part," wore a blue suit, taking taxicabs, tipping big because, "He would have." The final punch always gets me … when he gets into a fight with a guy who hit his fender, "and I said unto him … I said 'be FRUITFUL and MULTIPLY' … but not in those words." Then there's this huge laugh of people getting it at different times while Woody silently giggles to himself. Clever bastard.
Jon Glaser (Parks and Recreation)
This might sound dumb, but Looney Tunes was a comedic inspiration. I had Steve Martin and Robin Williams comedy albums that I loved. My mom got me tickets to see the Second City touring company when I was in high school, that's certainly something I saw that made me think "I want to do that." Favorite joke? Hard to say, but I was just talking the other day about the "That is not my dog" joke from [The] Pink Panther [Strikes Again], which is funny as hell.
Chris Gethard (Broad City)
I was completely obsessed with Eddie Murphy when I was a kid. I watched a VHS tape of Raw in my buddy Anthony's basement like every three weeks from the ages of 9 to 15. But now I look back and realize by today's standards Raw is a borderline hate crime, so I'm hesitant to point to it. The Cosby Show was huge, and lead to me getting a bunch of Cosby albums that I memorized and used to perform for my relatives while standing on a coffee table, but again, in modern times probably not the coolest thing to cite. So let's point to the first time I saw I'm From Hollywood, the documentary chronicling Andy Kaufman's time spent wrestling in Memphis. I loved wrestling as a kid, and watched it for that experience, but was crying laughing the first time I saw it. I couldn't believe someone that weird and funny could cause that much trouble, and I wasn't sure exactly on what level I was supposed to enjoy it. That lit a fire under me that I think still fuels a lot of what I try to do. I think Louis C.K.'s "Guy in Traffic" is a perfect joke. I remember when I saw it for the first time, laughing so hard, and then thinking about it all night. I've never heard a more relatable joke. I can't imagine anyone not getting on board with it. It's perfect.
Scott Aukerman (Comedy Bang! Bang!)
Back in 1995, I saw two things in the same week that made me realize there were weirdos interested in doing the same kind of comedy I wanted to do. The first was an Andy Kaufman NBC special about his life. I never knew that much about him before that. And the second was "The Cross/Odenkirk Problem," a live show with Bob [Odenkirk] and David [Cross] they did in LA to try to sell a TV show. [Favorite joke]: A homeless man is sitting on a park bench. He watches a man across the way speaking to every woman who passes by. Eventually, he leaves with one of the women.  The next day, the same thing happens.  The next day, the homeless man inquires about the man's secret. "Every woman who passes by, I say, 'Tickle your ass with a feather?' If they're offended, I just tell them I said 'Particularly nice weather.'  Eventually someone wants their ass tickled, and I leave with them." The homeless man knows he has to try this. So the next day, he sits on the park bench. But he's so nervous, he starts to partake of some liquid courage. He gets more and more drunk, trying to work up the nerve to talk to a woman.  Eventually, he's blitzed, and a woman passes by. "Stick a feather up your ass?" he asks. She turns around. "What'd you say to me?" "It's fucking raining out!"
Jen Kirkman (Chelsea Lately)
When I was about ten, I saw a Gallagher special and he said, "What's the opposite of pro-gress? Con-gress." My mind was blown. I didn't know that grown-ups made fun of the government — I was just learning how a bill becomes a law. He seemed like a very, very smart man. I'll say my favorite joke of all time is one I saw in Joan Rivers's documentary, A Piece of Work. She says, "Why should a woman cook?  So her husband can say, 'My wife makes a delicious cake,' to some hooker?"
John Gemberling (Broad City)
Watching Eddie Murphy: Raw in a motel room with my mother at like ten years old [changed my life]. I kept waiting for her to tell me to turn it off, but she didn't. She wanted to watch it too. She kept asking me if it was okay for me to be watching this, and I would say, "Yeah … it's fine!" The best was the joke about wanting a McDonald's hamburger and having your mother insist on making you her version which was all fucked up, with big chunks of peppers hanging out of it. My father used to do the exact same thing, and it made me feel very close to Eddie. I went to a lot of shows at the Upright Citizens Brigade Theatre before I started taking classes there. One of the best shows ever, to this day, was Ali Farahnakian's one-man show Word of Mouth. It was a loose collection of characters and stories, but it just worked as a whole, and every individual piece was hilarious. In one bit, he would put on a creepy devil mask and give life advice and tips to the audience. He shared how, if you dipped your penis in honey and put it in front of an infant, the baby would automatically start sucking your dick. When the crowd groaned, he would indignantly cry, "What?! It's a natural sucking mechanism! What did you expect? I'm the devil!" Now that I have children the joke is doubly funny because you're really not supposed to give honey to infants. There's a high risk of botulism. I don't know if I have a favorite joke, but one of the scenes that has always stuck with me and made me laugh is in A Fish Called Wanda. Kevin Kline is sent to apologize to John Cleese. He's a complete, macho asshole, and loathes the idea of apologizing to this pathetic Englishman. He sits in his car beating the steering wheel and fuming, trying to force himself to utter a practice apology. He then sneaks into the house, mistakes John Cleese for a burglar, and beats him with a fireplace shovel. Upon realizing what he's done, he becomes immediately and genuinely apologetic, saying, "I'm sorry, I'm sorry, I'm sorry …" over and over in a high-pitched voice, while John Cleese moans in agony. That immediate and acute reversal of character was always so funny to me.
Lea DeLaria (Orange Is the New Black)
The Carol Burnett Show changed my life and taught me that it's good to be able to do everything. George Carlin taught me to be fearless and speak your mind … as long as it's funny. [My favorite joke of all time]: Jesus walks into an inn, slaps three nails on the counter and says,"Hey, can you put me up for the night?"
Gabe Liedman (Kroll Show)
Basically, the comedian and the special that completely blew me away was Jerry Seinfeld: 'I'm Telling You for the Last Time,' from the late '90s.  I must've been in like tenth grade. Seinfeld was the one comedian where I was like — what?! Stand-up can sound like that?! A joke can be worded like that?! He has one line in a longer section about airplane travel (I know, I know), where he's describing the way flight attendants look back at coach passengers as they close the curtain to first class. And the way he describes it is something like, "They look at you like 'You know, if you'd just worked a little harder, I wouldn't have to do this.'" It blew my mind because it was so casual, and it got the biggest laugh. It showed me that stand-up can come in a million different forms, not just setup-punchline, you just have to be authentic and do it your way.
Cristela Alonzo (Cristela)
I used to work as the office manager at the Addison Improv before I started doing stand-up. I used to see every comic's show every week and one of my favorite shows of all time was Mitch Hedberg. There was a bass player that would come to Dallas from Houston when Mitch was in town to play bass in the background. There was this one night … it was a Thursday, the club was packed, and it had this really cool supper club vibe to it. It reminded me of old stand-up albums I'd hear as a kid where you could hear people eating as the comic performed. There was something so special about that night. Mitch was killing with no effort and that bass in the background … it just heightened the vibe. I remember thinking, "This is what stand-up is. This is magical." A couple months later, I started doing stand-up.
Kurt Braunohler (Kroll Show)
[For jokes that changed my life], it's probably a tie between Doug Stanhope's "Killer Closer" bit off Before Turning the Gun on Himself and Stewart Lee's "Jungle Canyon Rope Bridge" bit. Stanhope's because it really sums up what I think is cool in stand-up — a combination of really funny, kind of horrible, with a sense of justice. And Stewart's bit because it's like a technical class on stand-up. Also, when I first saw Eugene Mirman perform in maybe 2000, it was the first time I saw someone talking about things that I'd want to talk about onstage. It was the first time I saw a stand-up that I thought was cool, and not old fashioned. He was doing something new that I was really attracted to.
Andy Daly (Review)
The first time I made a room full of people laugh I was either three or four years old at nursery school, and it was my job to carry the tray of fruit juice into the kitchen and I accidentally dropped it, but all the kids thought I did it on purpose, so I got a big laugh. So I went with it and played it up. I must have already been a bit of a wise-ass at that point. That was real anarchy, to throw down a whole tray of fruit juice just for laughs. I would not have been so bold, but they gave me credit for that, and I took it, and I got in trouble! I could've said it was an accident, but I preferred the laugh and getting in trouble. They probably burned me with a cigarette, it was the '70s.
Liam McEneaney (IFC's webseries Comedy Drop)
[The joke that changed my life] was Woody Allen's "The Moose." Listening to Woody Allen's albums, and this bit in particular, taught me a lot about joke construction. Here's a guy who tosses a lot of razor-sharp punchlines into what is ultimately a dumb, funny story. Okay, let me start by saying, I formed this opinion many, many years ago. Without getting into personalities or endorsing anyone as a human being, Bill Cosby's To Russell, My Brother, Whom I Slept With is one of the greatest pieces of stand-up comedy of all time. Everything you need to know about putting together a bit is here; from act-outs to callbacks to timing. Obviously, I wish the person this bit was attached to was not a thirty-times accused serial rapist, because it'll be a long time before I can listen to it again. But purely on the mechanics, it is the greatest piece of next-level stand-up ever.
Garfunkel & Oates (Garfunkel and Oates)
Kate: When Adam Sandler sang "The Chanukah Song" on SNL, I watched his performance over and over, and learned to play it on guitar. It was the first time I realized how much fun it was to sing jokes. When I was about six years old I saw Louie Anderson on TV doing a joke about trying to flush a dead pet bird down a toilet. It was a physical bit where he spun in a circle to show what the bird would look like. I performed the joke for my family and anyone else who would listen. I would really commit to the spinning. My favorite: Where does a pirate keep his buccaneers? Under his buckin' hat.

Riki: The last line of a Weird Al Yankovic song called "One More Minute" is "I'd rather rip my heart right out of my rib cage with my bare hands and then throw it on the floor and stomp on it 'til I die, than spend one more minute with you." It was the funniest thing I'd ever heard. A musical number on The State called "Porcupine Racetrack" made me want to write funny songs. My favorite joke of all time is an Anthony Jeselnik's joke: "When I finished high school I wanted to take all my graduation money and buy myself a motorcycle. But my mom said no. See, she had a brother who died in a horrible motorcycle accident when he was 18. And I could just have his motorcycle."
Bobby Tisdale (Due Date)
If I had to come up with a joke that changed my life it would be the first joke that I loved and repeated that I heard in fifth grade: "What do you call a fly with no wings? … A walk." I have to say that joke, still to this day, is so smart, simple, brilliant and stupid at the same time. I used to watch all of the old Jerry Lewis movies back when I was in junior high and he made me want to get into comedy. He was the funniest person I've ever seen from a physical comedic standpoint. Just silly as hell and goofy as it gets. He just made me laugh so hard, and I'll always remember those days, thinking how brilliant I thought he was.
Gary Owen (Get Hard)
There was no specific joke, but watching Def Comedy Jam lit a fire under me. I remember thinking that's the kind of reaction I want from a crowd. I was hooked on that show in the early 1990s. My favorite all time joke is by Pablo Francisco. It was a bit about Mexican girls and fighting. It wasn't the material that was so funny, it was Pablo imitating the women. I could watch that bit over and over again. It never gets old.
Jonah Ray (The Meltdown)
It was seeing Norm MacDonald with openers The Flying Farley Brothers [Kevin and John] in Reno in '98. It was the first time I saw live sketch comedy, and it took away all the thoughts that doing sketch comedy had to be huge and produced. It could just be two guys onstage saying where they are, what they're doing. It was amazing. Then, of course, to follow it up with Norm, who is one of my all time favorite stand-ups. When I moved to Los Angeles I knew I wanted to get into comedy but wasn't sure in which capacity I would be able to. Then I saw an ad for a stand-up/sketch/comedy show called "Pricks, Punks, Perverts, & People." It was at iO West and was hosted by Matt Besser. Every single Wednesday night it was the same line up: Matt Besser, Patton Oswalt, Brian Posehn, David Koechner, Andy Daly, Jerry Minor, Danielle Schneider, and Jamie Denbo. That would be the show that pushed me toward getting started seriously. My favorite joke of all time is an old B.J. Novak joke. We were doing open mics around the same time, of course before his meteoric rise to the top. But he was one of the sharpest joke writers on the scene. "Battered women? Sounds delicious … doesn't make it right."
Max Silvestri (The Feed)
I'm an only child, and I spent a lot of time hanging with my parents on long car rides and boring work trips, and I talk a lot, so the way they'd get me to shut up would be to let me buy a book. And one day in elementary school I picked up this giant book called like 1,001 Jokes, Goofs, and Yuk Em' Ups or whatever, and I just read that cover to cover, a million times, repeating all of it out loud. What a mistake they'd made. I eventually broke the binding and carried it in two pieces. They were the worst jokes, to: nonsense knock-knock jokes and puns and Q&A's. But my favorite were the worst kind in the book, these story-jokes that always involved an Irishman, a Scotsman, and a German doing something together. I have no idea what about those appealed to me so much: they were so long, with so much repetition, they required many minutes of the listener's time, there was no natural way to segue into telling them, and they relied on knowing stereotypes about those nationalities I did not and still don't get, plus you had to remember so many beats to retell them. Actually, that sounds like a lot of my act now. I get it. That was when I first become obsessed with telling jokes. I remember exactly the moment I thought to myself, "Oh, wait, this is doable." I was at a pre-frosh weekend at a college, at the college I ended up going to, and on the first night I saw the campus stand-up comedy club perform. It was a weird set-up, where they were all onstage at once and handed the mic back and forth, and did one joke at a time, but they were very good. (Two of the guys, Matt Goldich and Jordan Carlos, are wonderful people I now know, and who are professional writers and comedians.) But I realized, watching that night, that they were just regular guys who liked jokes, and got how [jokes] worked and were willing to get up onstage and try them, and I realized I could also do that. They weren't grizzled dudes making jokes about divorce in front of a brick wall, which was most of my exposure to TV stand-up comedy at that point, and something that felt very distant as a career path. The next day, I skipped all the classes I was supposed to go to and instead just read the campus humor magazine in a dark snack bar, alone, and said to myself, this is the funniest thing I've ever read, and, like, I could work on this. The comedian Greg Johnson has the best joke of all time, which is about him reading the Frequently Asked Questions pamphlet at his local library. I literally can't do it justice, but he just repeats the question, "Security in the basement?" over and over, and I have thought about this joke every day for the last nine years. I don't even think it's online, because Greg plays by his own rules, but anyone who has seen comedy in the NY in the last decade has probably seen this bit, and become obsessed with it. No comic's cadence or jokes have rewired my brain or earwormed themselves into my skull more than Greg Johnson's. He's an American treasure.
Greg Johnson (Myrtle Comedy)
I was eight and used to watch Comic Strip Live on Saturday nights and one of the comics said, "I don't like to go camping because I don't like pretending that I don't have a home!" The funniness and truthfulness busted my brain. I saw Louis C.K. do an hour for like 75 people at the Comedy Studio in Boston when I was a teenager in the '90s, and it made me realize how superhumanly funny a comedian could be. After an hour people were almost relieved when it ended, because the laughing hurt them. It was unforgettable.
Alice Wetterlund (Silicon Valley)
"Peanut Brittle," by Paul F. Tompkins is one of the best jokes ever written. Roseanne was very seminal to me growing up, I watched a lot of Roseanne. I also watched a lot of SDTV, my dad was a big fan of SCTV. So in addition to SNL and Wayne's World, that whole era was a big deal. The whole Christopher Guest thing is my jam. There's a video of Catherine O'Hara doing an impression of Katharine Hepburn and she's in this giant chair to make her look really small, I remember that really vividly.
Zach Woods (The Office)
I remember the British Office was a big deal. I remember the moment when the tiny Stonehenge in This Is Spinal Tap comes down and the little people kick it, I remember thinking that that was inconceivably funny. I loved Freaks and Geeks, Martin Starr, really. Seeing Martin Starr in Freaks and Geeks was like, That. That is what I want to be involved in. And now, I get to grab his inner thighs whenever I want.
Mike Judge (Silicon Valley)
I would say Steve Martin's The Man with Two Brains. I worked in a movie theater when that was playing, so I watched it over and over again. There's a joke about azaleas in there that's really good.
Amir Blumenfeld (Jake and Amir)
The type of comedy The Simpsons was doing when I was growing up, shaped the way I told jokes forever. I called them "Switcharoos." Jokes that set up a punchline one way, and then did a total one-eighty. Like when Marge thought she was hearing Homer as a voice-over, but he was actually in the backseat whispering to her. Or when Wiggum is getting a phone number and it's a 555 number, and he says "Ah, must be a fake," and throws it into a fire. The Simpsons were actually pretty funny! [My favorite joke of all time is] a man goes to the doctor for his annual checkup, and the doctor tells him, "You need to stop masturbating." The man asks, "Why?" The doctor replies, "Because I'm trying to examine you."
Lauren Lapkus (Orange Is the New Black)
Pee-wee Herman saying, "I know you are, but what am I?" surely changed my life for the better. Chris Farley, Adam Sandler, and David Spade as the Gap Girls made a huge impression on me as a kid. I can still crack up at that sketch. Basically everything on SNL during the early to late '90s made me want to be a comedian. Other influences were The Golden Girls, Three's Company, The Ren & Stimpy Show … I've just always loved TV and wanted to be inside it. I could watch "Coffee Twins" from MADtv over and over. It makes me so happy.

The Birthday Boys (IFC's The Birthday Boys)
Tim Kalpakis: There was an episode of Garfield and Friends where they parodied Kung Fu. Garfield trained for years to defeat his master, and when he finally did, he asked "What do I win?" Then some cheesy game show music came on and an announcer said "You win … the home version!" and they handed him a Kung Fu board game. I thought Oh man, that is very good. I remember just sitting there and thinking "Wow, jokes. They're really something." When Mr. Show with Bob and David seasons one and two came out on DVD, I changed my college major to TV writing.

Mike Hanford: I saw The Jerk when I was young, and the bit about Navin leaving his mansion saying he didn't need any of "this stuff" while collecting the ashtray, paddle game, remote control, really struck me as funny in a way that I hadn't seen as a kid. I really loved how he was such a pathetic/proud/clueless dummy all at once. (Of course, I was like 8, so I don't think I thought of it in such depth at the time.) "He hates these cans!" also killed me. I love the joke in The Simpsons episode "Homer the Clown" where Homer and Krusty (dressed identically as Krusty) are standing next to each other and the Legs, the gangster, says "I'm seeing double here: four Krustys!" I've also been thinking lately about the joke in Manhattan where Woody Allen is in a cab with Diane Keaton, I believe, and he says "You look so beautiful. I can hardly keep my eyes on the meter." That's funny.

Jeff Dutton: I don't think a joke has changed my worldview or anything, but I remember the hardest I ever laughed (in a movie theater, anyway) was South Park: Bigger Longer & Uncut. It was just a string of several huge, protracted, stomach-clenching laughs, wiping tears, missing lines (the Uncle Fucker "fart breakdown" in particular … I was 16.) I didn't laugh that hard again until Anchorman: The Legend of Ron Burgundy. And then, the Jackass movies. And then, this one part in That's My Boy when Sandler says, "Ya fucked us, buddy!"  I guess you could say I like the silly shit.

Chris Vanartsdalen: Around age 13 I was becoming an atheist, but I was conflicted and struggling with it. Then I heard George Carlin do There Is No God. Suddenly I thought, oh, everything's fine. I realized that comedy can contain complicated ideas in a hilarious package. At some point in high school, I saw Norm MacDonald do this joke on SNL's Weekend Update: "Kenny G has a Christmas album out this year. Hey, happy birthday, Jesus! Hope you like crap." Later on I was driving with my friend Steve, talking about that joke, and laughing so hard that I almost crashed the car. It's not even a great joke. In fact, it might be a terrible joke. But I starting wishing I could do what Norm did.

Dave Ferguson: When John Candy flipped that pancake with a snow shovel in Uncle Buck, it cemented the core of my sense of humor to this day. What if a thing that's supposed to be small, is made very big?!?! I watched Bill Cosby's Himself special with my whole eighth grade class during an indoor recess on a rainy day. Everyone was losing it. Teachers, recess monitors, the class. I'd never seen anything make adults and kids laugh that hard. I thought that was a crazy and inspiring achievement, and a cool goal. Prior to that, I thought jokes were things you laughed at with friends while your parents weren't listening. Now I don't know how to feel about that memory.

Mike Mitchell: In 1999, when I was 16 years old, I went to a taping of Late Night with Conan O'Brien. There were two seats left for the show, and it was my mom, my dad, and myself. They let all three of us in, and my mom took one of the seats and my dad and I ended up standing in the stairwell behind Max Weinberg and the Max Weinberg 7. The warm up comedian made fun of my dad and I for being weirdos standing in the aisle, and for our thick Boston accents. Conan even mentioned people being in the aisles when he came out at the top of the show. Later they showed the Triumph remote where he went to the dog show and my dad and I were laughing like crazy. I just remember thinking: "I want to be a part of this. I want to do things like this." I'll never forget it. I loved being at 30 Rock[feller Center]. It felt very magical and show bizzy for 16-year-old me. The ticket to that show is still hanging over my bed.
Bob Saget (Full House)
When I was nine my mother decided it was time to tell me the facts of life. My dad was conveniently at work. I'd said something lascivious to my cousin who was visiting and my mom decided — it was time. This was too important to wait for my father to get home. She sat me down and said to me, "Okay Bobby, this is how it happens. The man puts his penis into the woman's vagina." I stared at her blankly and innocently asked, "But how does he get it through the pajamas?" Of course, that got around the family and eventually, as I got older, somehow found its way onto a talk show. Besides being obsessed with Groucho Marx, Johnny Carson, and Dean Martin on television — when I was 14 I lived in Los Angeles for a little while, so I would sneak underage into the best sitcoms that existed, including All in the Family, Mary Tyler Moore, Sanford and Son, and The Carol Burnett Show. When I was 17 I moved to Philadelphia and I underage-snuck into the Latin Casino in New Jersey to see the great Don Rickles. I would say the culmination of watching the brilliance of those legendary sitcoms combined with seeing the effortless hilariousness of Don Rickles live, was altogether astonishing to me, yet I still didn't think I'd end up in comedy. There definitely can't be just one [favorite joke]. This one comes to mind off the top of my head … An elephant is in the jungle under a coconut tree and a tiny mouse climbs up on his back and says to the elephant, "I am going to give you the best sex of your life. You okay with that?" The elephant agrees, and so the little mouse starts going at it. After a couple minutes, a coconut falls from the tree and hits the elephant hard on the head. "OW!!!" he yells. To this the mouse replies, "Suffer bitch."
Dane Cook (Troublemaker)
I remember watching a ton of stand-up growing up but I loved SNL. Martin Short was doing his characters one night when I was about 13 or 14 and I turned to my family and said, "I wanna work there." I made a choice that night to become a comedian. I had zero clue as to why or how that would become my profession, but I had a gut instinct, and I've followed it ever since. Hosting SNL was literally a dream come true. Greatest moment of my life (until my kids are born … I'm supposed to say that right?).
Aasif Mandvi (The Daily Show)
Probably just the fact that I couldn't get laid. Maybe that was the joke. Being funny helped me get laid. So there you go, that was it. That's why people become comedians and/or rock stars. I couldn't play an instrument, so that's why I became an actor. I have a favorite joke that's short enough: A guy walks into a pet store, and he says, 'I'd like to buy a bird.' And the pet store owner says, 'Certainly sir. Would you like a cockatoo?' And he says, 'No, I just want a bird.'
Jim Norton (Jim Norton: Contextually Inadequate)
Richard Pryor's joke about a spider monkey running up his arm and sticking his dick in Richard's ear — I loved the entire special, Live in Concert (1979), but that one joke stands out from childhood. The image of that monkey fucking his head was drilled into my psyche. He was talking about a monkey fucking his ear, and my parents were laughing at it. I couldn't believe they were responding so positively to such dirty language. I wanted to do that. Also, Woody Allen's moose bit. In a nutshell, a guy hits a moose on the road and straps it to the fender. He takes it to a costume party. It comes in second in the costume contest because it loses to the Berkowitzes, a married couple dressed as a moose. The moose and couple fight and knock each other out. Woody grabs the unconscious moose and drives it back to the woods, but, he got the Berkowitzes … It goes on from there. It's genius writing with right turn after right turn and none of it is predictable. Masterpiece of a joke.
Josh Comers (Conan)
My dad exposed me to a lot of comedy when I was young. We'd watch Marx Brothers films together and I secretly listened in while he played Rodney Dangerfield albums. The earliest days of Comedy Central, or maybe even the HA Network, made doing stand-up seem possible. Before that, stand-up was Eddie Murphy in his prime playing to sold-out stadiums. On this new comedy channel, I saw comics that weren't so amazing in venues that weren't so majestic, and I thought, I can do that.
Andres du Bouchet (Conan)
If I had to pick one single joke [that changed my life] it would be this: "What do you call 500 lawyers at the bottom of the ocean? Superlawyeraquaconference." If I had to pick [what got me into comedy] I would go way back to the early '80s and pick Eddie Murphy's character Velvet Jones from SNL. This is the first comedy bit I can remember quoting incessantly. I have a specific memory of being at my grandparents' house and acting this bit out for my very Catholic and very mortified grandmother as my parents sat speechless, too stunned to intervene and stop me from reciting everything I could remember. I guess I was 12 or so at the time. This habit of absorbing SNL stuff or Monty Python stuff and then acting it all out for my friends, and quoting it over and over started with Velvet Jones. I don't think any one comedy bit made me want to get into comedy, but this was the start of my appreciation-slash-obsession with it. The thing that made me want to get into comedy was probably just an unquenchable desire for the positive affirmation that I wasn't getting from family or school. And I think that makes me totally unique among comedians.

Jimmy O. Yang (Silicon Valley)
I was an immigrant when I came here, I was 13 years old and there was no stand-up comedy in China. Now, maybe there is. But back then I was really excited to see BET's ComicView and things like that. It was hard to understand when I first came, there's a lot of slang, but it was very cool to see something from such a different world and growing up in high school I watched a lot of Chappelle's Show, he was definitely my comedy hero. If I had to pick one guy that inspired me, it would be Dave Chappelle. The best, most brilliant sketch, I think, was the "Black White Supremacist"; it is so funny and well-written that I was just captured by the show at that point.
Gilbert Gottfried (The Apprentice)
I like an old Henny Youngman, where two Jewish women are talking. One says to the other, "You see what's going on in Poland?" The other one says, "I live in the back, I don't see anything."

Additional reporting by Bennett Marcus, Kara Warner, Trupti Rami, and Adrienne Gaffney.
*A version of this article appears in the April 20, 2015 issue of New York Magazine.