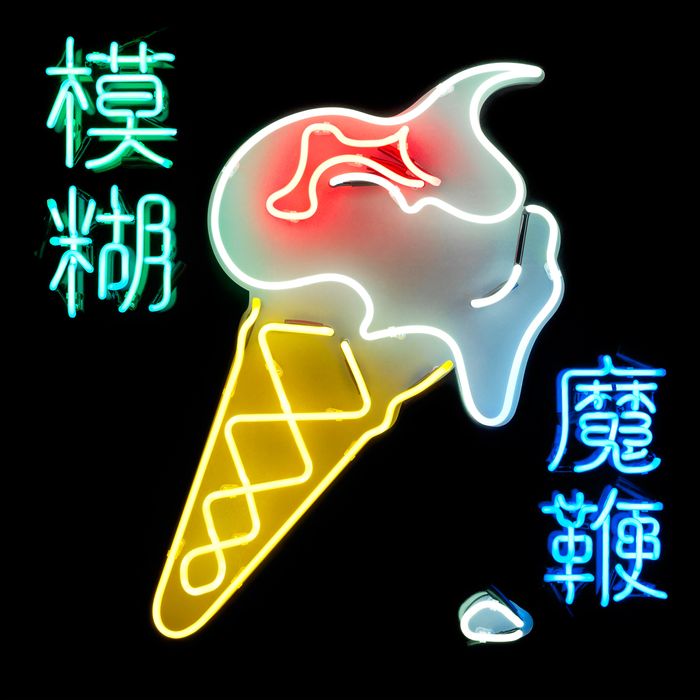 If you're a Blur fan, you owe a hearty thank-you to the organizers of Tokyo Rocks … a festival that in 2013 flubbed up its management so badly that it was canceled at the last minute. Having already mapped out the Asian leg of their reunion tour around that date, former headliners Blur found themselves in Hong Kong with a couple of sweltering days to kill before their next gig. So — why not? — they decided to spend the unexpected downtime in a studio, jamming to stay limber for their upcoming shows. Rumors flew of a new album; the band shot them down at every turn ("Just because you record 15 ideas doesn't mean that you've got an album," front man Damon Albarn told NME last year). But while the indefatigable Albarn was busy touring the latest of his endless post-Blur projects (in this case, a solo album called Everyday Robots), guitarist Graham Coxon and longtime producer Stephen Street spent some time tinkering with the Hong Kong tapes, trying to edit the sprawl into something that sounded more like an assemblage of pop songs (albeit some pretty out-there ones). Albarn admitted in a recent press conference that he wasn't looking to make another Blur record; he thought that last victory lap of a reunion tour had made a clean, sensible ending to the band's arc. So what Coxon and Street brought back to him complicated the matter. "When they played it for me," he recalled at the press conference, "I was like" — and here he puts his head in his hands—"Oh, nooo. This is really good."
Albarn was right to be skeptical of an epilogue tacked haphazardly onto the end of the Blur story — after all, we're talking about a band that had one of the most prolific, adventurous, and impeccable discographies of the '90s. Blur began the decade a gang of mop-topped, vacant-eyed Stone Roses wannabes (see: 1991's Leisure); in the middle, they matured into tart, tuneful pop satirists (1994's stone-cold Britpop classic Parklife); and by the end of the century, they'd finally conquered the States with one unexpected stadium-jam and a pair of achingly lovely art-rock masterpieces, Blur and 13. Blur's brilliance was fueled by an artistic restlessness and egos that clashed just hard enough not to destroy each other completely. They often sound like they are members of four different bands, or — often at their very best — native species of four different planets. Drummer Dave Rowntree gives Blur's sound a grounded muscularity, and bassist Alex James lends a buoyant, hair-flipping pop sensibility, but at its core, Blur is all about the aesthetic tug-of-war between Albarn and Coxon. Cheekily charismatic, Albarn was always seen as the source of the band's melodicism and pop appeal; the more introverted Coxon was the one pulling them in darker, more experimental directions (he's usually given credit for the stylistic shift of the 1997 self-titled album). In the liner notes to the band's boxed set 21, Rowntree summed up the dynamic between his bandmates succinctly: "Graham used to say that he wanted to make an album that nobody would want to listen to. But you can't do that in a band with Damon."
What's interesting about The Magic Whip is how, in a sense, that dynamic has finally reversed. In recent years, and especially on Everyday Robots, Albarn's melodies have had a tendency to grow a little too dreary and soggy — here, Coxon provides the electrical jolts that zap them back to life. Coxon loves to mess around with texture and tone, and Magic Whip is his aural playground. Take the great, jaunty first single "Go Out" (which sounds like the sneering, tattooed older cousin of "Coffee & TV"), across which he splatters different varieties of distortion like so many colors of paint. The atmospheric, post-rock reverie "Thought I Was a Spaceman" is just as exciting; it reminds me of the proggy, extraterrestrial spirituals on the back half of 13, like "Caramel" and "Battle." Too many bands tend to sound defanged or diluted on reunion records, so it's refreshing that The Magic Whip finds Blur indulging — and downright reveling — in many of their weirder tendencies.
Roughly speaking, Albarn's Blur lyrics tend to come in two varieties: Character sketches like those he perfected on Parklife, and then the wounded, confessional, hyper personal songs that came afterwards. The Magic Whip falls somewhere between those two extremes: Its gaze is focused outward, but there's something intimate about its observations, as though they're handwritten travelogues. The lyrics mostly evoke the band's time in Hong Kong, a city they found stimulating but overcrowded — thus the stately, regal march of "There Are Too Many of Us," a.k.a. the feel-good population-growth-anxiety jam of the summer. Once deliciously bratty (I mean, the man had a way with a nyah-nyah-nyah), Albarn's voice has matured into an instrument of wearied but prismatic melancholy, modulated finely enough to convey 50,000 shades of grey. But that also makes his rare bursts of exuberance that much more satisfying, as on "Ong Ong," The Magic Whip's one slab of pure pop sunshine. On the sing-along-ready chorus, you can almost hear him struggling to keep it so simple, so sweet: "I wanna be with you."
The Magic Whip isn't as immediate as the band's most inspired work, and I'll admit on the first few encounters I thought it a bit dull. But over repeated listens, I've found it blooms into something immersive, complex, and understatedly lovely — a worthy inclusion in the band's arc. It's impossible to say whether it will be the last Blur album, but if it is, I'll disagree here with Albarn and say it's an even more satisfying ending than what came before. Up until now, the final Blur record had been 2003's Think Tank — a fine, adventurous record, but one that many diehards didn't consider a Blur album at all because Coxon didn't play on most of it. Blur is a band of distinct chemistry, four irreplaceable elements. In promoting the return-to-form The Magic Whip, it's been surprising to see how readily they'll admit that, even at the expense of the previous release. "[Think Tank] wasn't a Blur record, that was the three of us," Albarn admitted in a recent interview — joking that maybe, if anything, it was a "LUR record," or a "BLU" one. Sharp and uncompromising, The Magic Whip is here to deliver some good news: Blur is once again a four-letter word.