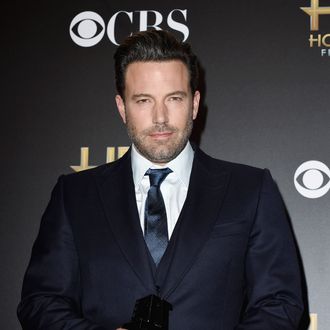 Photo: Steve Granitz/Getty Images
When Ben Affleck participated in Henry Louis Gates's PBS program Find Your Roots, it was discovered — gasp! — that his roots include slave owners. According to an email exchange between Gates and Sony CEO Michael Lynton, Affleck wanted to suppress this aspect of his family tree. The correspondence, found by the New York Daily News from the leaked Sony emails, shows Gates struggling to square the unprecedented request with his own editorial judgment.
Gates wrote, "To do this would be a violation of PBS rules, actually, even for Batman." Meanwhile, Lynton advised them to expunge the material as long as they could get away with it. "I would take it out if no one knows," Lynton wrote. " It is tricky because it may get out that you made the change and it comes down to editorial integrity."
Indeed, in the aftermath, both Gates and PBS have scrambled to defend the show's "editorial integrity," posting statements on the show's website. Gates writes that he maintained all "editorial control," and that "in the case of Mr. Affleck — we focused on what we felt were the most interesting aspects of his ancestry," which included Revolutionary War heroes and his mom marching in the civil rights movement. (Yes, we'll let you parse that.) Maybe most telling is how Gates ended his email to Lynton: "Once we open the door to censorship, we lose control of the brand." You can read the full email exchange here.