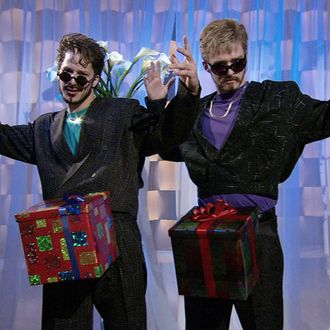 Not acceptable on Christmas, Hanukkah, or Kwanzaa.
Photo: Dana Edelson/NBC
When The Atlantic analyzed complaints to the FCC for the past three years of Saturday Night Live, it made an important discovery: Many SNL viewers did not enjoy that one sketch "suggesting that men should give women their penis in a box as a present." Yes, "Dick in a Box" (which originally aired in 2006 but has been rebroadcast over the years) was one of the most frequent targets of the 100 letters the FCC received about SNL, with one viewer objecting to its "profane attempt at humor … not funny and beyond vulgar." The inclusion of Justin Timberlake was also suspicious, the same letter-writer said, as the singer "was involved in the Janet Jackson Super Bowl stunt." It's a crotch-spiracy! Only one recent sketch received more complaints than "Dick in a Box": "Djesus Uncrossed," a Django Unchained parody that starred Christoph Waltz as a wisecracking, rampaging Jesus. "Would NBC create a similar video about the prophet Mohammed?" one viewer asked, using logic familiar to anyone who's ever argued online. "Likely not." That sketch received a quarter of all of SNL's complaints, or in other words, only 24. Well, we all know the complainers really live on Twitter these days.