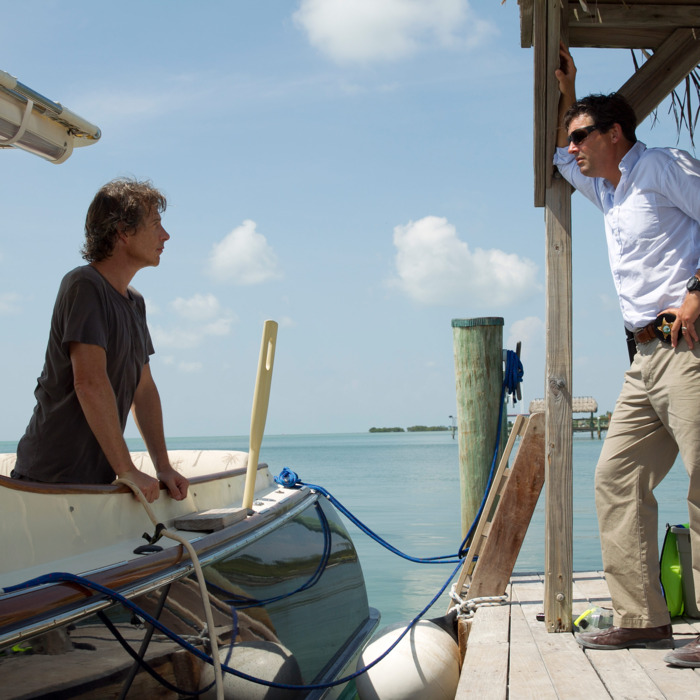 Kyle Chandler (John Rayburn) and Linda Cardellini (Meg Rayburn).
Photo: Saeed Ayani/Netflix
"Sometimes you know something's coming, you feel it, in the air, in your gut. You don't sleep at night," John says. "The voice in your head's telling you something is going to go terribly wrong. And there's nothing you can do to stop it. That's how I felt when my brother came home." He's looking out at his brother's bloated, floating body. This is the same speech we've heard a couple times before. We'll hear it again before the end credits roll because John wants to convince you, as well as himself, that killing his brother was an inevitable tragedy. It was the work of something bigger than them, and like you, he was just a witness.
John's Jekyll and Hyde act is bullshit, but Chandler did an excellent job portraying the new eldest brother who wants to sweep the Danny troubles under the rug. John's place as leader of the family is still secure. In a small batch of flash-forwards, we see John's also been placed on the Monroe County Sheriff short list, to be, like his dad said, a leader in a bigger sense. John's surprised — and maybe so are you — but not because of the job. This promotion was coming. John's good at what he does. It's just that given what he's done, swallowing this irony is like choking on a glob of unchewed food.
Written by KZK, the season finale felt less like a finale and more like a fill-in-the-blanks exercise. Plot-wise, nothing was left up in the air, and an 11th-hour reveal felt almost too surreal and hokey to be true. This episode excelled, however, with its players, all of whom delivered powerful performances. Linda Cardellini, Kyle Chandler, and Norbert Leo Butz in particular made my head spin. I loved watching Cardellini and Butz deal with the quandary of moving their brother's dead body. The idea of kayakers randomly coming at that exact time was lame, but their reaction saved the moment. Cardellini especially seemed to be pushed out of her brooding and usual Goody Two-shoes–on-the-outside behavior to show us a sister who just needed to get this crime out of the way to return to a normal life in New York. I remember listening to Butz and Cardellini, their wobbly voices practically falling out of their mouths in the kayak scene, and feeling a very palpable uneasiness creeping inside me. I felt the same way during Chandler's chest pains, when he called his sister to let her know they were all screwed. The spittle on his lips and the paralyzed pupils were nice, goose-bump-inducing touches. Because of the Rayburn siblings, this episode was thrilling in its usual perverse way.
Oddly enough, for me, watching the first scene, in which Belle comes back, I felt the most frazzled — how violently Danny's life derailed those of his siblings, and even those around them. I loved the jostled tracking shot through Kev's office, when he's trying to rush to cover up evidence; it almost gave me motion sickness, and I thought it did a good job of putting us not just in the action, but also in these characters' psyches. Directed by Ed Bianchi, a lot of the frames in "Part 13" mirrored those in "11," but they were even darker here. There were a slew of shots that had our characters shrouded in darkness. Where supporting cast members were given light, the Rayburns were only limned with highlights, as if to say this whole family had officially turned toward darkness. With all their faux obliviousness, messed-up ethical decisions, and lack of love for their brother, not one of them, at this point, could honestly take up the mantle of the family's white knight. Especially not John.
"I can't help him anymore," John tells Sally. "You don't just give up on family," Sally retorts (even though she did multiple times!). A lot of the sentiments sowed in this installment were ones we've already heard, or ones that have been clear since episode one. "I am not throwing my life away, not for him," John also says. Even if you argued John did help Danny in the first portion of this series, it always felt half-assed and pessimistic, like he doubted any good could come of the situation. It was always saving face, for the family name. "We never treated my brother Danny like he was one of our own," John says in a flash-forward. "We all bear some of the blame." Many of John's lines this episode struck extra-poignant chords because they underlined this show's idea that people don't change. Danny was a virus to his siblings in the beginning, and he died that way, too. As Danny said, he was related to corrupt liars and hypocrites.
The Rayburn siblings were all in too deep: There were the drugs, the murder, the threat to Janey (which, you might be asking yourself now, Was that really a threat?) — they all knew, but nobody else did. As Meg says, that's what had their innocence compromised. That's why they had to cover up everything. There's no question Danny was crazy and out of line. But what his siblings did this episode was nearly as psychotic, even if it was for the sake of saving the clan's business and clout. "We never say [I love you] in this family," John tells everyone. His siblings look at him like he's an alien when he actually says it. This family's problem all along was its inability to connect.
Everything's an act: John's false confidence, which says everything's going to be okay; John's false humility, which says they're good people but they did a bad thing; the family's pristine reputation, which says we're perfect on the outside and that's all you need to know. In the last few scenes with Marco, John didn't look convincing. I wasn't sure how to read his interrogation with his former partners, but I loved the way the conversation was intercut with a visual explanation of how Kev and John framed Wayne. (It reminded me of the ending of The Illusionist, similarly fascinating.)
I wondered if the first season could've been more tense; the end felt deflating, mostly because of the flash-forwards we saw. The show tried to make up for its predictability with teases ahead (sheriff bid, Danny's son), but it was hard not to laugh at this season's Star Wars–esque ending. (Also, why was this kid dressed like a '90s emo kid from Hot Topic?) But what were we expecting? The pilot, in a way, was half intro, half finale. What KZK needed to accomplish with this episode was a convincing way to ensure that season-one viewers would come back around for season two next year.
Were they successful? Ultimately, I think so. A lot of gaps were filled. (The flash-forwards, in my opinion, ended up being more gimmicky than helpful.) The last couple episodes here would've been much more engaging if the ending weren't written out for us ahead of time. But that's beside the point — will I come back for season two? Yes, because there will be a fallout. Enough narrative strands were left untied. There will be damage control, as well as a new Danny to deal with. This season's most rewarding scenes were the results of watching Chandler, Cardellini, and Butz lie to each other and deal with their vices onscreen. Season two can only promise more of that.
If you're worried that that doesn't sound exciting, don't forget: Wayne's still on the loose. And Broadchurch, a show that similarly felt like it could've existed as just one season, used a second season to successfully delve more into its characters and character relationships. (I know comparing this with that show is comparing apples and oranges, but if KZK focus their talents on finessing their characters and their dialogue rather than trying to do cool things with narrative structure, season two has room to be something special.) Until then, thank you for reading! Bloodline was a gripping, slow burn of a journey, so stressful, engaging, and uncomfortable, it's made me happy to have a break from the Rayburns. I mean that in a good way, though. At times, I felt a scary kinship with many of the characters, their hypocrisy, self-confidence, and personal crises. A lot of the family drama also had a reality-TV-type addictive quality to it. KZK did a fantastic job crafting something real enough to find introspective truth in. Just in time for something a bit lighter and surreal. Louie, anyone?
Swamp Talk
• Stanford photography douche ended up being kind of a lame waste of space.
• Kevin got his marina!
• "He said some things, and then he walked away." I never want to have to hear Chandler read dialogue like that again.
• How did that cop not arrest Meg for being a psycho and jumping out of the car?
• So … who was that spying on John and Kevin? Oh, Danny's son has the same silver chain. Oops!
• Belle is pregnant, and Kevin's like, Ugh, can't talk, busy, BBL.
• Fucking Lenny Potts, pro shit-disturber, is back. Lenny Potts was definitely that guy in school who would say stuff like, "Teacher, don't we have homework due tomorrow?" SMH, LENNY. SMH.
• Sally confesses she was the one who perpetuated the car-crash lie. Sally, you suck. You are beginning to have zero redeeming qualities. But kudos to Sissy and the writers for fleshing out a wonderfully complex character.
• Alec is back!
• This episode could've used more SeaSea.
• RIP, Danny.