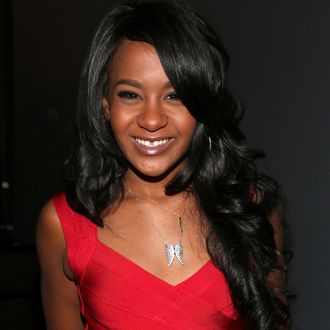 Bobbi Kristina Brown in October 2012.
Photo: Christopher Polk/WireImage/Getty
Video surfaced over the weekend of Bobby Brown telling a concert crowd that his daughter Bobbi Kristina Brown was awake and watching him, nearly three months after she was found unresponsive in her home. Confusingly enough, a source — who might not be in the loop — told People magazine otherwise. "As far as I know, there's been no change," the source said. "We're still hoping and praying that God will perform a miracle. We are leaving it in God's hands." Bobbi Brown had been in a medically induced coma, and there was talk of her coming off life support. E! News points out that someone else close to the family wrote on Facebook, "[p]lease don't stop praying for Bobbi Kris even though she is off life support and she has woke up. We are decreeing life in her body and healing and we want to pray that god restore her body and everywhere that she hurts and we want god to mend her broken heart and make her whole all over again." Fingers crossed.