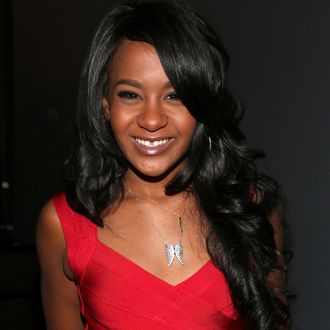 Bobbi Kristina Brown in October 2012.
Photo: Christopher Polk/WireImage/Getty
The Bobbi Kristina Brown updates continue to be confusing and cryptic. After questions surfaced Monday following conflicting reports of Brown's purported coma and quality-of-life improvements, both the Browns and the Houstons sought to provide clarity. "Bobbi Kristina's condition has changed since moving from Emory University Hospital and there has been improvement," said lawyer Christopher Brown, representing Bobby Brown, in a statement emailed to USA Today. "Doctors have indicated that she will have a long life. However, Bobbi Kristina is presently embarking on a rehabilitation process and the quality of her life will not be known for years to come."
Bobbi Brown is out of the ICU, according to Bobby Brown's wife, who adds that her husband was in an emotional state when he declared his daughter was awake over the weekend. Bobby Brown's sister, Tina Brown, reportedly wrote (in a now-deleted Facebook post): "So many messages,sorry can't answer them all right now but I will get to them later..just allow me this time with my family,,yes,she woke up and is no longer on life support!!!!!:):)God is good!!thanks for your prayers,,still a process,but she is going to be ok:):):):)."
Meanwhile, TMZ, which has sources close to the Houstons, reports that it's unsure where the Browns are getting their info. "I have just returned from visiting my granddaughter, Bobbi Kristina, in the hospital, and while she is no longer in a medically induced coma, she has a tracheotomy, and, according to the doctors, she has global and irreversible brain damage and remains unresponsive," grandmother Cissy Houston said in a statement to People. "Meeting with the doctors and understanding that she can live in this condition for a lifetime truly saddens me. We can only trust in God for a miracle at this time. Keep us in your prayers." The official prognosis remains unclear.