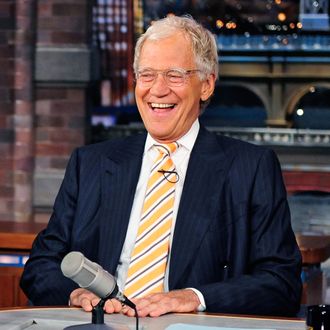 Photo: CBS Photo Archive/Getty Images
May 20 will mark David Letterman's last episode of the Late Show, which he has presided over at CBS since 1993 — over 23 years ago. That's a lot of time to reflect on! Letterman sat down with the New York Times and talked about his career, as well as his successor, Stephen Colbert, a decision the network had never consulted him on. Did that bother him? "Yeah, I guess so. Just as a courtesy, maybe somebody would say: 'You know, we're kicking around some names. Do you have any thoughts here?' But it doesn't bother me now." Who would he have tapped as his successor?
I always thought Jon Stewart would have been a good choice. And then Stephen. And then I thought, well, maybe this will be a good opportunity to put a black person on, and it would be a good opportunity to put a woman on. Because there are certainly a lot of very funny women that have television shows everywhere. So that would have made sense to me as well.
Yes, that would've made sense.