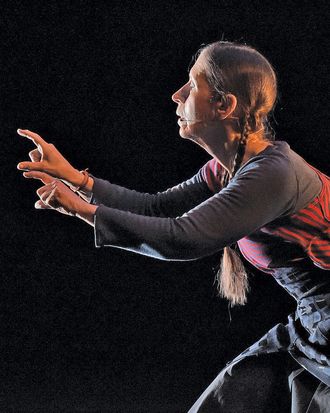 Meredith Monk in On Behalf of Nature.
Photo: Steven Pisano/Flickr
Meredith Monk has spent 50 years producing a familiar kind of strangeness, uttering sounds you've never heard before but that seem to have been in the air for eons. Occasionally she sings words and phrases, more often just indeterminate shreds of language like something heard in a dream. At 72, she remains a straight-backed pixie with two-foot pigtails and precise but slightly awkward movements. Her pliable, silver-toned voice can still trip lightly off a consonant or ricochet from angry buzz to high hoot to chesty growl, or disappear into a vocal weave.
Monk's yearlong residency at Carnegie Hall made it clear how hard it is to separate her presence from her music. Other performer-­composers of her generation, like Steve Reich and Philip Glass, long ago began to write scores that could fall into anyone's hands and come out okay. She, too, has shared her skills with the members of her Vocal Ensemble and a far-flung assortment of acolytes. In theory, Monk the performer could retire without harming Monk the composer. In practice, though, her originality is inseparable from her personality as a performer. She first communes with her muse in solitude, then lets ideas form in the kiln of her ensemble.
"Meredith Monk and Friends," a recent four-and-a-half-hour marathon showing off the breadth of her influence, was a sequel to another afternoon-long celebration held at Zankel Hall in 2005. After that event, Paul Miller, a.k.a. DJ Spooky, the hyperintellectual iPad virtuoso, dragooned a variety of musicians into reinterpreting her pieces. Monk gave the project her blessing, though she seemed content with the idea that it had little to do with her. The result was Monk Mix, released on disc in 2012. Like most tribute albums, it made me wish I were listening to the honoree.
A decade after the first show, some of the Monk Mix veterans were back, like the Sonic Youth member Lee Ranaldo. He performed his guitar wizardry on Astronaut Anthem, originally a quiet choral meditation on interplanetary living. The score was just a pretext for Ranaldo to have fun with feedback, swing a guitar past an amplifier, and hammer the strings with a mallet to create a meteor shower of sound. In Dungeon, John Zorn's saxophone freak-out above Cyro Baptista's pounding bass drum came off as far more aggressive and much less plaintive than Monk's vocal version. Composers are opportunists. They suck up whatever influences they choose and recycle other people's music for their own purposes. These performances made it seem as if Monk's devotees had overheard her humming or snatched a sketch from her wastebasket, then sped off back to their comfort zones.
Of all Monk's friends and "friends," composer Missy Mazzoli came closest to internalizing her spirit when she arranged a medley of two wildly different works composed 35 years apart. In the original "What Does It Mean?" from the 1970 album Key, Monk bangs out obsessively basic keyboard patterns and vocalizes, alternating between chipmunk squeals and guttural rasps. The luminous neo-medieval "Passage," from the 2006 work Impermanence, is as glossy and seamless as the earlier piece is muscular and rough, but they share a lot of DNA. They both strip music down to an agile descant over a ground bass, intimate meanings encrypted in stray syllables, and conjure up a vivid physical space—a vaulted crypt, say, that coats the voice in reverberant shellac. Mazzoli found the common spirit in those two disparate pieces, translating a kaleidoscope of vocal hues into an instrumental watercolor. Monk has said that she realized in the mid-1960s that the voice could be an instrument, containing sonic multitudes. It took her another few decades to treat instruments like voices. Mazzoli, who handles both with flair and sensitivity, found a way to express Monk's discoveries of these long-standing truths.
Monk has organized her life around a few slo-mo epiphanies. She spent the first phase of her career exploring the possibilities of her own body. She made the rounds of galleries and avant-garde-friendly venues, accompanying her chirps and incantations on a piano or a wheezing organ. When she reached the limits of performing solo, around 1978, she began working with a few like-minded singers, a group that soon expanded into a tightly knit corps able to deal with the complexities of her simplicity. "We were kind of like a rock-and-roll band, really," she has said. "We went all over the world." An extensive discography and a fistful of YouTube videos offer a taste of those deadpan performances, which are still enduringly, endearingly weird. In Dolmen Music, a cello slowly passes out a three-note scale: do-re-mi. Three voices catch that motive, chirping it, sped up. The score feels for a moment like a propeller just before it catches, spinning simultaneously slowly and fast, in opposite directions at the same time. Her inventions had always been theatrical, but now she had the resources to fuse song, dance, costumes, and instrumental sound into a full-on Gesamtkunstwerk.
Then, in 2000, Monk discovered that she could deploy instruments not just one at a time but in great, massed armies. Michael Tilson Thomas prodded her to write her first orchestral piece; recently, the St. Louis Symphony gave the New York premiere of her second, called Weave, at Carnegie Hall. On first hearing, I found it unconvincing, little more than a soft-focus orchestral haze to flatter the voices of Monk's longtime collaborators Theo Bleckmann and Katie Geissinger. I kept wishing the singers would break free of the cumbersome orchestra and get back to the astringent clarity of their vocal ensemble. But Monk's music can worm its way into your mind, and I've since found it shimmering in my memory, a glittering swath of sound inviting me to listen again, harder.
On May 2, Monk and her Vocal Ensemble will conclude their festive season with a concert in Zankel Hall that will include selections from "On Behalf of Nature," an ambitious show with an environmental agenda that had its New York premiere at bam in December. The singer-dancers move in nested orbits, raising one arm in a circular wave, cooing quietly in looping vocal lines. The circle is the key geometry of Monk's music. Her ensemble pieces have an around-the-campfire quality, with all the voices braided together in a ring of sound. Maybe that's why her trajectory has felt so consistent and comforting over so many years, even though she's never stopped moving. She has been carrying out a slow revolution, with no end in sight.
On Behalf of Nature by Meredith Monk is at Zankel Hall through May 2.
*This article appears in the April 6, 2015 issue of New York Magazine.