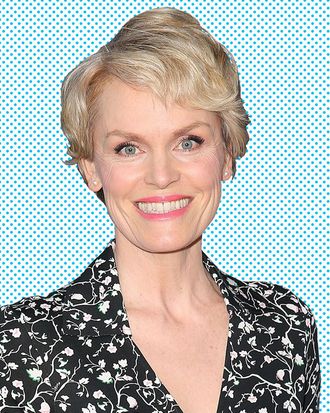 Photo: Imeh Akpanudosen/Getty Images
No offense to Billy Crystal and Josh Gad, ostensible stars of FX's The Comedians, but Stephnie Weir is its breakout performer. Crystal and Gad play themselves playing themselves as the hosts and lead players in an FX sketch series called The Billy & Josh Show. But as their perma-flustered, Über-awkward producer Kristen Laybourne, MADtv vet Weir wrests laughs from the aforementioned heavy hitters with an improviser's knack (she's a Second City alum) for playing overwhelmed and anxious.
It's an overdue opportunity for the Texan native who, since leaving MADtv, has guest-acted on assorted sitcoms (Modern Family, 'Til Death) while writing and consulting for others (The Millers, Raising Hope); produced a two-man show/video series with husband Bob Dassie dubbed WeirDass; and been either cast for or tapped to write/produce several network pilots, including David Wain's almost-was Brenda Forever and a still-in-process ABC half-hour about an underdog bank branch trying to stay afloat. Weir spoke with Vulture about being berated by Gad, separating fictional Billy and Josh from the real people, and whether it's really a new era for female sitcom writers.
Are you aware of people buzzing that you're the show's breakout star?
No, I was not aware. Wow. I'm very flattered. That's wonderful and awkward.
Billy and Josh are kind of your straight men. How did that develop?
It was all so organic. Being the lowest one on the totem pole is sometimes the fun part to play. I think [Kristen] screws up enough that she gets left holding the bag. And Josh, he kind of falls underneath Billy, and the fact that he would look down on me, that was a fun dynamic for [him] and I to play. And the more we got into the series, the more he would berate me. It's like when you feel bad about yourself, you turn to somebody else to beat up on. So it just happened that way from the beginning.
The show is scripted, but does your improv background inform scenes?
I think so. Everybody in the cast is fluent in their improvisational skills and comfortable doing that. And [director] Larry Charles, of course, was very open to the idea of, "You know, embellish and see what happens here," and would just let the camera go. At some point, you'd be like, "Please, yell cut." And a good majority of that made it in, even though the bulk of it is all great, scripted material. But I think it adds that level of play and some dimension and quirkiness to the show, 'cause you can sense when it's off the cuff and feels fresh.
Have you ever been on a set with so much Jewish humor?
[Laughs.] I'm [from] West Texas, I grew up not around any Jews, so I will step very carefully here. I hadn't really, and I think it plays into my character, that there's just so many elements that I'm out of the loop on. But at the end of the day, Jews are funny, right? I think we all know, so it works in my favor.
Why is Kristen so prone to misunderstandings and awkward encounters?
I feel like I know people like this. They don't make good choices in the minute, and then it kind of stockpiles and collapses on them. I often wondered while we were shooting this, "Why did she get the job, again?" The only thing I can say is, she must be really great in an interview, and it just all falls apart after that. And a lot of that incompetence is in my wheelhouse. She maybe wasn't initially supposed to be as incompetent as she comes off as, but yeah, she's a magnet for trouble.
Those scenes also give The Comedians an almost traditional sitcom feel.
Yeah, and it's so much fun [that] each script you open up, there's going to be an element of that, something that shines a light on some other part of Kristen that's unusual. And you don't have to see it through, and that's a fun place to be, and it's a greedy place to be as an actor.
In your experience, are Hollywood producers always this dysfunctional?
I wonder, too, because I feel like there's a character type that works well as a producer. A lot of times, they have a real reverence for artists and creativity. They want to be in that world but maybe don't have it themselves, so their contribution is to be on this more logical side of things. They also suffer the brunt of having to be the killjoy, and they know when a producer walks out, eyes roll. But that's the price they pay to play with this group.
Do Billy and Josh seem worried about people confusing them with their fictitious selves?
I'm sure it's crossed their minds, but they just didn't hold back on making fun of themselves and laying out their careers to be poked and prodded at. And it makes them vulnerable. They're great guys in real life, and to be able to highlight some of the nasty flaws that come with being part of Hollywood, it's fun for us to watch, and it's great they're willing to let us do it on their dime.
They both seem to be stand-ins for a pervasive, endless insecurity, even among big stars.
You think you can write your own ticket a little bit, especially at Billy Crystal's stage, but the truth is this is always a hard town, no matter what stage you're in. There's a brutality to it. At the end of the day, he's still Billy Crystal. He's still got a fantastic life.
Having gone through the mill writing and producing network pilots, is it a relief as an actor to land this kind of regular role?
I've found that the more hats you can wear, the more fulfilling this business is. Any time I've ever tried to predict how my career will go, it's kind of pointless. I'm especially delighted to get an opportunity to perform with this group of people. I'm thrilled to be in front of the camera again on a show I'm really proud of. That being said, I really enjoy the writing aspect of it. I just love where I'm at, so I'm counting my blessings.
You've been included in what the media's called a movement of more women writing network comedy. Do you think that trend has bore out?
In my experience, it boils down to what they need in the moment and has very little to do with me being a female writer. I think the benefit is there aren't so many conversations about, "You need to make it more male-driven," at the big networks, and that's nice. The first pilot I filmed, there was a conversation of, "How are we gonna frame this for more of our male audience?" And not that that doesn't exist, but in my experience, it hasn't been quite the conversation, and I do think that is because of Tina Fey and Mindy Kaling, and all those shows doing so well. That pendulum may swing. You never know. All I can do is knuckle down, write something really good, and hope someone responds to it.