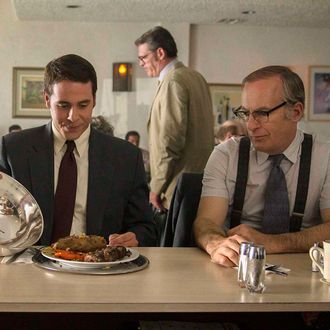 They're back!
Photo: Netflix
Taradaloo, Mr. Show With Bob and David superfans! It's time for you to compete for a chance to go up Heaven's Chimney. Bob Odenkirk and David Cross are finally returning to the sketch-comedy world on Netflix later this year with With Bob and David, 20 years after Mr. Show. To celebrate, Vulture has teamed up with Netflix to give away two tickets to a live taping of the show to four lucky fans! The tapings will be held in Glendale, California — transportation is not included — on April 25 at 7 and 9:30 p.m., and April 30 at 7 and 9:30 p.m. Winners must be 18+ to attend.
Want a chance at tickets? Take our Mr. Show quiz below! Warning: It's really hard! To enter, please send your quiz answers to tvquestions@vulture.com by 10 a.m. PST Friday, and we'll award four people a pair of tickets each. Good luck, and just remember: You shouldn't try to fly, and you shouldn't listen to British people.
Which of the four original seasons does not include an appearance from Senator Tankerbell?
What was the Mr. Show creators' nickname for the slobby recurring character Bob Odenkirk played in such sketches as the argument in the doughnut shop?
Who was the director of the moving war film Hell in a Handbasket?
Which two episodes have titles that are not phrases used in the episodes themselves?
Which actor plays Famous Mortimer in his sole onscreen appearance?
What are the three Pratt Promises?
What are the names, respectively, of the show's Dr. Demento and Weird Al Yankovic pastiche characters?
According to Ken, the host of "No Adults Allowed," what three social groups are better than slackers?
Which character's name was first used in an entirely unrelated Ben Stiller Show sketch?
Name the Four Voices, as well as the disputed Fifth and Fourth-and-a-Half Voices.
Extra credit: In a few sentences, describe whether the tragic disappearance of the young people and their companions was more the fault of the young people or of the companions.