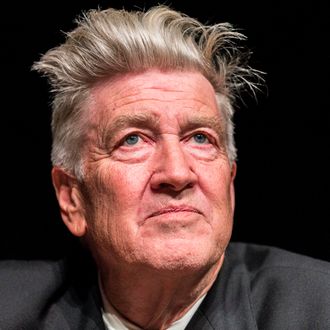 David Lynch.
Photo: Glenn Hunt/Getty
Will we ever find out what happened to the gang from Twin Peaks in the last 25 years? Probably, but David Lynch may not be involved in the show's reboot. It was announced in October that the cult hit would return in 2016 for a nine-episode run on Showtime, but on Sunday night the director said he's pulled out of the project. "I left because not enough money was offered to do the script the way I felt it needed to be done," he explained on Twitter.
Lynch had reportedly already written the scripts with co-creator Mark Frost and was set to direct the entire run. Here are his tweets on the matter:

However, Showtime remains as optimistic as a young FBI agent sampling pies at the Double R Diner:

We were saddened to read David Lynch's statement today since we believed we were working towards solutions with David and his reps on the few remaining deal points. SHOWTIME also loves the world of Twin Peaks and we continue to hold out hope that we can bring it back in all its glory with both of its extraordinary creators, David Lynch and Mark Frost, at its helm.
Hopefully Lynch just wants to give fans the opportunity to mount another "save Twin Peaks" letter-writing campaign, for old time's sake.