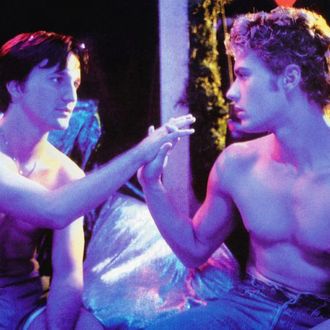 Hello there.
Photo: Miramax
Hark, gays! The cult classic 54 starring Ryan Phillippe in a love triangle with Salma Hayek and Breckin Meyer is coming to Digital HD.* Made in 1998, the original version by Mark Christopher bore little resemblance to the finished product, as Harvey Weinstein sanitized the film beyond recognition, namely excising the relationship between Phillippe and Meyer. (Read our history of the movie here.) What resulted was a slapdash, critically panned version — dubbed 55 by detractors — that no one saw. But after the original started circulating underground and made the rounds on the festival circuit, the director's cut will be available for the masses on June 2. It just took 17 years.
For now, here's a look at the opening scene:
* The post originally stated that 54 would air on VOD.