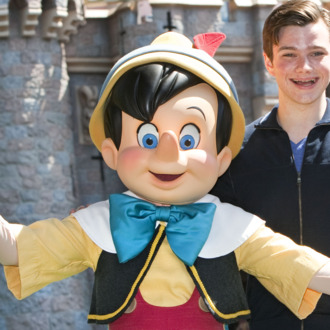 Chris Colfer meets Pinocchio at Disneyland.
Photo: Handout/2010 Disney Enterprises, Inc.
Disney wants another live-action project, because these are apparently the new comic-book-slash-superhero movies. Deadline reports that this time Pinocchio's getting the IRL treatment, with Peter Hedges writing a feature script based on the fairy tale. As previously reported, Guillermo del Toro's also developing a (separate) stop-motion 3-D version that's supposed to be a darker take on the story. With both in the works, hopefully we'll end up with a nice, competitive war of the "real boys" (though it's unclear at the moment if RiFF RAFF will be available to star in the live-action one).