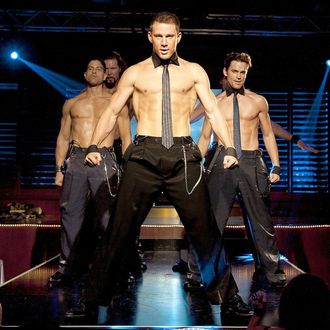 Channign Tatum in Magic Mike.
Photo: Iron Horse Entertainment
That stage musical of Magic Mike — yeah, the one with the lap dances — is still a thing that's probably happening, according to Entertainment Weekly. "It is still in the works," Channing Tatum told the magazine. "We're getting it going. Oddly enough, the second one lends itself more to the musical. I think our original idea was to do a prequel, like how Mike got in." Other details (plot and otherwise) are under wraps, but according to Playbill, female strippers might be involved, too (so maybe Magic Michael(a) is a better title?). We should know more soon: A private reading of the first act is reportedly taking place this spring, so basically right now.