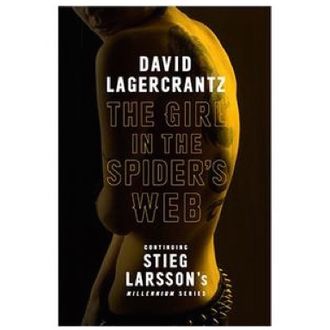 The next installment in Stieg Larsson's best-selling Millennium series will officially be called The Girl in the Spider's Web, according to the book's U.S. publisher. Alfred A. Knopf unveiled the title as well as the book's cover art on Tuesday, adding that Web will hit bookstores on September 1. As previously reported, Swedish writer David Lagercrantz finished the book in November, after receiving the green light from Larsson's estate and original publishers. (Larsson died in 2004 of a heart attack.) "Stieg Larsson was a master at creating complex narratives, narratives made all the more forceful because of the journalistic authority with which they were originally written," Lagercrantz said in a statement released to NPR. "That was something that informed my approach to book four, and I'm confident Millennium readers will identify with the storylines in Spider's Web."
The book's story line is still unclear, but it will definitely feature familiar protagonists Lisbeth Salander and Mikael Blomkvist. Larsson's U.K. publisher said the original author wrote down an outline for about ten books; it was Larsson's father and brother who pushed to keep the Dragon Tattoo alive. "We see it as a way of offering his many readers the continuation they have been longing for. We chose David Lagercrantz because we think he is highly suited to the task," they said in a statement.
Eva Gabrielsson, Larsson's longtime partner, disagrees and has told AFP she thinks that this is all about the money and that Larsson would not have let another author tamper with his stories. Unfazed, Lagercrantz reportedly wrote the book under high security — using no internet connection and hand-delivered manuscripts — and has said he penned Web in his own style. There will be no review copies released, according to The Guardian, so we'll have to wait for fall to make the final judgment call.
In the meantime, here's the book's U.K. cover:
This is the U.S. cover:
And, holy crap, here's a book trailer with spinning text: