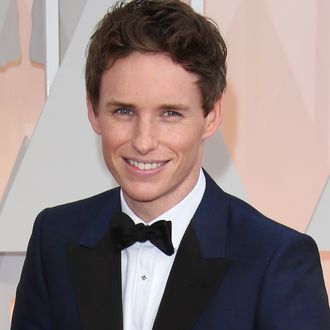 He sure looks like a Newt.
Photo: Dan MacMedan/Getty
It looks like J.K. Rowling's Harry Potter spinoff trilogy may have just found its lead. Variety reports that Eddie Redmayne is the front-runner to play Newt Scamander in Fantastic Beasts and Where to Find Them. The first installment is scheduled to arrive next year, with Rowling penning the script and David Yates returning to direct yet another part of the Harry Potter franchise. For those who haven't kept up with the wizard world since the first series ended in 2011: Fantastic Beasts (based on Rowling's 2001 book of the same name) is a prequel of sorts to the Harry Potter books, set in New York 70 years before "the boy who lived" was even born. It follows Scamander, a "magiczoologist" who studies the titular beasts beloved by Harry Potter fans. And if you missed Rowling's Potter family-tree breakdown, that means Redmayne, if picked for the job, will be playing the grandfather of Luna Lovegood's husband, Rolf. Let the crazy fanfiction continue.