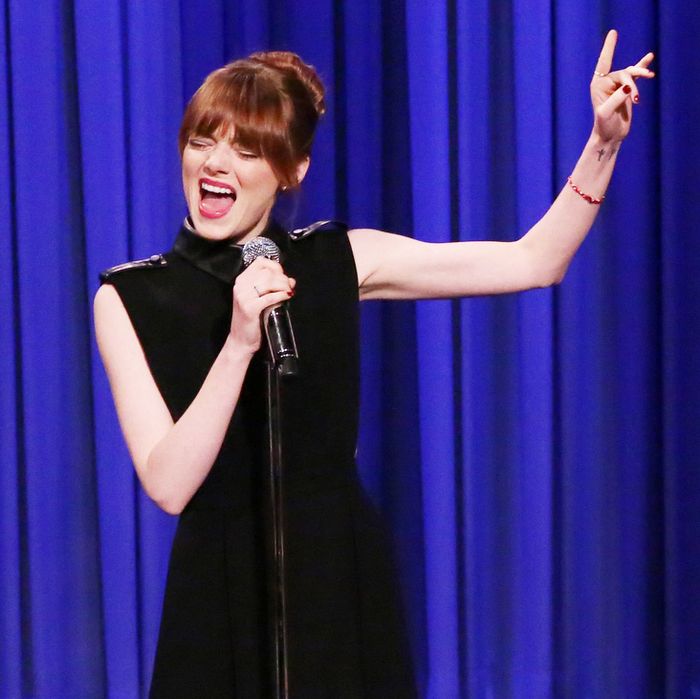 Emma Stone killing it on Jimmy Fallon's lip sync battle.
Photo: NBC
Tonight, Spike TV premieres Lip Sync Battle, a dressed-up version of the popular Jimmy Fallon segment in which the late-night host and his celebrity guests attempt to one-up each other with over-the-top musical performances (minus actual singing). In an interview with the New York Times this week, actor John Krasinski explained how he came up with the idea for LSB while prepping for an appearance on the Fallon-era Late Night. There's no reason to doubt the veracity of Krasinski's origin story, but those of us who came of age in the 1980s also know that the notion of a weekly half-hour series in which folks lip-sync hit songs in the most dramatic fashion possible has already been done. The show was called Puttin' on the Hits, it aired in syndication during the bulk of Ronald Reagan's second term in office, and it remains one of the most spectacular testaments to the unabashed (and unapologetic) cheesiness of the decade. Don't believe us? Let's go to the videotape.
A good place to start our journey back to 1984 is with an original promotional ad for Puttin' on the Hits (or #POTH, as it would no doubt be called today). In the ad, host Allen Fawcett explains the basic concept of the show and also reveals a very big difference between it and LSB: Instead of celebrities goofing off for the cameras, POTH was sort of an American Idol for would-be lip-synch superstars. Each week, six individuals or groups competed for a chance to win a grand prize of $25,000.
Back in the 1980s, before karaoke really took off, pretending to be a rock star, as folks did on POTH, was briefly kind of a thing. According to a Los Angeles Times article from 1985, the trend had a name ("air bands") and corporate sponsors (Pepsi among them). The New York Times connected the fad with the rise of MTV, which was just a few years old at the time. It's not clear whether the success of POTH fueled the rise of "air bands," or vice versa. But much as auditions for The Voice or Idol today draw thousands of wannabe Kelly Clarksons to open auditions, POTH held tryouts at malls and rec centers around the country. And since the show was syndicated to hundreds of local stations, those stations often made these events a very big deal. Check out how an Oklahoma City affiliate covered the auditions live on TV:
Aspiring POTH contestants who made it past the regional tryouts would then need to make it past national auditions in Hollywood, where their talents would sometimes be judged by very minor celebrities, such as some actor who had just booked a gig on Growing Pains and had done a few episodes of Dallas. Sure, Brad Pitt would go on to be an international icon, but in 1988, he paid the bills by watching some teenagers pretend to be the Bee Gees:
Another way POTH foreshadowed modern music talent shows (or at least the audition rounds of such series) was that it mixed contestants who took the whole thing very seriously and clearly had talent as performers with people just interested in being on TV.  Very much in the latter camp was a "mild-mannered salesman" from Wisconsin who did a totally wacky version of "Born to Be Wild." He was introduced as simply "Kato" — and, yup, it was soon-to-be infamous houseguest Kato Kaelin.
Kato was tame compared to the guys who dressed as infants (diapers and all) to perform hard rock hits by the likes of Quiet Riot.
And they looked completely normal after you see (and will never un-see) Gregory Gilger, who somehow managed to perform as a baby attached to the back of his mannequin mom.
Then there were the very white dudes from Chicago who did Club Noveau's version of "Lean on Me"… with puppets.
Just as the Beastie Boys were exploding, POTH had its own white hip-hop sensation: the Bootie Boys. (Interestingly, the all-white group chose to sing a song from the African-American Boogie Boys.)
But while there was plenty of camp on POTH, there were also some pretty talented acts. One of the best: A man who called himself "3-D," and put on a riveting (if slightly creepy) performance of Paul Hardcastle's classic anti-war song "19."
You also have to admire the fact that POTH wasn't afraid to put the very goth group Metronome on the show, and let them perform an Erasure song that wasn't Chains of Love — smack in the middle of the very conservative Reagan years.
While this take on Teena Marie's "Lovergirl" starts out cheesy — the performer pretends to be homeless for some reason — it ends up with a display of street dancing that would make the members of Dance-y Reagan proud:
And we think even Prince would approve of this homage to Sheila E.
Puttin' on the Hits lasted just four years, but it produced more than 130 episodes in that short time. And, like any hit reality show, spawned a spin-off featuring kids: Puttin' on the Kids. Here's one adorable moppet named Duffy Lucas clad in his best Miami Vice collection clothes, getting down to Phil Collins's Sussudio. (And amazingly, some enterprising journalist caught up with Lucas more than 30 years later, after this clip aired on VH1's Best Week Ever.)
Sadly, it's hard to find full episodes of Puttin' on the Hits on the internet, but there is something perhaps even better: The entire 1986 Puttin' on the Kids Christmas special, with celeb judges Kirk Cameron, Tracey Gold, Danny Pintauro, Alfonso Ribeiro, and Heather O'Rourke (aka the little girl from Poltergeist). Perhaps if Spike's Lip Synch Battle is a big hit, we'll get a spin-off featuring celebrity offspring.