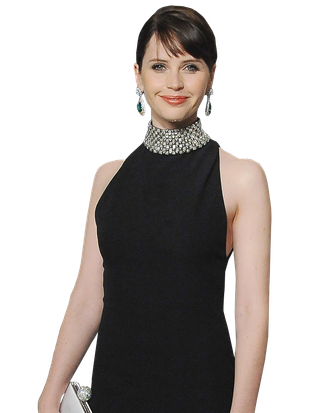 Photo: Jon Kopaloff/FilmMagic
In the new, fact-based movie True Story, Jonah Hill plays Michael Finkel, a disgraced New York Times journalist who gets a second shot at the big time when he learns his identity was stolen by accused murderer Christian Longo (James Franco), who posed as Finkel while on the run from authorities. When Longo says he'll explain himself only to the man he impersonated, Finkel soon becomes obsessed with investigating Longo's case, and it falls to Finkel's skeptical girlfriend Jill (Felicity Jones) to intercede and pull him back from the brink. For Jones, True Story is her first role since her Oscar-nominated breakthrough in The Theory of Everything, but there are even bigger parts to come: Jones recently signed on for the Star Wars spinoff Rogue One and will star opposite Tom Hanks in the Dan Brown adaptation Inferno. A few weeks ago, she called up Vulture to talk about how it's all going.
The interesting thing about your character is that initially, she seems like just the love interest. As the film goes along, though, she asserts herself and becomes involved with the main story, and eventually, she's got this one-on-one confrontation with James Franco's character that is basically the moral crux of the entire movie. Is that something you sometimes have to fight for as an actress — that your character has more to do than just be the girlfriend?
Well, I always instinctively want to bring as much to the role as possible, and that scene is why I wanted to do the film, because I thought Jill was really fascinating. She's a woman who thinks in very black-and-white terms, and is prepared to definitively declare that Christian is the personification of evil, and I thought there was something quite interesting about that approach. But yes, part of my job is to bring as much nuance to a character as possible.

How much input into that arc did you have?
There's always discussion, and it was very, very collaborative. We talked a lot about making this character as strong as possible, and when you meet the real people — and I met Jill — you always learn so much more that you can bring back to the story. Even though she was very skeptical at first and suspicious of why her husband was becoming so obsessed with this man, she also became obsessed with him in some ways. There was a hope that Mike Finkel could rehabilitate himself through this story, and I think she felt like they both lost their heads about that a little bit and became intoxicated with this man. In some ways, it really is a three-way relationship near the end.

I've heard that James Franco was actually a little worn down by playing this killer; it put him in a headspace that he found hard to deal with. Could you sense that in your scene with him?
I think we all felt that, absolutely. It's such a profound, sad story, and it stays with you. This isn't a film where you finish work at the end of the day and don't think about it … it becomes a part of you for that time that you're filming. There were definitely moments with Jonah where we felt like it was a tough story to tell, and obviously with James, we only had that one scene together, but it wasn't a situation where we were bantering and telling jokes. There's a seriousness that comes with this kind of story.

The director, Rupert Goold, is making his American film debut, but I've heard that he's quite a well-known theater director in the U.K.
He's a fantastic director, very talented. I knew his work from London, from seeing his plays, and I saw a film version he did of Macbeth that was excellent.

I'm just excited that I was able to trick an actor into saying "Macbeth" out loud, Felicity.
It's okay, I can say it! [Laughs.] I can't say it in a theater. There, I'd have to call it "the Scottish play," wouldn't I? But I think if I say it in this hotel room, I'm okay.

The awards-season gauntlet can be great, but it can also be long and arduous. How did you survive it for all those months promoting The Theory of Everything?
If you're passionate about the film you've made, you'll go to great lengths to get people to see it. That was always the driving force for me. I mean, it was an incredible experience, and like nothing else I've ever gone through. It was intense and exhilarating, and it was hard work, but then I got to meet some really fascinating people. I met Patti Smith and Meryl Streep, people whom I've really admired, people whose work I've seen and wondered if I could do that myself.

What was your Oscar-night experience like?
I have to say that I was very excited, because I was going on holiday the next day. [Laughs.] It was sort of like a wrap party for everyone, because you get to know people along the way and see each other at all these different events, and at the end, it's like, "Oh, this is the last time we'll be seeing each other for a bit!" It's a very celebratory and happy atmosphere.

Were you just as excited when you found out you got the big Star Wars part?
Oh, I was just so excited. It was a pinch-me moment, and it's a wonderful franchise. I'm so, so happy to be a part of the whole thing, and I feel privileged to be a part of it, actually. I can't wait to do it.

What does Star Wars mean to you?
Well, I wasn't born when it came out, but I watched it when I was younger, so it's definitely a part of my childhood, and I remember watching it with my brother and my cousins. For a lot of people, I think it's a formative part of growing up.

Now that you're on the other side of The Theory of Everything and you're signing on to these big-budget movies like Star Wars: Rogue One and Inferno, how are you dealing with the career jolt?
My approach has always been to concentrate on the characters. I'm playing interesting female characters, so I immediately become quite microscopic and start working on who these women are. I forget about how many people are going to see it, or whether it's a big film or a small film. I love preparing the part, and I just love what I do.