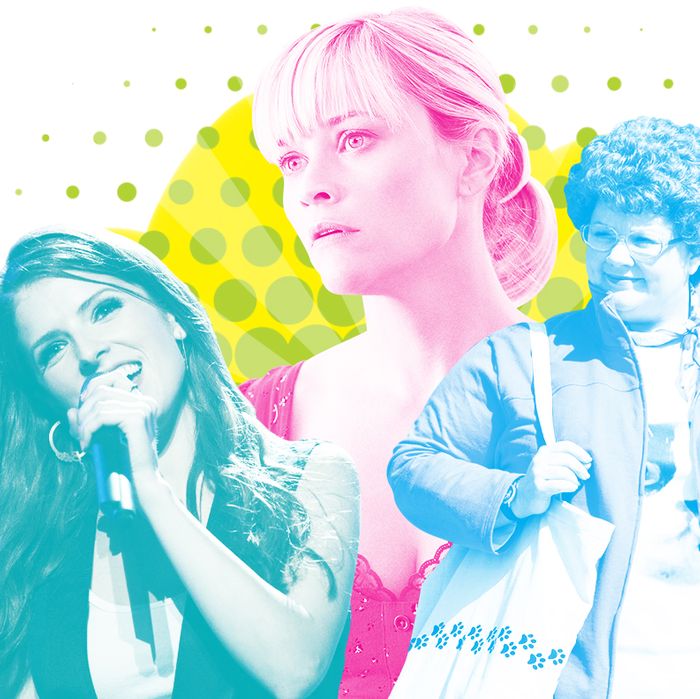 Photo: Maya Robinson and Photos by Warner Bros, Twentieth Century Fox and Universal Pictures
Glance at this summer's movie lineup, and you'll notice something strange. Women are getting guns. And guitars. And emotional inner lives. And the ability to have sex, no strings attached. During the all-important, typically testosterone-soaked summer movie season, women are represented onscreen in roles besides Unidentified Love Interest No. 2. Let's rattle off the movies: Hot Pursuit, Pitch Perfect 2, Tomorrowland, Aloha, Spy, Inside Out, The Bronze, Trainwreck, Paper Towns, Ricki and the Flash. Comedies, dramas, action movies, all of them led by women. Some were even written by them. Compared to last summer, this is a nice spread; compared to 2013, it's a feast. The best part is that many actually look intriguing, a statement exactly zero people said about last year's Sex Tape. Between them, they illustrate more than one facet of the female experience, from a middle-school girl's insecurity (Pixar's Inside Out) to a faded rock star's redemption (Meryl Streep in Ricki and the Flash), and appear, from this hopeful, probably naïve, month-away vantage point, as refreshing counterpoints to all the men running around in spandex and masks. (June 19's Inside Out is calling itself "a major emotion picture.")
If you want to hear numbers about women in Hollywood, they're still terrible: Females comprised 12 percent of protagonists in the 100 top-grossing films of 2014, according to a study by the Center for the Study of Women in Television and Film at SDSU. But the movie business does finally seem to be learning from its recent successes. Hollywood always brings back hit properties and players, and the majority of this summer's female-fronted offerings can be dropped into one of the old shopworn buckets of Adaptation, Star Vehicle, or Sequel. (This season isn't about innovation.) Most are the offspring of successful films or partnerships that worked last time. Like, for example, last year's The Fault in Our Stars (which grossed $307 million worldwide) and 2013's The Heat ($230 million).
July 24's Paper Towns is plucked right from The Fault in Our Stars' constellation. Both films are adaptations of popular John Green novels, and both are written by Michael H. Weber and Scott Neustadter, proven masters of the we'll-make-you-weep form. Paul Feig and Melissa McCarthy (director and star of The Heat and 2011's Bridesmaids) are teaming up for a third time for the CIA spoof Spy (out on June 5). May 8's Hot Pursuit, starring Reese Witherspoon and Sofia Vergara, taps a similar buddy-comedy vein. (Also, note Hot Pursuit is directed by Anne Fletcher, one of the only women helming films this summer.) Despite We Bought a Zoo, Cameron Crowe is still a known quantity and trusted director — unless you ask Amy Pascal — and his long-in-the-works rom-com Aloha, starring Bradley Cooper, Rachel McAdams, and Emma Stone, is positioned on May 29 as prime counterprogramming to the disaster epic San Andreas 3-D.
But, as evidenced by The Avengers: Age of Ultron, Jurassic World, Ted 2, and Mission: Impossible — Rogue Nation, Hollywood's drug of choice is still the sequel: What paid off once (or four times) will again, presumably, which is why we can look forward to Pitch Perfect 2 on May 15. No one could anticipate that the original a cappella comedy, released in September of 2012, would ring up $113 million worldwide, but, of course, it did, and the entire cast (Anna Kendrick, Rebel Wilson, Brittany Snow, and Elizabeth Banks) is back for part two. Like the trailer says, "The Pitch Is Back."
Meryl Streep is back, too, and she might be the most durable franchise of all. She's had summer hits going back to The Devil Wears Prada in 2006 and Julie and Julia in 2009. (Even 2012's Hope Springs made $114 million worldwide.) On August 7, she'll star in Ricki and the Flash, directed by Jonathan Demme and written by Diablo Cody, who sees this season's slate of female-starring movies more as an anomaly than indicative of real change in the industry. "We all know summer movies are meant to drive sales of toys and Happy Meals, and I don't think we're planning a Ricki action figure," she told Vulture, adding, "The synergy between movies and brands is only going to get crazier, and it's always safer to make a 'boy movie' when you're trying to make a billion bucks."
She has a point. We aren't looking at toy shelves stocked with singing Streep and Kendrick dolls. Most of these films will live and die by box office alone. Whatever becomes of Amy Schumer's Trainwreck (directed by Judd Apatow, his first feature with a female lead) on July 17 will make aftershocks not just for Schumer but other female-fronted comedies. And while it's certainly notable for Disney to make the protagonist of its mystery sci-fi film Tomorrowland a teen girl (Britt Robertson, not actually a teen), how likely is it, if the film bombs, that the studio will blame not co-star George Clooney nor director Brad Bird but the lead character's gender? 
So perhaps we should enter the summer with a bit of trepidation. "If a female-starring movie underperforms, everyone in Hollywood will be wary of women for a while [and say], 'The movie obviously didn't work because there were women in it, duh,'" says Cody. "Then a Bridesmaids-type phenomenon will happen, and every studio will put a copycat film in development and act like they were on the lady train all along."
With the official start of the summer season beginning May 1, everyone will look to hits or misses as harbingers of what's to come. This reminds me of the trailer for Tomorrowland, in which Robertson is chosen for a dangerous mission to save the world. She asks, "Of all people, why me?" To which Hugh Laurie's villain responds, "He thinks you can fix the future." No pressure.