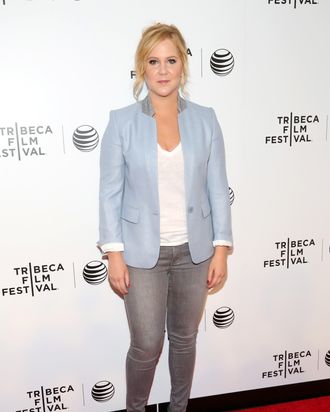 Photo: Brent N. Clarke/Getty
Season three of Inside Amy Schumer airs tomorrow, and, at Sunday night's Tribeca panel, Schumer and her creative team gave a taste of what's to come for her Comedy Central show. From Amber Rose rapping about farts that break glasses to a shot-for-shot re-creation of a 12 Angry Men parody where Schumer is on trial for whether or not she's pretty enough for TV, this season is brimming with beefy guest stars and even beefier content. "We went nuts this season and broke any rules that were set up," Schumer said.
"Last Fuckable Day" with Tina Fey, Patricia Arquette and Julia Louis-Dreyfus
The team had been trying to make this sketch for three years, but a lot of actresses said no. "We were thinking of a Diane Keaton or a Mia Farrow," said co-creator and executive producer Dan Powell. "Can't imagine why those two wouldn't want to work together," Schumer piped in with her typical on-point dry humor. "More and more in Hollywood you see a 65-year old dude and Natalie Portman, or the other one that looks like her. I was obsessed with the idea of [having a] Viking funeral and pushing Julia out on the boat [as the ritual where older actresses celebrate their switch over to the dark side]."
"Milk, Milk, Lemonade" music video with Method Man and Amber Rose
This is the first music video on IAS, and we're told it won't be the last. "I declared this is the year of the ass," said Schumer, who's made it to the big-time by talking about her pussy often and thoroughly. "Black guys have always been super nice about [mine], but now white guys are like, 'Maybe I like ass too.' Where have you been?!" [But also], it's where you poop. It goes to show, if it's flashy enough and there are close-ups of asses, even if it's about shitting, people will still watch it."
"Friday Night Lights" rape parody with Josh Charles
"[Joking about rape] is always a risk," acknowledged Schumer. "Some people will always be upset at even hearing the word. You might look at this scene and think we're making light of something serious, but we really are trying to educate. We know what message we want to send, and then we also think the premise is funny, and then we go to town. First of all, rape is good fodder for comedy, because it's the worst thing in the whole world; it's this untouchable. It's such a fine line. We're doing our best to have people not check out or get offended, but still get the message and laugh."
"12 Angry Men Inside Amy Schumer" with John Hawkes, Paul Giamatti, Jeff Goldblum, Vincent Kartheiser, Kevin Kane, Dennis Quaid, and more
Schumer co-directed the third episode, which is mostly a shot-for-shot re-creation of scenes from Sydney Lumet's 1957 classic, but this time, it's a dozen dudes deciding whether Schumer is good enough looking to be on TV. "I might be more proud of this than anything in my entire life," said Schumer. "I've also learned not to use a famous person just to use them, because actually being around [them] is such a bummer. Someone you feel like you have to tend to. We picked ones that would really be best for the job."
"Amy Goes Deep" segment
"I got drunk on a cross-country flight with this guy," said Schumer. "He was like 89 or 94, sitting next to me. I wasn't going to drink, but then he got a drink and I figured why not. He was so cute, wearing a bow tie and a fancy suit. I saw his wedding ring and asked him how he met his wife. He said he was married to a guy, and I asked for that story, still thinking it'd be romantic. But he just said they were cruising for dick." Obviously the two hit it off, and Schumer invited him and his partner on to the show.
Bonus! Skits that haven't made it into the lineup (yet)
There was going to be a sketch about how awful TMZ is with a celebrity carrying a baby coffin, and a TMZ reporter would do their usual harassing. And there was a Dirty Dancing skit — "Just think about the darkest part of that film," hinted Schumer, "everyone forgets that there's a back-alley abortion that happens." The skit was going to involve a Dirty Dancing–themed abortion clinic. "We haven't earned it though, yet."