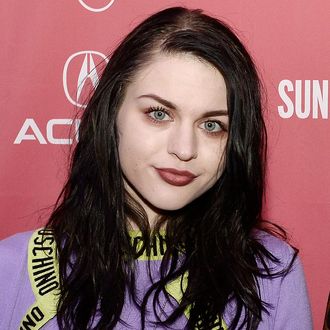 Rebel child.
Photo: Paul Marotta/Getty Images
Frances Bean Cobain, daughter of Kurt Cobain and Courtney Love, doesn't give many interviews — and this is probably why. For many who grew up during their heyday, speaking negatively about Nirvana is considered blasphemous. But when you're the daughter of a grunge legend and pretty much rock royalty, you can say whatever you want and get away with it. In a new interview with Rolling Stone (where she once interned) to promote an upcoming HBO documentary about her dad — which she executive-produced — Frances Bean is doing just that: speaking openly about Nirvana, how it feels to be compared to Kurt, and her rocky relationship with her mother. No surprise, she won't fess up to being a fan of her dad's band:
"I don't really like Nirvana that much [grins]. Sorry, promotional people, Universal. I'm more into Mercury Rev, Oasis, Brian Jonestown Massacre [laughs]. The grunge scene is not what I'm interested in. But "Territorial Pissings" [on Nevermind] is a fucking great song. And "Dumb" [on In Utero] – I cry every time I hear that song. It's a stripped-down version of Kurt's perception of himself – of himself on drugs, off drugs, feeling inadequate to be titled the voice of a generation."
(No word on whether she likes Hole, though.) She's also grown accustomed to creeping out people for her resemblance to her father.
"It's very weird how genes are. Dave [Grohl], Krist [Novoselic] and Pat [Smear] came over to a house where I was living. It was the first time [the ex-Nirvana members] had been together in a long time. And they had what I call the "K. C. Jeebies," which is when they see me, they see Kurt. They look at me, and you can see they're looking at a ghost. They were all getting the K. C. Jeebies hardcore. Dave said, "She is so much like Kurt." They were all talking amongst themselves, rehashing old stories I'd heard a million times. I was sitting in a chair, chain-smoking, looking down like this [affects total boredom]. And they went, "You are doing exactly what your father would have done."

But I was glad they came over [smiles]. It was a cool experience, like having a Nirvana reunion minus one. Except for his spawn."
Frances also revealed how the documentary Montage of Heck helped mend her relationship with Courtney Love.
"In a particularly devastating scene in Montage, a clearly intoxicated Cobain struggles to sit upright as his infant daughter sits in his lap getting a haircut. "My mother held me, cried on me and just said, 'I'm so sorry, I'm so sorry, I'm so sorry," Frances tells us, recalling watching that scene with her mother. "Just kept saying it over and over. But then she said, 'Do you realize how much your father loved you?' And I said, 'Yeah, I do.'" Morgen remembers that Frances revealed more to him about that moment: "Frances said it was the first time her mom and apologized for anything relating to her youth."