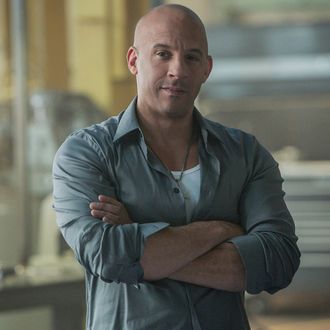 Photo: Universal Pictures
Furious 7 dragged in another $60.6 million this weekend (just a 59 percent drop from last weekend, which isn't bad), bringing its ten-day domestic total up to $252.5 million, according to Deadline. That makes James Wan's film (the last to feature Paul Walker) the franchise's highest-grossing sequel in the U.S. It took its predecessor 15 weeks to bring in $230 million two summers ago.
On the opposite side of the cinematic spectrum, 20th Century Fox's The Longest Ride, an adaptation of Nicholas Sparks's 17th tear-jerking novel, made $13.5 million, which beats its anticipated gross of $10 million. Movies based on Nicholas Sparks books tend to open to something in the $10 million to $20 million range, but the last Sparks movie, Best of Me, stumbled at the box office, lowering expectations for the newest white-man-kisses-white-girl movie. The extra $3 million and change Longest Ride nabbed might mean that we'll be graced with another Nicholas Sparks movie soon. Yay.
On the indie side, Alex Garland's directorial debut, Ex Machina, an often-brilliant sci-fi head trip featuring the always-great Oscar Isaac as a bearded megalomaniac with sick dance moves made about $250,000 on four screens, according to Forbes. Anyone with a penchant for complaining about the lack of original movies would be wise to see this one, ASAP.
Doing less well was Ryan Gosling's polarizing Lost River, which dribbled in with $30,000 to $35,000 on three screens, plus VOD. Like a heaping dose of David Lynch, Nicolas Winding Refn, and Harmony Korine blended with some protein powder and a dash of THC, Gosling's film presents a host of gorgeous, surreal images barely held together by a lame story about a mother and some kids and a curse, or something. Greeted by boos at Cannes and some hostile reviews, it nonetheless features some stunning filmmaking: You can see how hard Gosling worked to make this movie, as incoherent as it is. Formally passionate but devoid of personality, it's an admirable effort, an ersatz nightmare.
Finally, It Follows, the acclaimed indie horror flick from David Robert Mitchell, continued its slow, steady success, adding $2 million to its now $12 million gross (including VOD).