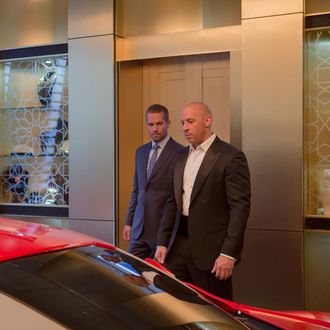 Photo: Universal Pictures
The James Wan–piloted Furious 7 destroyed its box-office competition on Thursday and Friday, pulling in a gargantuan $67.3 million gross, including $15.8 million in Thursday night showings. (That's 54 percent ahead of its predecessor's three-day gross and 26 percent of its predecessor's four-day gross.) It's also the ninth-biggest Friday opening ever, trailing only Harry Potter and the Deathly Hallows Part 2 ($91 million), The Avengers ($80 million), The Dark Knight Rises ($75.7 million), Twilight: New Moon ($72.6 million), Twilight: Breaking Dawn I ($71.6 million), Breaking Dawn II ($71.1 million), Hunger Games: Catching Fire ($70.9 million), and Iron Man 3 ($68.8 million). Interestingly, Furious 7 is the only one of the aforementioned films not based on a book (or comic, as it were). Even more interestingly, Furious 7 is also the only of the aforementioned films whose opening-day gross is not the result of a massive midnight/Thursday opening.
As Forbes's Scott Mendelson points out, Furious 7's "pure Friday gross" is $51.5 million, the third-highest single-day gross behind only The Avengers ($61 million) and Iron Man 3 ($53.2 million). You can probably ascertain the similarity between those two films. According to Variety, Wan's film is on track to make more than $150 million this weekend, which would trounce Captain America 2 ($95 million) for the all-time opening weekend gross in April, a perennial purgatory for movies. (Initial estimates were in the ballpark of $115 million.) Whether you're a fervid admirer of the series with an engine for a heart and pure gasoline coursing its veins or one of its myriad detractors (the critical reception has been polarizing so far), this kind of box office is unequivocally good for movies.
Update: Furious 7 surpassed everyone's already extraordinary expectations, pulling in $384 million worldwide, according to The Hollywood Reporter. That's the biggest global opening in Universal Studio's history (they're having a lucrative year, with 50 Shades of Grey doing good dirty business, passing the $400 million overseas mark on, funny enough, Good Friday), and the fourth-fattest worldwide opening in movie history, behind Harry Potter and the Deathly Hallows 2 ($483.2), Harry Potter and the Half-Blood Prince ($394.4 million), and The Avengers ($392.5 million).