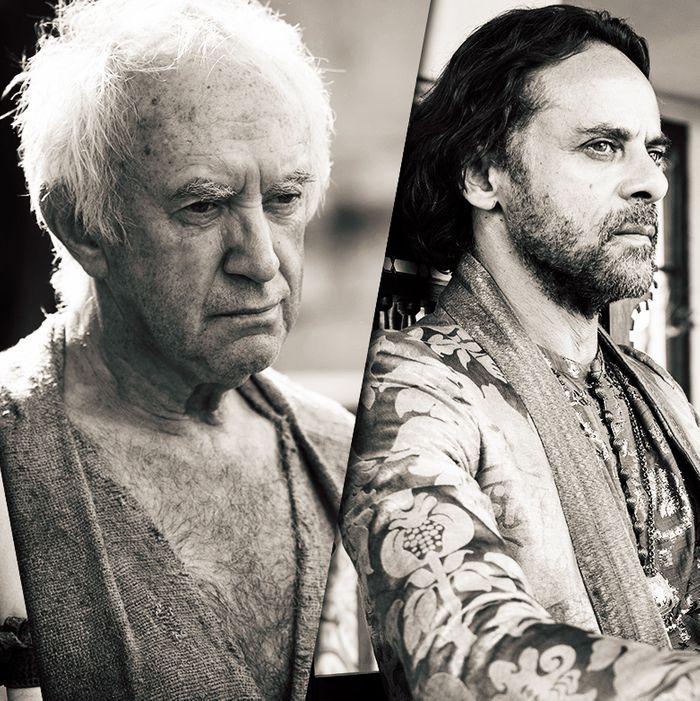 Keisha Castle-Hughes, Jonathan Pryce, and Alexander Siddig in Game of Thrones.
Photo: HBO
At times, Game of Thrones seems to have a unique relationship to the Law of Conservation of Mass: For every main character the show kills off, one new main character must appear the next season to take his or her place. To fill the spaces left behind by Jack Gleeson, Kate Dickey, and Charles Dance, GOT is introducing a bunch of new characters for season five. Here's all you need to know about them ahead of Sunday night's premiere.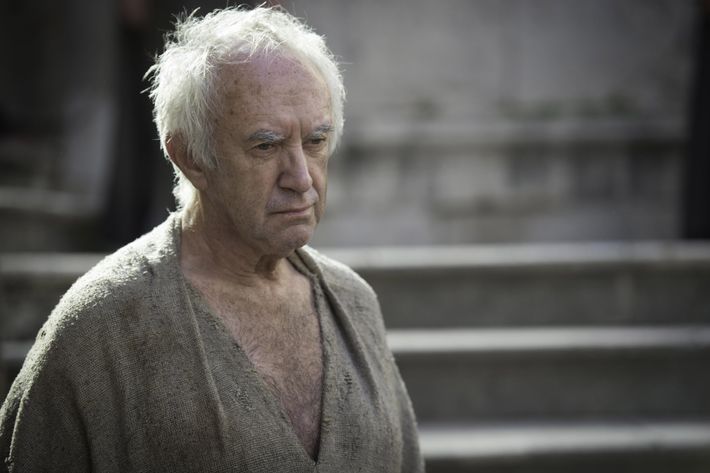 The High Sparrow (Jonathan Pryce)
The Faith of the Seven is the Westeros equivalent of Catholicism, and its version of the Pope is called the High Septon. Like the Pope, the High Septon rules for life, which, since this is Game of Thrones, is often not very long. Our first High Septon got ripped to pieces during the riot in King's Landing, and his successor presided over Margaery and Joffrey's wedding. Things aren't looking too great for that one, either, since this season we've got yet another new High Septon, played by Brazil's Jonathan Pryce. Alongside his role as Cardinal Wolsey in Wolf Hall, this is the second religious leader Pryce is playing this spring, but his role here couldn't be further away from the opulence of Hampton Court; as the head of the Sparrows (a kind of Westerosi Liberation Theology movement), this new High Septon abhors the gilded trappings of nobility — and, in fact, the nobility themselves.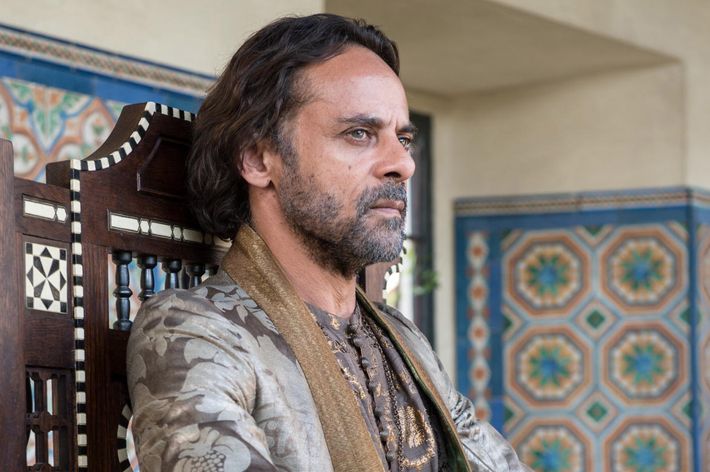 Prince Doran Martell (Alexander Siddig)
As you may recall, hunky Dornishman Oberyn Martell had time to go off on his sexy adventures because he wasn't actually in charge of ruling Dorne; that responsibility fell to his older brother Doran, whom we will meet this year. In contrast to his impetuous brother, Doran is a crafty, patient player of the game of thrones. (In other words, he definitely wouldn't have started speechifying until after danger was out of hand.) In the books, he's also a gout-ridden septuagenerian — in the interests of eye candy, that's been rectified with the casting of the ultradreamy Alexander Siddig.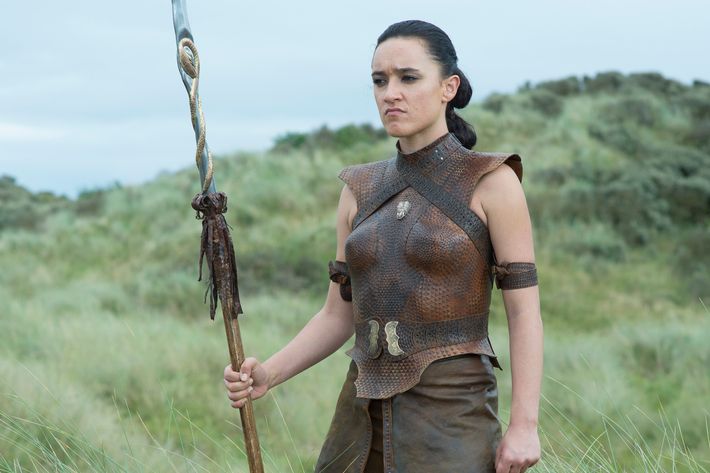 Obara Sand (Keisha Castle-Hughes)
Oberyn Martell was second only to Robert Baratheon when it came to siring illegitimate children, but unlike Robert, Oberyn actually had a hand in raising his eight bastard daughters. The oldest three are known as the Sand Snakes, a trio of warrior princesses, each of whom specializes in a different weapon, just like the Ninja Turtles. Obara, the Leonardo of the group, is the daughter of Oberyn and an anonymous peasant; when she was a child, her father returned to give her a spear and take her away, which led her mother to die of heartbreak. The Martells see this story as a charming family anecdote.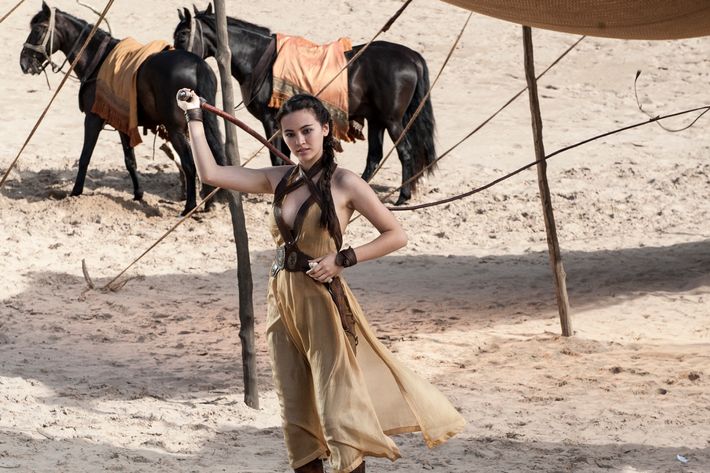 Nymeria Sand (Jessica Henwick)
Named after the warrior queen of Dorne, Nymeria is the middle Sand Snake, and the most devious. Her mother was a female solider from Essos, and her favorite weapon is the whip. This makes her the Donatello of the group.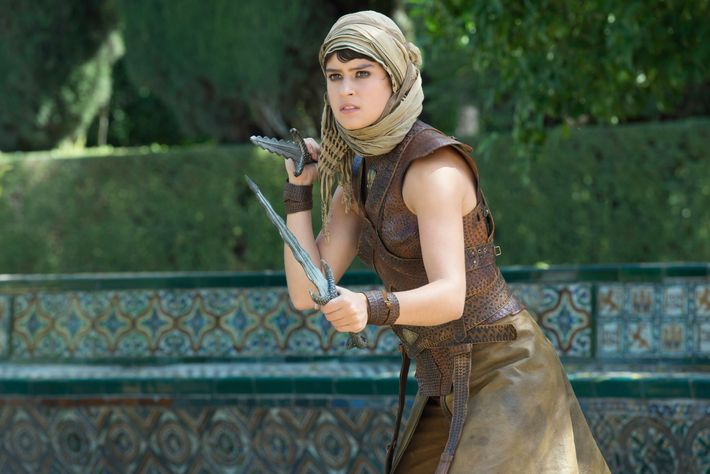 Tyene Sand (Rosabell Laurenti Sellers)
The youngest Sand Snake is the most fiery of them all. Her weapon is the dagger, and she's also an expert at poison. She's the Raphael!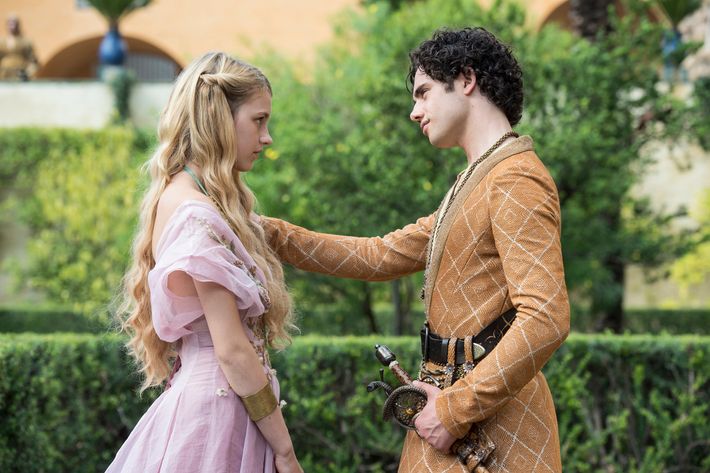 Trystane Martell (Toby Sebastian)
Trystane is the Prince William of Dorne: He's young, dashing, and much more popular than his father, Prince Doran. He was promised to Cersei's daughter Myrcella all the way back in season two, and their potential union seems on track to be the rare arranged marriage in GOT that's not completely horrifying. In the books, Trystane had two older siblings, but their parts appear to have been cut, with various aspects of their plots possibly going to Ellaria Sand, the Sand Snakes, or no one at all. Even book fans don't know what's going to happen with this guy!