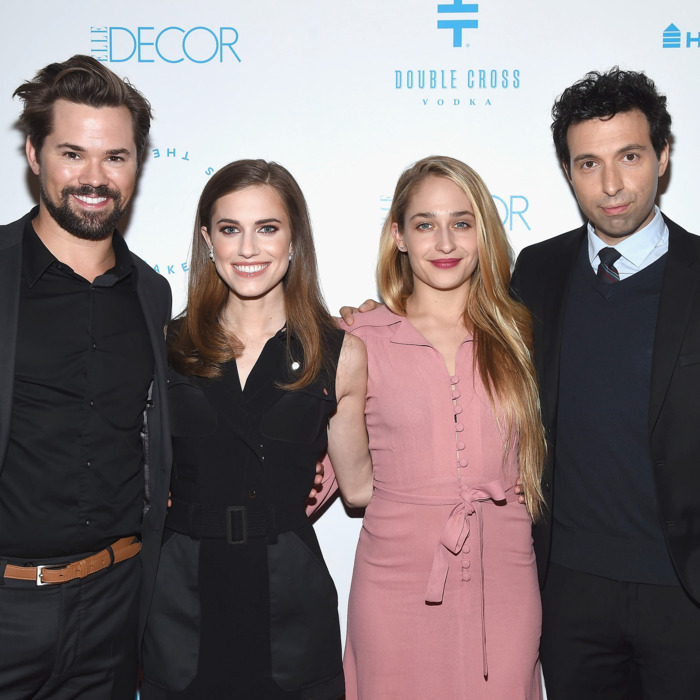 Andrew Rannells, Allison Williams, Alex Karpovsky, Jemima Kirke.
Photo: Gary Gershoff/Getty
Recently, Lena Dunham has been fantasizing about making a Girls movie when they're 40. "We'd want to wait long enough for something to have really gone down," she told Variety. This got us wondering, naturally, where some of the characters in the show would be in ten or so years. Vulture caught up with the Girls guys, Alex Karpovsky and Andrew Rannells, at Housing Works' third annual Groundbreaker Awards gala (which celebrated contributions to the fight against HIV/AIDS and homelessness) to see what they hope Ray and Elijah will be doing.
"Maybe [Ray]'s writing a novel somewhere in the Baja Peninsula of Mexico, drinking mescal and running a very, very small beachside coconut coffee shack," Karpovsky said Wednesday night at the Metropolitan Pavilion. "He'd be happy for a while doing that." Same.
"I feel like there's a potential for Elijah to be a studio head," Rannells added. "Like I feel like he could be running Bravo in ten years. Something very unlikely that he'd just fall into. I could see that happening." Lena, are you listening? The small talk at Hannah's 40th birthday party reunion sounds like it has the potential to be appropriately philosophical and full of scintillating industry canards. Can't. Wait.