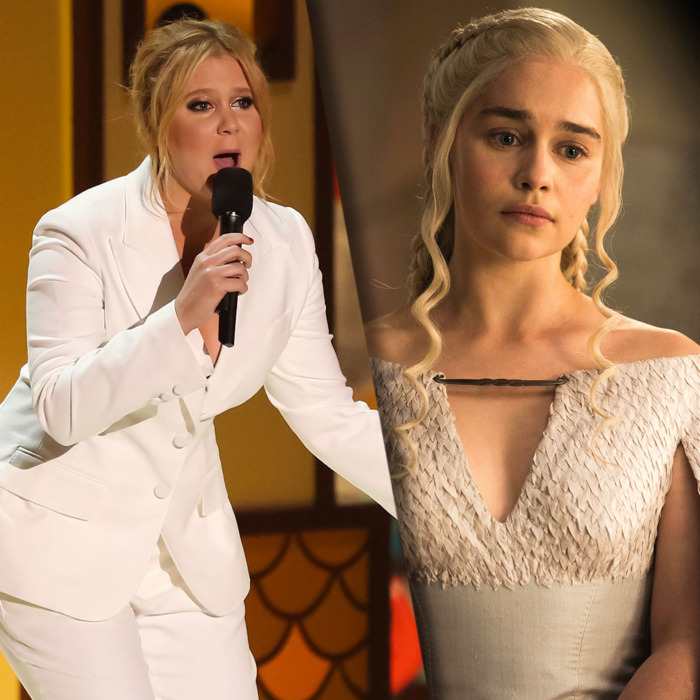 Amy Schumer at the MTV Movie Awards; Emilia Clarke on Game of Thrones.
Photo: Paul Archuleta/Getty and HBO
Game of Thrones began its fifth season Sunday the way it does every year: by setting a new ratings record. And it wasn't HBO's only big winner: Silicon Valley drew its largest same-day ratings ever, too. As for GOT,  the show's 41st episode drew a same-day audience of 8 million viewers, up 21 percent from last spring's season-four return (6.6 million), and about 1 million more than its previous high-water mark (7.2 million on May 4). Among viewers under 50, GOT soared to a 4.2 rating, nearly matching the Sunday demo average for ABC, CBS, NBC, and Fox combined. While GOT has obviously become a must-see-on-Sunday event for a big chunk of its audience, it's worth noting that nearly all HBO shows dramatically increase their viewership once audience from DVR replays, reruns, and digital platforms such as HBO Go and HBO Now get tallied. Last season, the average episode of the show ended up with around 19 million viewers once all means of viewership (save for illegal torrents) were counted. It's a good bet GOT will break the 20 million threshold by the end of this season.
That big tune-in at 9 p.m. helped HBO's Sunday comedies. As noted, Silicon Valley turned in a series-best 2.1 million viewers with its first 10 p.m. showing, up about 5 percent from its series premiere last spring (2 million). More impressive, Silicon notched a 1.3 with adults under 50, easily beating everything on broadcast or cable at 10 p.m. Sunday. At 10:30 p.m., Veep averaged 1 million viewers, breaking no records but improving slightly on last spring's opener (960,000 viewers). HBO's comedies tend to do even better via time-shifted viewership than dramas such as GOT, so both shows will end up with significantly higher ratings once all the numbers get crunched.
Meanwhile, HBO's dominance — particularly with young viewers — helped send the audience for MTV's 2015 Movie Awards off a cliff. Hosted by Amy Schumer, Sunday's event brought in just 1.6 million viewers and averaged a mere 1.0 among the network's target demo of viewers 12 to 34. That's barely half the viewership of last year's Conan O'Brien–hosted show (2.8 million), and about one third of 2014's rating with viewers 12 to 34 (2.6). It also continues a stunning collapse for the once-successful awards franchise, which as recently as 2011 still drew nearly 5 million viewers. The audience decline has coincided with MTV's decision to shift the show from its traditional June air date to earlier in the spring, no doubt due to pressure from movie studios — a.k.a. MTV advertisers — looking to use the event to kick off the summer movie season (which now begins in April rather than May). But with numbers this low, it's worth wondering whether the strategy makes sense anymore.