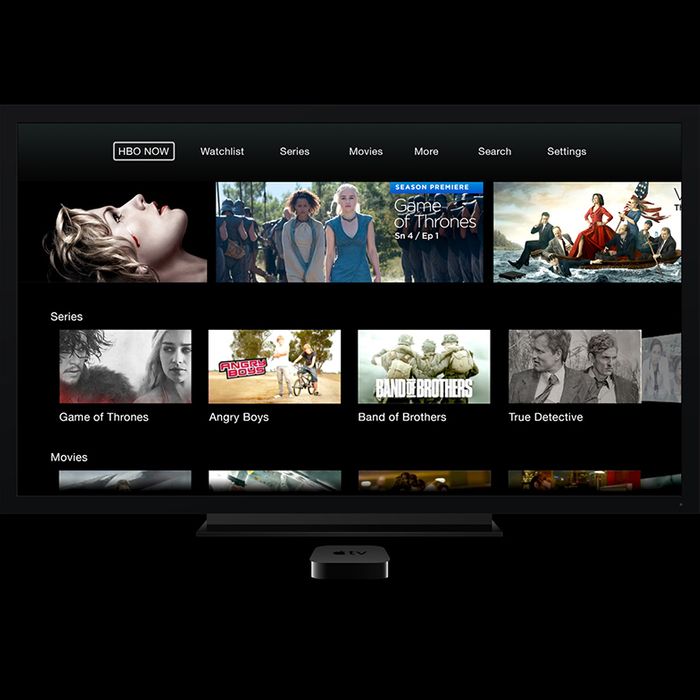 The anticipation (and hype) is over: HBO today launched HBO Now, the no-longer-just-a-cable-network's first-ever direct-to-consumer subscription product. Anyone with an iTunes account can pay $14.95 per month for on-demand access to just about everything HBO currently offers its cable subscribers, all streamable via an iOS device or the Apple TV platform. It's the first time you won't need to sign a deal with Big Cable or Big Internet to get HBO programming, a milestone moment for a pay-TV industry, which until recently required viewers to go through a middleman in order to (legally) view their content. Of course, unless you live in a Starbucks, a public library, or a city that offers free Wi-Fi, you'll still need to pay someone for high-speed internet access. But the dream of the 2010s — cable TV content without a $100 monthly cable bill — is now alive. And based on an early test drive, HBO Now offers an incredibly smooth, user-friendly way to get that content.
As expected, HBO Now will be very familiar to anyone who's used HBO Go, the video-on-demand service HBO has offered its subscribers for years. You choose from a menu of different program categories: series, movies, documentaries, sports, and "late night" (still a bizarre mix of Bill Maher, John Oliver, and … Real Sex episodes from the 1990s). The only difference is a slightly cleaner interface on iOS devices such as an iPhone or iPad, where logos for the titles of individual shows have been replaced by a standardized typeface. Said interface also has a snazzy new overlay that lets users easily skip ahead or rewind ten seconds in a program.
There's still no option to watch a live feed of either the main HBO channel or the various multiplex spinoffs (such as HBO Comedy or HBO Latino). But as with HBO Go, new episodes of series will be added to HBO Now as soon as they begin airing on the linear HBO channel. As for getting access to HBO Now: Sign-up via iTunes is amazingly easy. You just purchase the app — it's free for the first month during April — then sign up with your email and a password. We were up and streaming within about 90 seconds.
Linking HBO Now to an Apple TV is also simple, though it took a couple of minutes for Apple TV to restore our iTunes purchase (and thus authorize use of HBO Now on Apple TV). But once that was done, programs seemed to load just a bit faster and cleaner on HBO Now than they did on HBO Go. Of course, our test was done on a random Tuesday afternoon when likely not a whole bunch of people had even yet signed up for HBO Now. A much bigger test of how well the service works could come as soon as this Sunday, when everyone who signed up for a free trial of HBO Now tries to log on at once for the season premiere of Game of Thrones.