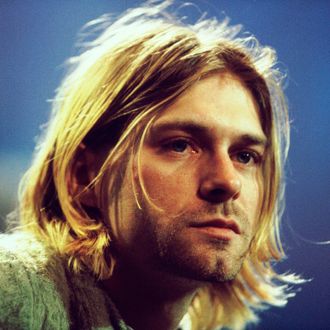 Cobain.
Photo: Frank Micelotta/Getty
Remember a few years ago when Nirvana fans were up in arms over Paul McCartney "replacing" Kurt Cobain for a few shows with the band's surviving members? Much of their ire was over the fact that, beforehand, McCartney admitted he didn't really know who Nirvana were, as well as the long-standing myth that Cobain hated McCartney (based off a slightly misinterpreted quote). That drama aside, there's no questioning whether or not Cobain was a Beatles fan — they're even included on his mixtape! — and now we have the cover to finally hush the doubters. Brett Morgen's Cobain doc Montage of Heck unearthed a number of Cobain rarities, and one is a cover of "And I Love Her." The audio isn't perfect, but it's still really interesting to hear what Cobain does with the song. Only he could make a whimsical love song sound so steeped in vitriol.
The cover originally appeared online in April, but was quickly taken down. Now, with Montage of Heck: The Home Recordings coming out November 13, we have the song's official release.