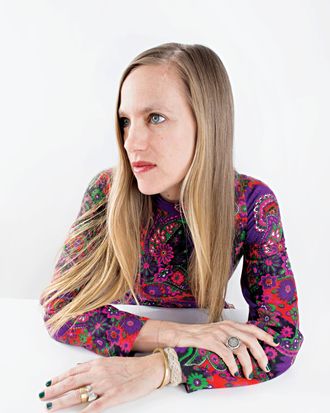 Heidi Julavits.
Photo: Shae Detar
"I don't want to say I'm not a serious person, but I take my seriousness with a serious side of not very serious," says the writer Heidi Julavits. We are sitting in the wood-paneled dining room at Café Sabarsky, inside the Neue Galerie on Fifth Avenue, which she says is the one place she is most calm in New York. It's early March, warm in a way that feels like an advance of spring, and almost immediately after meeting her, I have a deeply unprofessional urge to try to make her my friend. Part of it is that she is dressed like a sophisticated urban Viking — camel-brown crewneck sweater tucked into a high-waisted orangey-brown sweater skirt over black jeans; the skull of a small mammal hangs on a leather strap around her neck. Part of it is the book she's just written, a memoir-as-diary, The Folded Clock, in which each entry begins with the classic kid's-journal formation "Today I" and which may sound like a distant cousin of the recent string of fiction-but-not-really books (by Ben Lerner, Sheila Heti, Tao Lin) but reads more like Lydia Davis short stories, if Lydia Davis had a serious eBay habit and nursed elaborate fantasies about surviving a shipwreck (which she may — who can say?).
But the biggest part (which, really, is the mother of the other two parts) is how real-life Julavits, just like on-the-page Julavits, is the kind of conversational gymnast who can, in the course of one (admittedly long) lunch, somersault from a close reading of birth videos to an analysis of literary likability to a consideration of The Breakfast Club. She is especially compelling on "this conundrum of wanting to be taken seriously but not wanting to be a pompous ass," a conundrum, she points out, that is often particularly complicated for women; but also when talking about how best to transmit Important Lessons to one's children (ideally without actually having to have "a talk") and how to stare down the threat of global extinction while still keeping a sense of humor. "There's a lot of mortality contemplation in this book," she says, breaking into a broad smile, "in an unserious, lighthearted manner. We'd never want to take mortality too seriously."
This is Julavits's fifth book, but she's still probably best known for founding, with a few co-conspirators more than a decade ago, the literary journal The Believer, which was designed to cultivate a bighearted and generous book culture as a kind of corrective to the sniping and brawling that had come to define book criticism (and define it, in the era of Dale Peck and pre–New Yorker James Wood, as macho, petty, and mean). Julavits wrote the first issue's foundational manifesto, a criticism of criticism that defended the ambitious literary novel, and has herself written a series of very novel-y novels (one about a plane hijacking, another about warring psychics). She also teaches fiction at Columbia and last year co-edited, with Heti and Leanne Shapton, a mesmerizing anthology called Women in Clothes, a scrapbook of meditations on how women dress themselves that manages to be expansive enough to contain both reenactments of Vogue poses by Zosia Mamet and an interview with a human-rights journalist on "child-slave" garment workers.
In The Folded Clock, there is a lot of that same free-ranging, self-scrutinizing spirit. Gender, marriage, ambition, doubt, integrity, ethics, friendship, parenting all make their way into entries that are ostensibly about the kind of quotidian things that we might jot down in a journal: a dinner party, an errand, a lunch with a friend, a visit to a museum. The book can almost be read as an encyclopedia of Things Women Think About. (A is for adultery; B is for The Bachelor — or "The Franchise," as Julavits calls the reality series, which turns out to supply her with more fodder than you would have thought possible for a brainy 46-year-old novelist.)
Mostly, though, The Folded Clock feels like both a consideration of and an inoculation against the basic meh-ness of adulthood. In Julavits's rendering, the tedious grown-up chores, social obligations, and life-management tasks that, if we're honest, make up great swaths of our waking hours are coated in a sticky syrup of potential, or "associative possibilities," as she calls them. "Suddenly, you've got a kid or you've got two kids, and you have a job, and a decent percentage of your day is actually spent doing stuff that feels like it doesn't have a lot of value, right?" she says, sounding alarmingly chipper, then associatively dives into a story about a discussion of organic chemistry at a recent Columbia curriculum meeting. "We were talking about how can you make organic chemistry less boring and then we started to say, 'Maybe it's okay for organic chemistry to be boring. Maybe what needs to happen is people have to go into organic chemistry with a different attitude of how to make organic chemistry interesting to themselves,' " she says. "That's essentially what I was trying to do. I was seeing my life as an organic-chemistry course that I was trying to make more interesting to myself."
Take parenting. "Child-rearing is really boring," she says between bites of bratwurst and sauerkraut. "But I think the sense that's pushing on you a little bit is that even though you know that someday this person will call you once every four months, someday you're going to be in a position where this person barely thinks about you for weeks at a time, even though you know you have that heartbreak awaiting you, you can't make yourself less bored in the moment."
The book also cracks a window into her own ambition. At one point, she tells a story about two other male writers talking about a third, trying to decide if he was "a threat." "Did they talk to each other about me that way? Did they think of me as either threatening or not?" she writes. So she asks one of them, "in jest but I was not kidding." He wouldn't say — "I guess, because, on a fundamental level that has both something and nothing to do with writing, I am not one. Has any female writer ever been considered a threat by a male one? Aside from possibly Susan Sontag."
"When women write a book about ideas, it doesn't get discussed as a book about ideas," she says at lunch. "I threw in some highbrow intellectual bait for someone to take if they want to, but everyone is just going to talk about, 'Oh, it's about a woman in her 40s.' " She tells me about a radio appearance she did to promote her second novel, The Effect of Living Backwards. "I remember being in the green room and hearing them say, 'So we just talked to X man author whose book about struggling with class identity, etc.' — but meanwhile it was just a book about this dude's family — 'and now we're going to hear from Heidi Julavits, who has written a book about a family.' I had written a book about a hijacking! Somehow if you're a woman, you've written a book about a family, and if you're a man, you've written a big book about a concept."
With this book, though, Julavits may be her most menacing when she's at her most female. "I feel like whenever I go out into the world, I do my best to make a lot of jokes and seem nonthreatening. I think now as a woman in her 40s, I'm just like, Ah, fuck it. Let's be threatening," she says. "I half feel like with this book, if no men read it, I just don't care." She pauses to consider. "Maybe I'm just responding to The Bachelor last night. He sent home the smart girl who cracked jokes. The smart girl who cracks jokes does not win the bachelor."
*This article appears in the April 6, 2015 issue of New York Magazine.