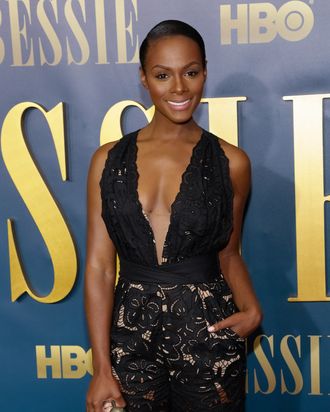 Tika Sumpter, your pre-FLOTUS Michelle.
Photo: Brent N. Clarke/Getty
Back before she became Michelle Obama, the First Lady trying to get kids to eat their vegetables, she was Michelle Robinson, a young, ambitious lawyer in Chicago. Tika Sumpter, whom you might recognize from Get On Up or Gossip Girl (never forget), will play Michelle Obama in Southside With You, a Before Sunset–style rendition of the first couple's first date, when a smitten Barack Obama suggested a full day of quality time on a balmy Chicago afternoon in 1989. It's the date that's the stuff of legend: a romantic walk, a visit to the Art Institute, and a screening of Spike Lee's Do the Right Thing. That Barry, such a planner.
"I'm nervous because she's Michelle Obama, who is everything every woman wants to be," Sumpter told Vulture at the Bessie premiere Wednesday night. To prepare for the prestigious role, Sumpter basically took a self-taught college course in future First Lady. "I'm reading everything," she said. "I'm just enveloping myself in everything I think she probably would have read." That includes her Princeton dissertation, Richard Wright's early writings, Gwendolyn Brooks's poetry, and A Game of Character, written by her brother Craig Robinson. "Just trying to get firsthand messages about who she was, 'pre' what we know now."
Sumpter, who is also an executive producer, said that casting the role of a young Barack Obama is almost complete, but that it's top secret for now. "You have to wait and see."